Celtics
Jordan Mickey shows Celtics he's ready to contribute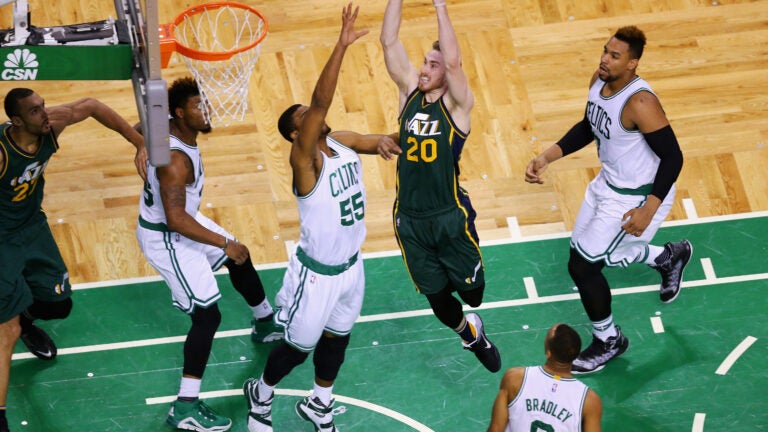 Even before Monday night's matchup against the Utah Jazz, Brad Stevens sensed he might have to call on his rookie big man.
"I texted [Jordan] actually today and said, 'Be ready to go at any time,''' Stevens said of Jordan Mickey, following Monday's 101-95 win over the Jazz. "Because it could be any time that those guys have to contribute and help us win the game.''
It did not take long for that moment to arrive for Mickey against a formidable Jazz frontline. Utah was in the process of building a double-digit lead in the second quarter, largely thanks to the offensive prowess of rookie Trey Lyles. The former Kentucky Wildcat was wreaking havoc against Jonas Jerebko with his outside shooting and drives to the rim, posting nine points and six rebounds in the frame.
To counter Lyles' athleticism, Stevens turned to Mickey, who had played a grand total of 13 NBA minutes before Monday's contest. He set career-highs across the board in his seven-minute stint in the second quarter, posting three points, three rebounds and a pair of blocks. While those numbers won't impress most people, his defense, including a highlight reel block on Gordon Hayward, helped turn the tide for Boston in the first half.
[fragment number=0]
The Jazz scored 36 points in the first 15 minutes of the game. Once Mickey hit the floor, Utah only mustered six points in the next seven minutes.
"I just thought we needed a boost and I thought that every time we put him in he's blocked a shot and came up with some loose balls,'' Stevens said.
"He just went and got unbelievable minutes,'' Jae Crowder added. "Jordan just got thrown in and out of nowhere and guarded the guys and just got it going when he did in the second unit. I felt like he played great.''
The 21-year-old out of LSU admitted he was on edge for most of the day when he heard from Stevens on game day.
"You know, I got the text early this morning and I read it about ten times before I even got here,'' Mickey said. "I was just trying to prepare myself to be ready for the opportunity and you never know when you are going to be able to get in or when you are going to get that opportunity, it happened to be kind of early in the night and I was excited about it.''
With Kelly Olynyk sidelined for the next couple weeks with a shoulder injury, Mickey's strong performance could open the door for more chances to make an impact for Boston down the stretch.
"He was in Maine for a long time and then he had the ankle [injury],'' Stevens explained. "So he's probably not as up to speed as he needs to be on some things that we'll get him up to speed on as he continues to be with us more and more. But hey, we're not overly deep at the big spot without Kelly.''
It's unclear exactly when Mickey's next chance will arrive, but the D-League standout proved to the coaching staff he will be ready when called upon.
"It felt great,'' Mickey said of his play. "You know, like I have been saying it just happened to be an opportunity for me and I went out there and made the best of it…I go in every day I work out as hard as I can, do some extra work, try to you know not playing a lot so you have to try and stay in-shape doing extra conditioning and going over plays, constantly trying to make sure you are up to date with everything.''
That mature mindset from the rookie should give Stevens one more option off the Celtics' deep bench as the team continues its playoff push.
Biggest Celtics draft busts
[bdc-gallery id="465756″]