Celtics
Celtics reportedly 'made a strong move' for Jimmy Butler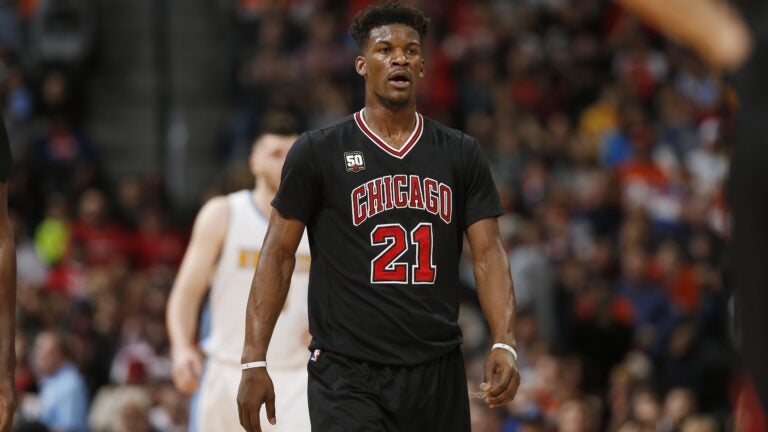 The Boston Celtics didn't wind up making a trade before February's deadline. However, it reportedly wasn't for lack of trying.
According to Steve Bulpett of the Boston Herald, the Celtics were in serious discussions with the Chicago Bulls about the possibility of acquiring All-Star swingman Jimmy Butler.
The Celtics were willing to trade two first-round draft picks for this upcoming draft — the unprotected Brooklyn Nets pick and the Dallas Mavericks pick aquired in the Rajon Rondo deal — according to the report.
"This is not a case where Chicago was looking to trade Jimmy Butler,'' an unnamed source told the Herald. "That would be crazy. But if Boston calls, you have to look at those picks and some of the players they have and at least hear them out. Most times when teams call about your star, you can just dismiss it right away, but you have to think about it with Ainge and the Celtics right now.''
The Bulls are in a state of uncertainty with injuries to Butler, Joakim Noah and Nikola Mirotic, currently sitting 10th in the Eastern Conference at 30-30. Additionally, with Derrick Rose's injury concerns and Pau Gasol on his way to unrestricted free agency at the end of the season, Chicago could soon be looking at a rebuild.
All of those factors prompted Celtics president of basketball operations Danny Ainge to take his best shot at prying Butler away from the Bulls.
"The term I've heard with Danny is that he's looking for a 'difference-maker,''' one unnamed league source said in the report. "He's definitely willing to pay you for the right guy, but he wants someone who can move them to the next level.''
Butler, who won the 2015 Most Improved Player award, was averaging 22.4 points, 5.2 rebounds, and 4.3 assists per game this season before going down with a knee injury on Feb. 5.
33 awesome Larry Bird photos you won't remember
[bdc-gallery id="146679″]