Celtics
Isaiah Thomas: The NBA still doesn't respect us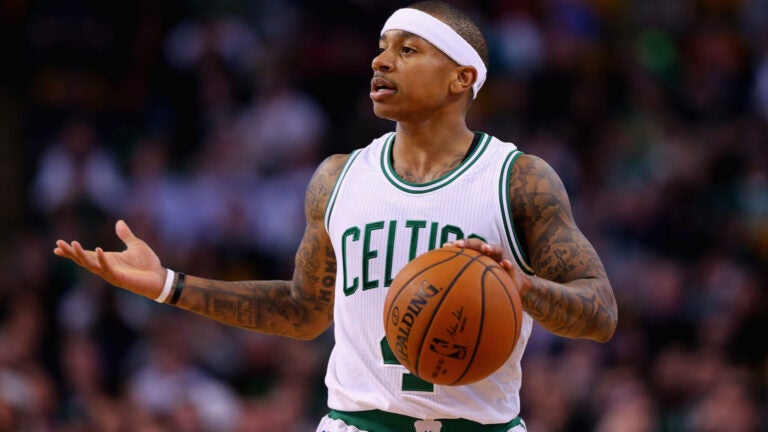 With 18 victories in their past 24 games, the Celtics have been playing like a team on a mission for the majority of the past two months.
The latest statement win came on Wednesday night with a 116-93 triumph over the red-hot Portland Trail Blazers, who had won 17 of their past 21 contests.
Isaiah Thomas scored a game-high 30 points to lead the charge in Boston's fourth straight victory, and also revealed some of the team's motivation that has helped them put together the sensational stretch.
"Teams, players, the NBA — they still don't respect us. And we know that,'' Thomas explained. "We go into every game with a chip on our shoulder knowing that we have to earn the respect, and we have to earn what we get, and take what's ours. We feel like every game we've got a chance to win if we play the right brand of basketball.''
And why exactly aren't other teams giving the Celtics the respect they deserve?
"I guess we've got no superstar,'' Thomas said with a smile. "No foundation player, right?''
That has not been the case since mid-January, as Thomas has helped carry the Celtics to 12 straight wins at the TD Garden. That's the most in a row for the franchise at home since the 2008-09 season.
Marcus Smart (13 points, 11 rebounds) believes that the success stems from not just Thomas, but determination that most members of the Celtic roster have been playing without throughout their career.
"Most of us have [been playing with a chip on our shoulder] our whole lives,'' he said. "It's not new for us. We understand we are a young team and we have a lot to learn, but at the same time we're all competitors and we love to win, so we are going to find a way to go out there and compete every night.''
Thomas says the Celtics aren't taking their foot off the pedal anytime soon.
"We just like competing against the best,'' Thomas added. "We did a pretty good job here. I'm just happy we got the win. I mean, that's the most important thing.''
The Greatest Boston Celtics of all time
[bdc-gallery id="118766″]