Celtics
Celtics admit they lost composure with refs in loss to Cavs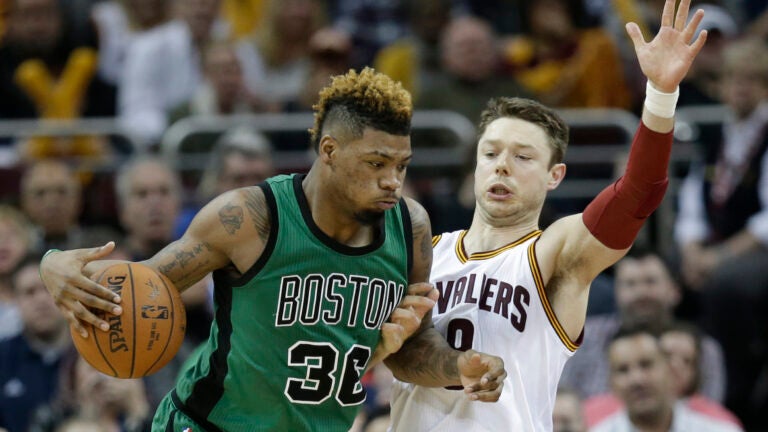 The Celtics have admitted in recent weeks they are trying to earn some respect across the NBA landscape with their success this season.
Gaining respect from NBA officials though can be a volatile issue, especially in instances when you are facing off against superstar-laden rosters.
On Saturday night in Cleveland, the Celtics found that out the hard way and allowed their frustration to get the best of them. Several players showed constant displeasure with officials in Boston's 120-103 loss to the Cavaliers and afterwards, the team admitted that those non-calls led to some players losing composure in the loss.
"At certain points of the game it did,'' Isaiah Thomas told reporters in Cleveland via CSNNE. "When they went on their small runs we were still complaining at the refs and wanting the calls while they were getting out in transition and getting easy baskets. We just have to learn from it. It's definitely something we can control and we gotta know those type of things can cost us games.''
Marcus Smart and Jared Sullinger were both whistled for costly technical fouls for their objections and Smart specifically was one player that Thomas believes needs to control his emotions better.
"He does (need to maintain composure better) but it happens to all of us,'' Thomas said. "We can't just pin that on him. He has to do a better job in those situations and he knows that. When it happened he didn't really apologize but he was like, 'My bad, man.' Just heat of the battle, and we know that. We've just got to do a better job as a team when those types of things happen, calming each and everybody down and coming together and not going separate ways.''
"We feel like we deserve the calls that some of the other teams get,'' Sullinger added. "But we're just going to move forward and understand that we gotta play. We gotta play regardless of how the officiating is going. We gotta play.''
The Celtics will have some time to learn from the performance with three off days before hosting the Memphis Grizzlies on Wednesday.
The greatest Boston Celtics of all time
[bdc-gallery id="118766″]