Celtics
Isaiah Thomas wants to pick Tom Brady's brain about greatness and leadership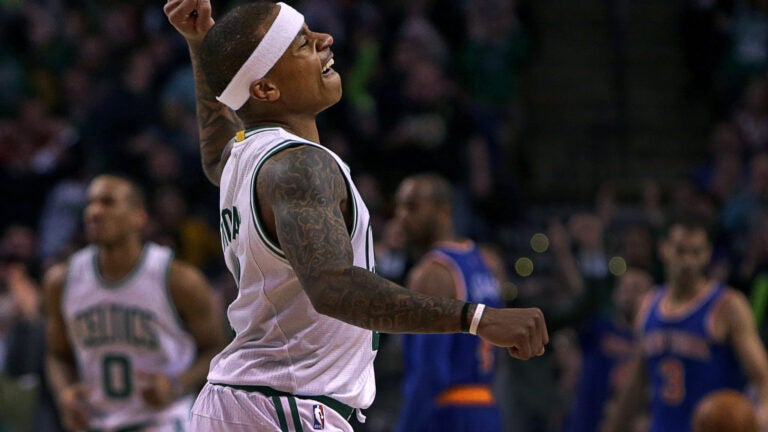 Celtics point guard Isaiah Thomas is striving to become one of the best little men ever to play in the NBA, and he isn't shy about seeking out advice.
To help him achieve his lofty goals, the 5-foot-9 guard let it be known on Twitter on Tuesday morning that he's looking for a chance to talk with Patriots quarterback Tom Brady.
[fragment number=0]
When asked about the tweet on Tuesday afternoon following Celtics' practice, the 26-year-old All-Star explained his rationale:
"It would just probably be like sitting down with Kobe [Bryant],'' he said. "I got the chance to talk to Kobe. I'm real good friends with Floyd Mayweather so I get to pick guys like that's brain. I just would like to sit down and actually meet [Brady] and also just pick his brain about winning championships, and how he goes about his day, how he prepares. I like his preparation to everything. I like to pick guys' brains, especially the best in the business, best in their field, and see what he has to say to me. Hopefully, I can make it happen.''
Thomas is actually a fan of the Denver Broncos, but he's hopeful that reality wouldn't deter Brady from a potential conversation.
"He shouldn't be mad at that,'' Thomas said. "I didn't grow up here. It's not like I grew up here and I'm not a Patriots fan. But I'm a fan of his. I like how he carries himself. He carries himself like he's the best quarterback ever.''
Thomas and Brady play different sports, but they both began their careers as underdogs: Thomas was the last pick in the 2011 NBA draft, while Brady was a sixth-round selection in the 2000 NFL draft. Thomas has a very long way to go to match Brady's success, but he believes has a lot in common with No. 12.
"No doubt,'' Thomas said. "He was definitely not — coming into the NFL he wasn't — supposed to be a Pro Bowler, wasn't supposed to be a franchise player, wasn't supposed to win Super Bowls and be arguably the best quarterback ever. And I want to be on that path.''
Thomas added: "I just want to grow. I want to grow. Not just being a basketball player but being a leader in all aspects, all facets of the game. And why not learn from the best. Especially, I think it's better to learn from different guys in different sports in how they lead and how they get respect from their teammates. Like I said, I would love to pick his brain, ask him a few questions. I got to do it with Kobe. I got to do it with Floyd Mayweather, always do it with him and things like that. Manning's retired so I can't do it with him. So I'd love to do it with Brady.''
These Celtics Made 5 Straight Finals Before Lebron
[bdc-gallery id="465911″]