Celtics
Kelly Olynyk returns to practice, says he's 'a little stiff'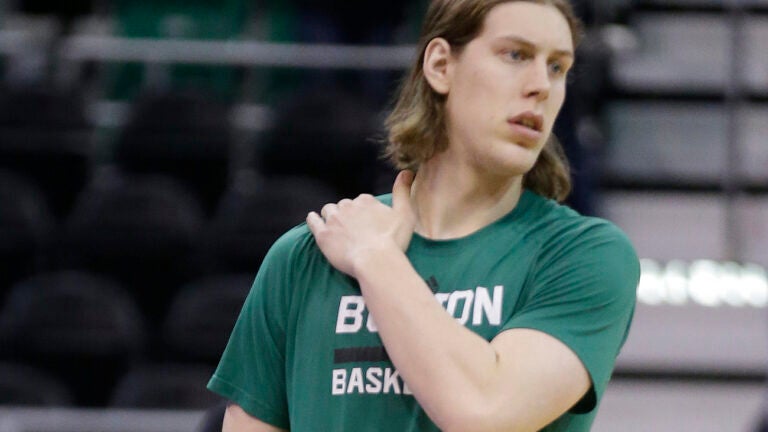 The Celtics are one step closer to getting their seven-footer back in action.
Kelly Olynyk was back on the practice floor Monday, participating in the team's shootaround along with some lighter, low stress skill work to test out the shoulder he injured in the first half against the Clippers on Feb. 10 at TD Garden.
"Feel alright, still a little stiff and sore, not back to where it was before, but it's definitely on the right path,'' Olynyk told reporters, via WEEI. "Just trying to keep my conditioning up, get in the weight room, just strengthening it. A little bit of [shooting]. The shot feels alright. It's more the quick movements and crossing, jumping up and grabbing the ball, stretch, that kind of stuff.''
The Celtics have gone 6-3 since the 24-year-old big man went down with the ailment.
"I'm super excited to get back,'' Olynyk said. "It's tough watching them out there. You want to be out there with them, helping them out.''
While a return against the Memphis Grizzlies on Wednesday is not out of the realm of possibilities, Olynyk preached that it's imperative not to rush back into game action before the shoulder is fully back to health.
"We'll see it how it goes,'' Olynyk said. "It's a little sore, a little stiff. I'd say it's still not exactly where I want it to be yet but it's definitely on the right path so we'll see how it responds.''
"Kind of day-to-day now,'' head coach Brad Stevens said. "See how Kelly feels [Tuesday]. I'm sure he said that as well. And I've only talked to them real briefly after we just did a shootaround. So we didn't do a whole lot. But he shot the ball in. He seemed to feel more comfortable with extending his range as the day went on. So we'll see.''
Olynyk is averaging 10.1 points and 4.3 rebounds per game and has shot the three-ball effectively, posting a 41 percent clip in 54 games this season.
Biggest Celtics draft busts
[bdc-gallery id="465756″]