Celtics
Celtics player power rankings: Thomas takes back top spot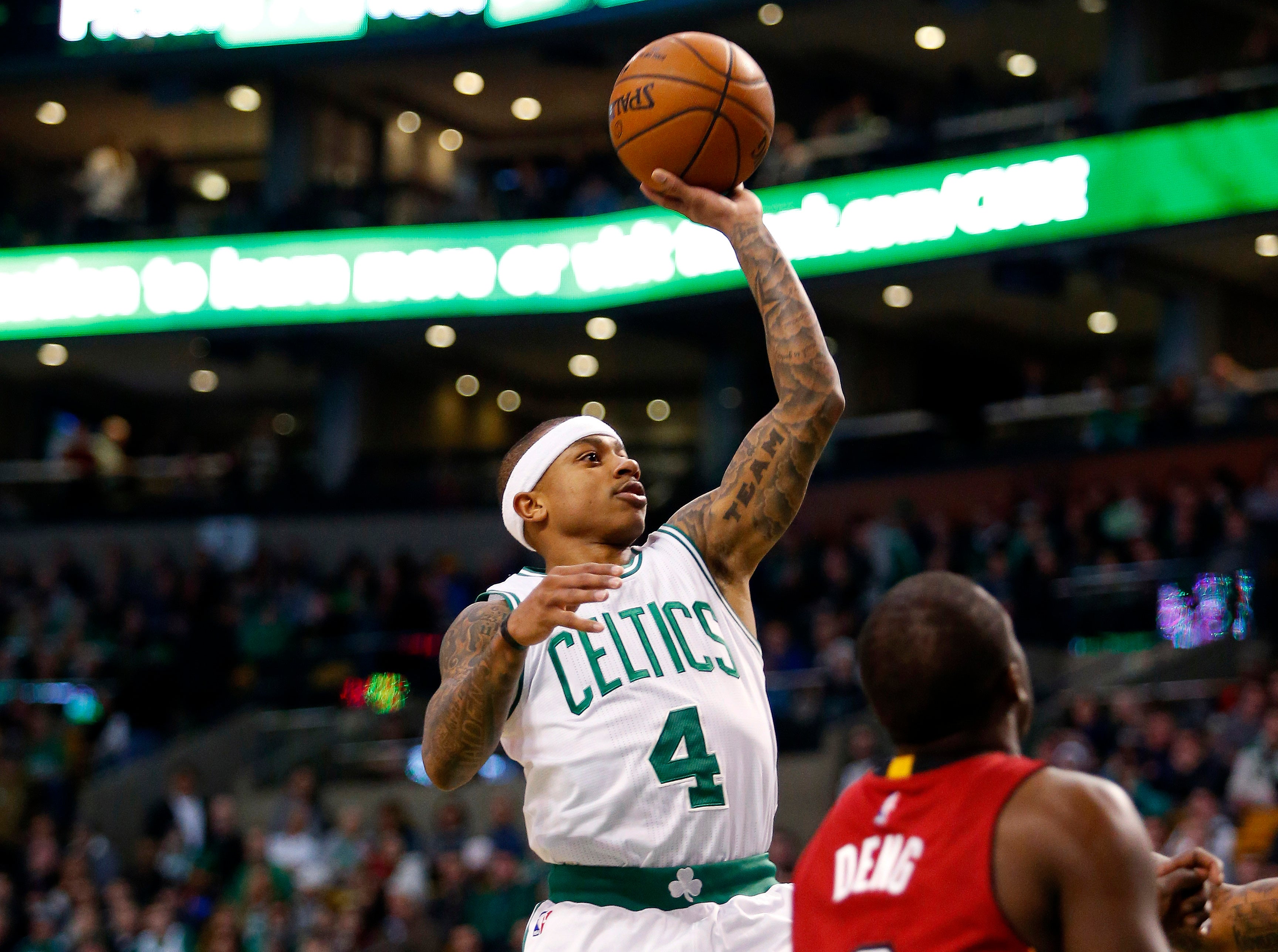 COMMENTARY
Despite a strong 3-1 performance last week, the Celtics' hold on the No. 3 spot in the East took a hit. The Heat feasted on a weak schedule to put together a five-game winning streak, pulling them within a half-game of Boston with just 18 regular season contests remaining.
In order to hold their ground in the standings, the Celtics will need to take care of business against a light schedule at home this week. They will also have a chance to make history on Wednesday night as a win over the Grizzlies would set a new TD Garden record for most consecutive victories (14). Now, onto the rankings, which feature a new addition this week:
Not ranked: Kelly Olynyk – After missing the past nine games with a shoulder sprain, the seven-footer practiced Tuesday. "There's discomfort and pain,'' Olynyk said. "So obviously I'm a little tentative [out there]. I don't feel like I'm at full strength or at full motion.'' Brad Stevens called it 50-50 on whether he plays Wednesday.
14. Coty Clarke – The Celtics rewarded the undrafted 23-year-old with his first NBA contract on Monday, a 10-day deal. The Arkansas product averaged 16.1 points and 7.5 rebounds with the Red Claws this season after playing in Israel during his first pro season.
13. Terry Rozier – The 6'2'' guard has not been shy about getting shots up during limited minutes in garbage time. Against Portland last Wednesday, he hoisted up seven attempts in just six minutes of action, making just one. The subpar output lowered his shooting percentage to 22.4% for the season.
12. R.J. Hunter – With the Red Claws loaded at the guard spot following the return of Tim Frazier and addition of second-round pick Marcus Thornton to the roster, Hunter only managed to play 18 minutes in his last stint up in Maine Sunday. He scored seven points on 3-of-8 shooting before rejoining the Celtics Monday.
11. James Young – A calf strain sidelined the swingman for a few days last week, but he saw a minute of action in Saturday's loss against the Cavs, an indication he's no worse for the wear heading into this week's game.
10. Jordan Mickey – The big man gave fans a glimpse of what Celtics officials are so excited about against the Jazz last Monday night, posting a pair of blocks in seven minutes of spot duty. He exited the rotation for the next three games, but don't be surprised to see Brad Stevens to call upon the 21-year-old in a pinch down the stretch.
9. Jonas Jerebko – With Kelly Olynyk still on the mend, Jerebko's hasn't been able to pick up the slack spreading the floor with his shooting from 3-point range. He's hit just 25 percent of his attempts from downtown in four games over the past week.
8. Tyler Zeller – Opposing defenses haven't been shy about giving the seven-footer plenty of open looks within the second unit offense. Zeller is averaging 9.8 field goal attempts per game in his last five contests despite only seeing the floor 19 minutes a night in those games. He's going to have to improve his success rate (40 percent) shooting the ball, if he wants to stay that aggressive.
7. Amir Johnson – Johnson's role keeps shrinking and shrinking as the season continues with Brad Stevens looking to play more smallball. He's averaging 16.8 minutes in his past five games, not exactly a total you would expect for a guy making $12 million this season.
6. Marcus Smart – Back-to-back games with technical fouls, an obscene gesture towards an official and 28 percent shooting from the field? Needless to say, not the best week for the second-year guard.
5. Avery Bradley – Another game-winning basket for the shooting guard on Friday night against New York adds to a stellar campaign for the sixth-year veteran. He's hit a little bit of a rut lately with his shooting (31 percent from 3-point range in last five games), but still is earning plenty of praise from his boss.
[fragment number=0]
4. Evan Turner – While there's plenty of speculation about what premier free agent the Celtics will go after this summer, Turner has made a pretty strong case for the front office to not only retain him, but give him a hefty raise from his $3.6 million salary this summer. The former No. 2 overall pick is among the league leaders for bench players in both points (10) and assists (4.4) per game
3. Jared Sullinger – With five double-doubles in his past seven games, Sullinger has been a stabilizing force for the Celtics' frontcourt in the last two weeks. However, a skin infection that sent him to the hospital may put a stop to the big man's hot streak. He's questionable for Wednesday's game against the Grizzlies after missing two straight practices.
2. Jae Crowder – The swingman has struggled with his outside shot of late (26 percent in last five games from downtown), but he's made up for that with his defensive prowess, averaging 2.4 steals per game over that stretch.
1. Isaiah Thomas – In the month of March, Isaiah Thomas is averaging 29.7 ppg on 58 percent shooting and hasn't turned over the ball in over 100 minutes of playing time. That's more than enough to earn back the crown in this week's edition of the player power rankings.
Meet the 2015-16 Boston Celtics
[bdc-gallery id="147137″]