Celtics
What are the most optimistic but realistic possibilities for the Celtics this season?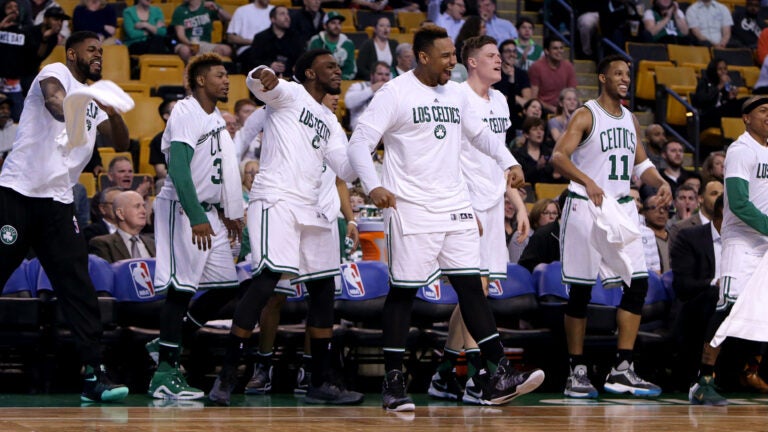 COMMENTARY
Kevin Garnett's euphoric "Anything is posssibullllllll!'' exclamation has to rank right up there with Johnny Most's "Havlicek stole the ball!'' and Larry Legend's "Moses does eat [expletive]'' among the most memorable quotes in Celtics history. Well, at least, it's among the most memorable of those we've heard. The truly best quotes in Celtics history are probably long-forgotten one-liners that Bird dropped on opponents right before drilling threes in the poor souls' faces. In retrospect, he should have been mic'd up for every game of his career.
It should be noted that Garnett howled his memorable words after a championship had been won. They came in the immediate aftermath of the 131-92 rout of the Lakers in Game 6 of the 2008 NBA Finals, actually, as if the joyous circumstances of that victory aren't relatively fresh in your mind even now, nearly eight years later. Yes, it's been that long.
With that 2007-2008 team — which racked up 66 regular-season wins and featured a trio of future Hall of Famers who were still on the edge of their primes but meshed as selflessly as their egos would allow in the quest to become champions — anything did seem possible before it became reality. They were nobody's underdogs.
What we're seeing now, with this 2015-16 edition of the Celtics that has little in common with its star-studded Garnett-Paul Pierce-Ray Allen forebear beyond the name on the front of the green-and-white uniform and a collective relentless determination, is intriguing in a different kind of way.
They are underdogs. But maybe they shouldn't be. And we can't help but wonder:
What, exactly, is possible with this team?
It's not anything, and it's certainly not everything. But it's apparently a hell of a lot.
After a win over the Grizzlies on Wednesday night at the Garden, the Celtics are owners of a 14-game home winning streak, a 39-26 overall record, and the third spot in the Eastern Conference standings. They also hold the No. 1 pick of the hapless Brooklyn Nets in this year's draft. They are in a good place, with the promise of better days and destinations ahead.
I get the sense that the majority of Boston sports fans have caught on to the appeal of watching this team play. And those who haven't — those who call sports radio to howl about Trader Danny without a clue of how difficult it is to rebuild in the NBA — are missing a good time.
The Celtics very rarely fail to give a tireless effort. They have no obvious superstars — though the deft Isaiah Thomas has all the appropriate numbers other than the one beneath the designation "height.'' They feature roughly a dozen quality players who seem to enjoy playing together.
And they are coached with unassuming brilliance by Brad Stevens, whose genius for putting imperfect players in spots to thrive — my goodness, somehow he has made perennially bewildering Evan Turner wholly likable and even essential — suggests that he could take the entire inventory of the Island of Misfit Toys and give a kid the best damn Christmas ever.
The Celtics are a fun team to watch: Thomas knocks down threes and takes those geometrically genius forays to the hoop; Avery Bradley and Marcus Smart torment even the league's most accomplished backcourts; Jae Crowder hustles endline to endline and past the perception that he's just a role player; and Jared Sullinger, on his inspired nights, careens through the paint, leaving more accomplished players (hello, Kevin Love) wanting no part of defending him.
[fragment number=0]
Better, the Celtics are also a very good team. This is not a mirage, and it's not a new development, either. They had won 19 of their last 26 games entering Wednesday. In the 100 games before their Wednesday night win over the visiting Grizzlies — going back to last season, when they finished with 24 wins in their final 36 regular-season games (after the trades for Thomas and Crowder) — they were 62-38. They are fourth in the league in points per game (106.2), trailing only the Warriors, Thunder, and – you guessed it – the Kings of Boogie Cousins. (OK, you didn't guess it. Neither did I.) They're 13th in points allowed per game (101.9), which is fine – the Warriors, for instance, are 21st, in part because they play at a fast pace.
The numbers confirm what your eyes have been telling you for a while — the Celtics are worthy of a fan's faith, and may even reward it in a significant way this year. Now, I'm not going to suggest an 18th banner is going up eight seasons after Garnett and friends raised the 17th. Not even Tommy Heinsohn believes that, not yet. The defending champion, 57-6 Warriors are the class of the league, and the stacked Spurs and Thunder will refuse to be speed bumps on their freeway to history.
But I do think the Celtics have a shot — a low-percentage shot, like, say, an Evan Turner 3-point attempt, but a shot — of having the privilege of being the Eastern Conference representative that gets steamrolled in the Finals. Cleveland players have apparently discovered a pastime of passive-aggressive Instagramming, and one injury there could send the Cavs careening into chaos. As it is, I'm intrigued to see Cavs coach LeBron James and his chief assistant, Ty Lue, match strategy with Stevens in the playoffs this year. I feel like that might be an advantage for the Celtics. Just a hunch.
Yes, the Celtics would need some fortunate breaks to beat the Cavs — or for that matter, the unheralded Raptors, who may well end up with the No. 1 seed. And we're getting ahead of ourselves … no postseason path will be a particularly easy one for the Celtics, who depend so much on energy and effort.
But while we're over here considering reasonable outcomes to this season, let's just leave it at this:
On May 17, the conference finals are tentatively slated to begin. And you know what happens the same day? Right, the NBA Draft lottery.
If, somehow, the Celtics find themselves four victories from a berth in the NBA Finals on the very same afternoon that they finally get a couple of friendly bounces from the ping-pong balls, well then, who could resist shouting with KG-like euphoria?
Perhaps all of that is unlikely. But the least we can do is consider the possibility.
Chad Finn can be reached at [email protected]. Follow him on Twitter @GlobeChadFinn.