Celtics
You couldn't tell Jared Sullinger wasn't feeling well Wednesday night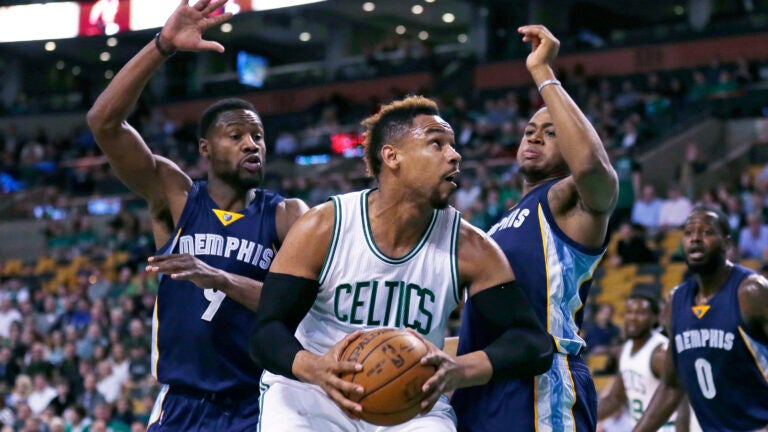 Jared Sullinger was not feeling his best on Wednesday night.
"I felt slow out there, even though I am slow,'' he said after a 116-96 blowout win over the Grizzlies. "I felt slower [than usual]. My reaction time was really slow.''
The 24-year-old missed a pair of practices earlier this week and after consulting with team doctors, and was hospitalized on Monday night with a mysterious skin infection on his stomach.
"I had discomfort, and the infection kind of turned into an overall sickness,'' Sullinger said. "I was just making sure it cleared up and making sure I felt a lot better and wasn't feeling sick. It started bothering me after the Cleveland game (Saturday), but like I said we have great doctors here. I was able to bounce back.''
The big man fought through his weakened condition to post 11 points, five rebounds, three assists and three steals in 21 minutes in Boston's 14th consecutive home victory. He left the game at one point in the second half to redress the bandage on the affected area, but still provided several highlight reel plays to spark the Celtics, including a coast-to-coast drive in the third quarter.
[fragment number=0]
[fragment number=1]
"I didn't think I was going to get that,'' Sullinger said of the strong take. "That's when I realized how fatigued I was.''
Brad Stevens applauded Sullinger for gutting it out at less than 100 percent and making a sizable impact as the hosts opened up a double-digit lead in the third quarter.
"The first couple times he touched the ball he looked — he did probably look like he was a little rusty from not having done much the last three days,'' Stevens said. "But then he got himself going pretty quickly. And I just think you know when you're going on that run, in any given game, it sure feels like he's getting almost every rebound and that's what happened at the start of the third quarter.''
Sullinger is expected to be closer to full strength for Friday's game against the Rockets and he could be getting some additional help on the frontline. Big man Kelly Olynyk may make his return in that contest after missing the past ten games with a separated right shoulder.
33 awesome Larry Bird photos you won't remember
[bdc-gallery id="146679″]