Celtics
Data suggests Boston College would be better off leaving the ACC
BC is overmatched, and not just this season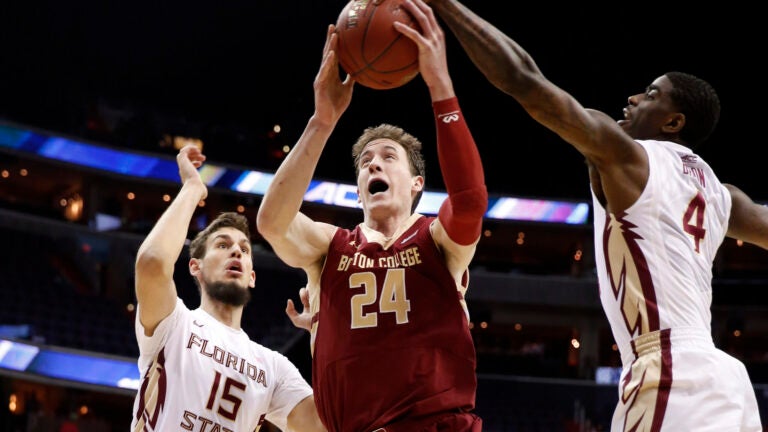 COMMENTARY
When Boston College announced it was joining the Atlantic Coast Conference back in 2003, the news was met with great enthusiasm. The school's "revenue'' teams — football and basketball — were strong, and theoretically would only get stronger. But things haven't worked out that way, and after year 11 in the ACC, it'd be hard to say that anyone is really feeling that enthusiasm any longer. The time may have come for BC to consider switching conferences, because there is a mountain of data that suggests that they can't compete with the big boys and girls.
Now, it's pretty easy to paint that picture at the moment. Neither the men's football or basketball teams won a conference game this year, and neither will have a postseason after finishing with winning percentages of .250 and .219, respectively. The men's basketball team became just the sixth team in ACC history to go winless in conference play for an entire season. The women's basketball program didn't fare much better, as they only won two conference games, and finished 15-16 overall. It's hard to see how a school in such a big conference could have a bleaker season from such key sports teams.
The reality, unfortunately, is that this has become a pattern for BC. The 2015-2016 seasons may be the nadir of said pattern, but it's been a while since BC football or basketball was any good.
Let's start with men's basketball. Using Sports-Reference's Play Index, we find that of the 65 schools in the five major conferences, only 15 have failed to score 60 points in men's basketball contests with greater frequency than BC since 2010-2011 (six seasons). BC failed to score 60 points in 59 of their games in this span, which comes to more than 30 percent of their games. Even more damning, they failed to score 50 points – which is a pretty low bar — 19 times. Only six of the 65 major conference schools – Texas Christian (TCU), Nebraska, Northwestern, Texas Tech, Utah and Clemson – failed to score 50 points in a game more frequently.
Simply put, BC is overmatched in this conference. In the 11 years before they joined the ACC, BC men's basketball had an average strength of schedule score of 6.56, which is high – SOS is scaled so that zero is average. Compare that to Boston University, which had a -6.60 SOS this season, and have only had a positive SOS one time in their history (0.87, in 1959-1960). However, in the 11 years they've been in the ACC, BC's SOS has gone up, to an average of 7.37. This season, BC's SOS was 7.92, which ranked 47th in the country. Of the teams in the top 50, BC easily had the worst winning percentage. Last year, BC's SOS ranked 34th, and only three of the 33 teams with a harder SOS tallied a worse winning percentage than BC's .406 mark.
It's not just the last two years. On the average, BC men's basketball has been outscored by its opponents in each of the last five seasons. They haven't been ranked in the AP Top 25 since 2008-09. That is a stark contrast to the heyday under Al Skinner, when they were ranked in six of seven years and in four straight, and rose to number-three in the nation in their last season in the Big East (2004-05).
The football team hasn't been much better. Over the past five seasons, the team is 23-39, and they haven't played in a prestigious bowl game in any of those five seasons. They have lost each of their last five bowl games, and are 3-5 overall in bowl game play since they joined the ACC. The three they've won – the MPC Computers Bowl, the Meineke Car Care Bowl, and the Champs Sports Bowl – have all seen their bowl's name subsequently changed, to give you a further idea of just how un-prestigious those are.
While the Eagles had been respectable on the gridiron in conference play through 2011, they have fallen apart quickly. From 2005-2011, they were 33-23 in ACC play, including 16-14 on the road or in neutral games (aka, the ACC Championship). Since 2012 though, they're just 9-23 in conference play, and 4-12 on the road.
The women's basketball team has fared even worse in ACC play. In their 11 seasons in the ACC, the lady Eagles have never finished with an above-.500 record in conference play. The high water mark was in 2007-08 and 2008-09, when they had consecutive 7-7 finishes. Those seasons must seem like the good old days. The women's team has racked up double digit conference losses in each of the past five seasons (which were also losing seasons in general), and they haven't won more than five games within the conference in any of the last six seasons. Overall, the lady Eagles are a woeful 51-116 in their 11 seasons of ACC play, which equals a .305 winning percentage. Only Wake Forest (47-120, .281), Virginia Tech (39-129, .232) and Clemson (31-136, .186) have been worse.
At a certain point, the financial flexibility that being in the ACC affords BC is not worth the hit the school's reputation is taking. BC's "revenue'' teams (in contrast, the hockey teams, which play in the Hockey East, have been quite good) in the ACC might be keeping an already wealthy school even more flush than they were in the Big East, but the trade-off also might be a generation of kids growing up being dismissive of BC sports. Just this week, one of BC's best men's basketball players – Dennis Clifford — said that his fondest memories of playing for the school was "going out to eat.'' While he meant that he loved the camraderie with his teammates, the way he said it sounded bad, and when you watch the video it's just heartbreaking – and it's absolutely not the way that BC wants to be making headlines. Sunday's feature story in the Boston Globe certainly doesn't help, either.
Whether a poor reputation is fair or not depends on how much value you place on being in the best conferences, and in general how much importance you put on collegiate athletics. This isn't a region that tends to view them with the same fervor as other parts of the country, so that's a harder sell (especially when the hockey program is still a point of pride). Still, there's no reason for this to continue. Given all its positive attributes, BC would likely have its pick of mid-major conferences (and specifically a return to the Big East could be very easily sold as a return to the good ole days). It's time the school entertained the notion of joining one of them.
When they tore down the Boston Garden
[bdc-gallery id="108044″]