Celtics
Patience pays off for Terry Rozier
'If I was to tell you it was [easy], I'd be lying'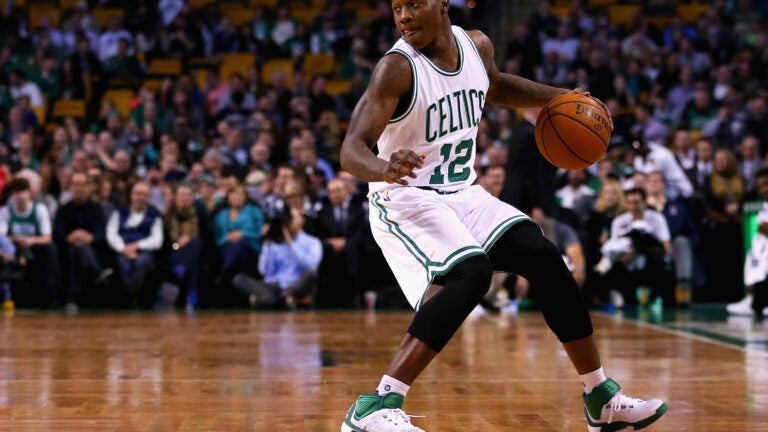 Patience is an important trait for any NBA rookie, and Terry Rozier is one player who was forced to learn that reality the hard way this season.
After earning some rotation minutes for Boston in the month of November, Rozier was left to wait 101 days for his next chance at meaningful action in a Celtic uniform. The 21-year-old split his time honing his game with the Maine Red Claws and sitting at the end of the bench in Boston during that extended stretch.
"If I was to tell you it was [easy], I'd be lying,'' Rozier said of the layoff. "It's a long season, but you just gotta stay ready. Me going to chapel every day, me listening to these guys — I just know my time will come. And you just always gotta be ready.''
Rozier's wait came to an end Friday night against the Houston Rockets at the TD Garden. The No. 16 overall pick was called into action in the second half after Jae Crowder went down with an ankle injury and Brad Stevens went looking down the end of his bench for a spark. The Louisville product responded to the challenge, posting three points, seven rebounds and three assists in just 10 minutes of action in the second half.
"I didn't know my number was going to get called,'' Rozier said. When I got off the bench, I was just like, 'I'm just going to play hard no matter what.' Coach knows I'm going to rebound and I said that's one of the things I wanted to do. Go help our bigs on the rebounds and just push the ball, just try to create for my teammates.''
Rozier's teammates were immediately impressed with what the guard brought to the table in his stint, helping the hosts hang tough with the Rockets before eventually falling short.
"I just read [Rozier] got seven rebounds in like nine minutes,'' All-Star guard Isaiah Thomas said after the game. "He do what he does. He brought energy. It's hard to come in here, not playing the whole game, not even knowing if you're going to play and then, fourth quarter, you're just in there at a crucial time. But he was ready. He took advantage of the opportunity, he made his shot, got a couple good looks and he gave us energy.''
Jared Sullinger echoed that praise and also gave credit to Rozier for keeping his focus while he waited for a chance behind a deep Boston backcourt.
"[Rebounding is] what he does. He's an athletic guard that does a lot,'' Sullinger explained. "Unfortunately, we have a lot of veteran guards who have proven themselves in the NBA, so he hasn't got his fair share of chances out there. But he came ready, and that shows a lot about his professionalism.''
With Thomas, Avery Bradley and Evan Turner all having career seasons in front of Rozier, it's unclear when Rozier will get his next chance to show the NBA world what he can do. However, with the Celtics going small more in the second half of the season, the team will need to find some rebounding help for Jared Sullinger on the glass. Rozier showed Friday night that he can fill the void, something that Stevens will likely keep in mind over the final month of the regular season. Whenever his chance does come, Rozier will be prepared to jump into action.
"A lot of people doubting me since I've been here and I don't even want to get into that,'' Rozier admitted. "But I just stayed ready, stayed in the gym. I got a good group of guys around me that help me stay ready. With them and the coaches and me being in the gym a lot, it's just built my confidence up.''
33 awesome Larry Bird photos you won't remember
[bdc-gallery id="146679″]