Celtics
How Jae Crowder's injury changes things for the Celtics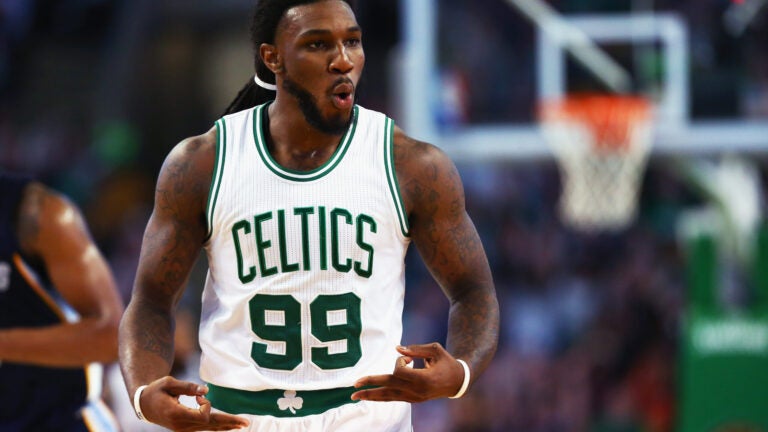 The Celtics have used eight different starting lineups in the 2015-16 season, and there has been just one constant among them: Jae Crowder.
That will change on Tuesday night, when Crowder will miss his first game of the season due to a high ankle sprain. The ailment is expected to keep the small forward sidelined for at least two weeks, creating a major hole on the wing in Brad Stevens' rotation.
The 25-year-old Crowder has been a crucial cog for Boston on both ends of the floor this season, ranking among the team's leaders in nearly every major statistical category, including minutes (2nd), points (3rd), rebounds (3rd), and steals (1st).
"Jae's playing so great,'' Stevens said at practice Sunday. "He plays the bulk of the minutes for us, and he's one of our most versatile players certainly in his ability to guard. I think that a lot of perimeter players have perimeter defensive versatility, but there aren't a ton of guys that can guard fours for long stretches or sometimes five's for long stretches, and Jae can do all that. So that's one of the things that's going to be quite a balancing act without him, and we're going to have to have guys step up and play.''
While Crowder is expected back in time for a playoff run, replacing him for the next two weeks won't be a simple task for Stevens. Boston's depth on the wing is one of the weaker points on an otherwise deep roster, and there isn't anyone down the bench who can slide into the many different roles that Crowder has performed regularly.
For example, as Stevens mentioned, the strong 6-foot-6 forward played 12 percent of his minutes at the four this season. That versatility gave Stevens the option to go with small lineups late in games without giving up much ground to opposing power forwards with notable size advantages.
How will the Celtics be able to hold down the fort and maintain some success without their prized wingman? Let's explore some potential solutions for team's starting five and rotation, as well as the domino effect on the team's playoff seeding prospects.
STARTING LINEUP IMPACT
The first conundrum that Stevens must solve is a basic one: Who gets the start at small forward for the next couple weeks? The head coach wouldn't commit to a player at practice on Sunday, but the obvious candidates for the job are Evan Turner and Marcus Smart.
There isn't a lot of data to go off when evaluating how either player fits in with the remainder of the current starting five (Thomas, Bradley, Johnson, Sullinger). Turner has played just 31 minutes with that group this season, while Smart has an even smaller sample size with just 11 minutes. Both five-man lineups produced terrific net ratings (+19), but there's no clear-cut winner out of the pair from the limited figures.
At 6-foot-7, Turner has to be considered the favorite to get the nod, primarily due to his size advantage over a 6-foot-4 Smart. Stevens has called on Smart to guard taller players on the wing all year long, including the seven-foot Kristaps Porzingis for a stretch, but defending taller players is a formidable task for 30 minutes a night.
With a steady diet of All-Stars at small forward on the schedule this week (Paul George, Kevin Durant), and Smart's propensity to get into foul trouble, choosing Turner makes plenty of sense. However, there remains an underlying question of just how well Turner has anchored the team's bench unit all season long with his playmaking ability.
That reality makes it probable that Smart will play some minutes on the wing with the starting unit, perhaps being used as the first man off the bench to replace Turner. That sub pattern would allow Turner to get some staggered rest so he can have fresh legs later to carry Boston's second unit offense when Isaiah Thomas heads to the bench.
ROTATION DOMINO EFFECT
While Smart or Turner will be replacing Crowder's spot in the starting five, they won't necessarily be taking his minutes. Both players already average over 27 minutes per game, just a bit shy of Crowder's 31. Those totals mean there will be at least 20 minutes up for grabs for the rest of Boston's bench while the small forward is sidelined.
Some of that playing time could be accounted for with the return of Kelly Olynyk from a separated shoulder. The seven-footer went through a full practice on Sunday with the team and is aiming to play Tuesday versus Indiana following an 11-game absence.
Olynyk's return to the court will probably have more of an impact on the floor time of fellow reserve big men Jonas Jerebko and Tyler Zeller, rather than any open minutes at the three spot. The 6-foot-10 Jerebko could slide down to the small forward spot, but that's not something Stevens is counting on.
"He doesn't play hardly any three for us anymore,'' Stevens said. "I mean he has and he may play a little bit. He's played mostly four. I don't think it changes what he does much. He may end up taking a lot of Jae's minutes that he played at the four.''
When Boston does go with a more traditional lineup that includes a pair of bigs, Stevens will need to look down his depth chart for some help in the backcourt with Smart or Turner shifting to the small forward spot. The candidates for those minutes include rookies R.J. Hunter and Terry Rozier, as well as second-year wing James Young.
"Inevitably you're probably going to play one of those three young guys,'' Stevens explained. "It may not be the same guy every night but they're going to play most every game. So we're going to need those guys to produce and to contribute to winning. That's what they practice for, that's why they lift, that's why they go to Maine, and that's why we have to depend on each other as a team.''
Rozier's defense and rebounding ability (seven boards in 10 minutes versus Houston Friday) will give him a leg up on the competition since those were two things Crowder did well. Young and Hunter do have a better long-term track record of outside shooting from their college days though, and Crowder's ability to stretch the floor with his 3-point shooting was critical most nights. All three will likely get a chance at one point or another, but don't expect more than two to hit the floor on any given night.
THE RACE FOR HOME COURT
The Celtics play eight games over the next 14 days, including five in a single week starting on Tuesday night in Indiana. With a pair of tilts against the Raptors, as well as games against a two Western Conference juggernauts (Thunder, Clippers) over this stretch, it will be a challenge for Boston to hold onto their half-game lead over the Heat for the No. 3 seed.
Miami has a far easier schedule over the next two weeks than Boston and should cruise to wins when facing teams like Brooklyn, Orlando and the Lakers. With Atlanta looming just 1.5 games back, the Celtics could fall to the bottom half of the East playoff picture and lose home court advantage just by going .500 during the eight-game stretch
The harsh reality for Boston is that the next few weeks were going to be tough, even if the team were at full strength. Without the benefit of having Crowder in the fold, multiple players will need to rise to the challenge in order for the Celtics to achieve their goal of home court for the first round of the postseason.
The Greatest Boston Celtics of all time
[bdc-gallery id="118766″]