Celtics
Kevin Durant on Boston: 'I like the city a lot'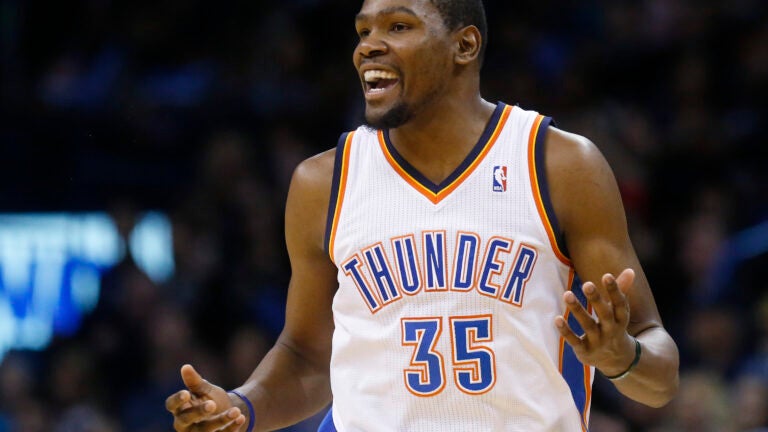 When a superstar athlete on the verge of free agency compliments a potential destination, it's probably not a bad sign for the courting team.
Oklahoma City Thunder small forward Kevin Durant praised Boston on Wednesday morning when speaking to the press after a team shootaround at TD Garden.
"I like the city a lot,'' Durant said, via MassLive. "It's cold but they love sports here. It's a family atmosphere I feel when I walk around the city. So yeah, I like it a lot.''
Durant — a movie star, seven-time All-Star, four-time NBA scoring leader, and the 2014 NBA MVP — hits the market at the end of the 2015-2016 season. He and the Thunder arrived at TD Garden to face the Celtics on Wednesday night with a 45-22 record, third-best in the Western Conference.
In addition to making positive comments about Boston, Durant also had some nice things to say about the Celtics.
"They play hard,'' Durant said. "They love their coach, they love their system, and especially in this building they play with a lot of energy.''
As far as endearing himself to a potential future fan base in Boston, Durant's the real MVP.
H/T Masslive
The greatest Boston Celtics of all time
[bdc-gallery id="118766″]