Celtics
With Jae Crowder out, Celtics need Kelly Olynyk more than ever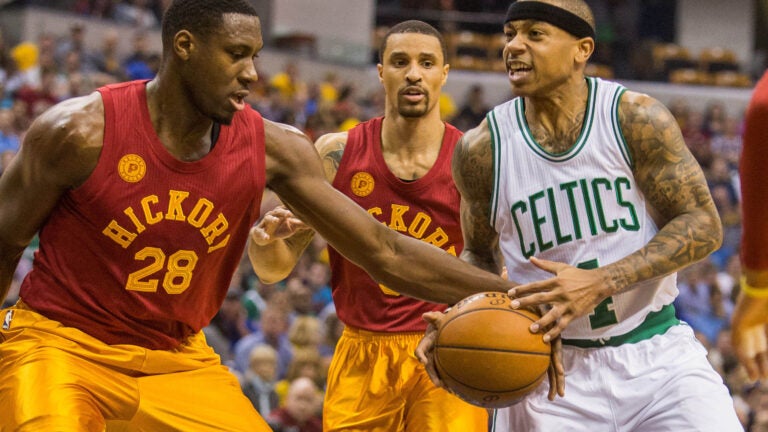 The Celtics are among the NBA's worst 3-point shooting teams, ranking 27th in the league with their 33 percent shooting from beyond the arc. That kind of inconsistent shooting makes perimeter spacing tough for Boston, even on nights when the team is at full strength.
So when you take two of the team's top shooters (Kelly Olynyk, Jae Crowder) out of the picture things can get ugly, and that's exactly what happened Tuesday night in a 103-98 road loss to the Pacers.
The Celtics shot a dismal 25 percent from downtown (8-of-32) in the defeat, as the team's lack of reliable outside shooting options clogged up the paint for Boston's playmakers.
"We were getting in the paint and nobody was cutting, nobody was open for us to make an extra pass to,'' Marcus Smart (1-of-8 from 3-point range) told reporters after the game. "We were just all on top of each other tonight.''
Isaiah Thomas (5-of-18 from the field) echoed Smart's concerns as he saw Indiana's defense swarm him constantly in the paint all night. The All-Star guard talked about the challenge the team faced in spreading the floor without Olynyk and Crowder.
"We were trying to drive in the first half and getting ourselves into a lot of trouble because we were driving into another one of their players,'' Thomas said, via the Boston Herald. "But Jae definitely helps us. He definitely spaces the floor. But having two guys like Jae and Kelly out, it's tough.''
The Celtics will have to learn to live without Crowder for the next couple weeks, but they may get some help from Olynyk on Wednesday night against Oklahoma City. The seven-footer has missed 12 straight games as he recovers from a separated shoulder, but remains day-to-day.
[fragment number=0]
With several tough matchups on the horizon, including contests against the Thunder and Raptors, the schedule gets no easier from here for the shorthanded Celtics. Stevens will need to be creative to find a way to mask Boston's shooting woes, mixing and matching players to help keep the floor spread. Otherwise it could be a long few weeks for the team as it fights to hold onto a top-four seed in the East without a key piece in Crowder.
Meet the 2015-16 Boston Celtics
[bdc-gallery id="147137″]