Celtics
Kevin Durant praises Celtics tradition: 'It's second to none'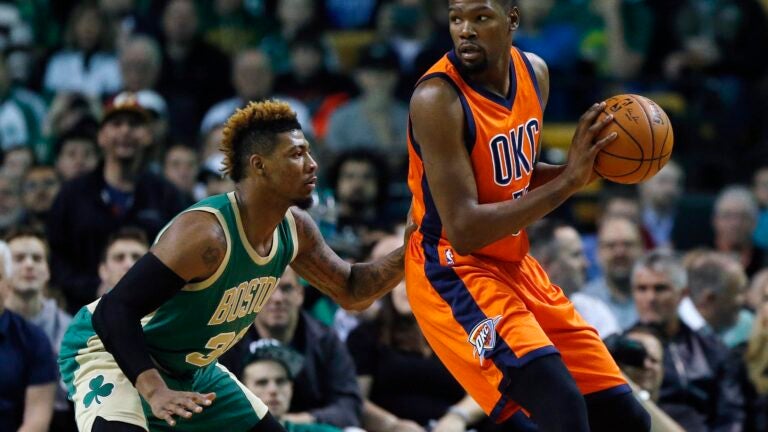 Kevin Durant had plenty of positive things to say about Boston before Wednesday's game against the Celtics, but he saved his most noteworthy praise of the city and franchise for later in the evening.
In a prerecorded interview that appeared on ESPN on Wednesday night, Durant talked about the experience of playing at TD Garden.
"You can feel the tradition walking in here,'' Durant said. "You see all the [legends] plastered on the walls as you walk into the locker room. The tradition of being a Boston Celtic is second to none. So it's amazing playing here. The fans, they're very energetic and they cheer for their team. It's amazing to see as a player, to have fans that care about the game so much. It's an amazing sports town and they have a great team to cheer for.''
The All-Star forward put on quite a show for the Garden crowd in his first appearance in Boston in three seasons, torching the hosts with 28 points, seven rebounds and nine assists in Oklahoma City's 130-109 blowout win.
Some Celtics fans in the Garden crowd attempted to woo the future free agent by chanting for Durant to "come to Boston'' on several occasions while he shot free throws.
[fragment number=0]
Durant was so focused on the game, he admitted he didn't realize what the fans were chanting at him. "I couldn't understand what they were saying,'' he said in the Thunder locker room.
After being filled on the subject of the chants, Durant was asked for his thoughts on them.
"No thoughts, really. I'm just happy we won.''
There will be plenty of attractive suitors lining up alongside the Celtics if Durant wants a change of scenery in July. The Thunder showed Wednesday night they still have the better team top-to-bottom than Boston. However, Durant's seemingly genuine admiration of Boston and its franchise should give Celtics fans some hope this offseason.
Meet the 2015-16 Boston Celtics
[bdc-gallery id="147137″]