Celtics
Isaiah Thomas wants Celtics to get more respect from referees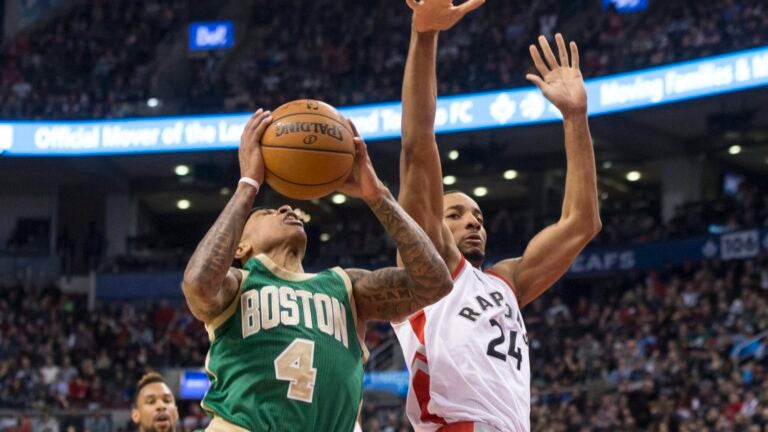 Isaiah Thomas has not sounded like a happy camper during a tumultuous week for the Celtics.
After a 130-109 blowout loss to the Oklahoma City Thunder on Wednesday, he called out his team for playing, "soft like tissue.'' After a 105-91 loss to the Atlantic Division-leading Toronto Raptors on Friday, at least some of Thomas' angst was directed at the referees. With the loss to the Raptors in Toronto, the Celtics matched a season high with four straight defeats.
The 5-foot-9 guard and his teammates were quite vocal with officials on Friday over the lack of calls they drew as compared to the hosts. Raptors point guard Kyle Lowry took 14 free throws in the contest, two more than the 12 that Boston attempted as a team. Overall, Toronto doubled up Boston (24-12) in attempts at the charity stripe. That disparity caused Thomas' frustrations to boil over with 2:49 remaining in the game, as he was whistled for a technical foul.
After the game, the Celtics' All-Star point guard expressed displeasure with the way referees handled the situation.
"I would like, as a man, you want to talk to somebody as a man. Right?'' Thomas told MassLive.com about his exchange. "And I didn't feel like they gave us the opportunity to talk to them throughout the game. Guys were complaining, but at the same time, if I come up to you and ask you a question, I should be able to talk to you and you should be able to answer back. And we didn't get that.''
While choosing his words carefully, Thomas shared frustration over what he saw as a lack of respect the Celtics were receiving from the refs in the matchup relative to the Raptors.
"I don't want to say too much because I don't want to get fined,'' Thomas said. "But referees have to be held accountable too, as players are. That's just all I have to say about that. It's frustrating not getting the same calls as the other team, and we're one of the top teams in the NBA as well. It is what it is.''
The defeat dropped the Celtics to the sixth seed in the Eastern Conference, just 2.5 games out of the seventh spot. Boston will get a chance to right the ship on Sunday night against the Sixers in Philadelphia.