Celtics
Kelly Olynyk regains rhythm after shoulder injury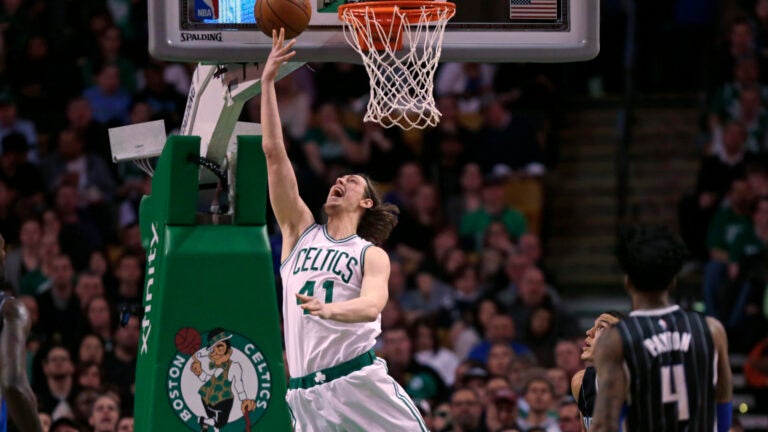 With Jae Crowder sidelined, the Celtics have been in dire need of some perimeter shooting help over the past couple weeks.
Kelly Olynyk's return to the lineup last Wednesday following a 12-game absence (separated shoulder) was expected to help in that department. However, the seven-footer averaged just 5.7 points per game in his first three contests back on 5-of-22 shooting, a development that did not exactly surprise head coach Brad Stevens.
"If you miss six weeks of basketball, you're going to be rusty when you get back," Stevens said. "And then every game you play, every practice you have, you feel a little bit better. So you don't know when that's really going to happen, especially with an upper-body injury where you haven't been able to shoot much. But you knew it was going to come around at some point."
Luckily for Boston, the seven-footer's turning point came on Monday night at the TD Garden. Olynyk posted 22 points in just 21 minutes of floor time, helping key the Celtics' 107-96 win over Orlando. The 24-year-old went 4-of-6 from beyond the arc in the breakout performance, and his 22 points were the most he's scored in a game since Dec. 11.
With his teammates on the second unit struggling with their offense (Olynyk scored 22 of Boston's 25 bench points), the timing was perfect for the big man to return to form. He spoke about how far he's come with his comfort level after the game.
"I didn't shoot a basketball in five weeks," Olynyk said. "It's not easy to just go out there and start firing them up. You're a little bit out of rhythm. Not all the strength is back in my shoulder yet. For a couple of games I was shooting the ball the way I wanted it, it felt good leaving my hand, but I didn't have the same strength.
"It's tough as a shooter to aim long, or to shoot it long every time. You want to be able to shoot it free and easy, and today it was coming off free and easy. I was shooting the same shots I was shooting before, and I had a little more strength."
With seven of Boston's final 11 regular season games coming against potential playoff teams, the Celtics will need Olynyk to maintain his scoring punch in order to finish the season on a high note.
Celtics' Biggest Draft Busts
[bdc-gallery id="465756″]