Celtics
Celtics musings: From Marcus Smart's missed shots to missing out on Draymond Green
Also: Sports Illustrated article explains why Brad Stevens approach works so well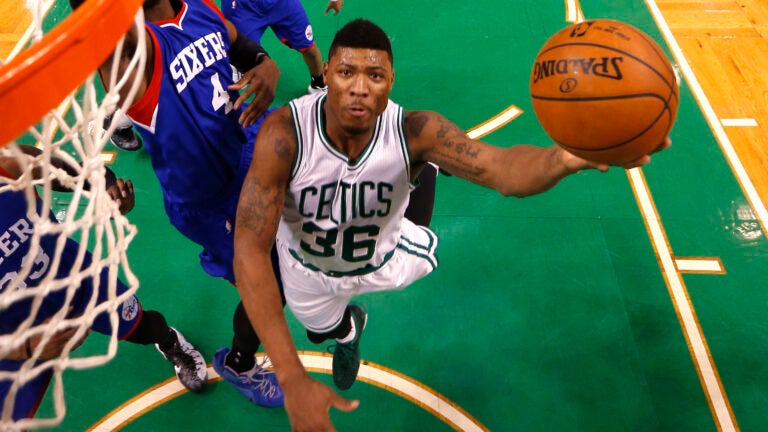 COMMENTARY
Here are a few Celtics thoughts to contemplate while acknowledging Brad Stevens's first winning season as Celtics coach and hoping for, oh, 20 or so more …
Sorry, I'm not going to ride this wave of Marcus Smart backlash that seems to be developing. I couldn't have more respect for Bob Ryan – man, do I miss doing 10.0 every morning with him – but I was disappointed with the assessment of the pugnacious second-year guard that he offered on Comcast SportsNet New England the other night:
"I thought he was a different type of guy. I saw in him as a young player last year, a leader to be, a real team leader type of guy. Not an agitator," said Ryan. "He plays hard. We know that. But there's a big difference than playing hard and being a jerk. He does have a disturbing tendency. The shot isn't improving. I'm very disappointed because I was very much, as you say, an officer in the fan club."
Well then… officer's privileges revoked! Yes, as a matter of fact, I do have the authority to do such a thing. Yes, Smart has had a frustrating sophomore season. His shooting struggles are evident on the court and confirmed by the stat sheet; he's shooting just 31.2 percent from the floor and 19.7 percent from 3-point range since the All-Star game, dragging down his season percentages to a dually dismal 34.2 and 25.7 percent, respectively.
In addition to lifting those percentages, Smart also needs to start feigning respect for the officials, if only to get a break with a call once in a while. I haven't seen a young Celtic get such little respect from the officials since Rick Fox was a whistle-magnet rookie in '93. The disrespect bugs Smart, and it manifests with him showing disrespect for the officials. That may be understandable, but it's also counterproductive. He needs to grow out of it. As teammate Tyler Zeller told him after one game a few weeks ago, give the refs a compliment when they get something right, just so they remember you're not always on their case.
But we've got to remember a few things, too. Smart is just 22. He had an injury-altered rookie season that continued with a gruesome finger injury in the summer league. And yet anyone who watches these Celtics has to recognize that he's nearly essential to their culture of toughness. He's a relentless, fearless, tone-setting defender. He's someone who, when he matures, has the skillset and makeup to be a key player on a championship-caliber team. Everything he does is born from a desire to win.
It's been a frustrating season for him. He has a lot of room to improve. But there's already a lot to like, even when the shots aren't falling. That's worth remembering in the down times.
STEVENS ON STEVENS
Check out the always excellent Andrew Sharp's feature on the Celtics this week in Sports Illustrated. There's not a lot new in it for diehard Celtics fans, but it is interesting to see someone outside of our basketball vacuum recognize and appreciate (and perhaps even envy) that this is an extraordinarily well-run organization, from ownership and the Danny Ainge/Brad Stevens brain trust on down to a cohesive roster of determined players who are sick of being underestimated.
One of the things I've marveled at and often written about regarding Stevens is his knack for getting the most out of flawed players by putting them in positions where their best skills are utilized. (I still cannot believe he got capable point guard play out of unapologetic gunner Jordan Crawford for a time.) So it was cool that Sharp got Stevens to talk philosophically about how he does this and why misfit toys like Evan Turner absolutely thrive here.
"Every NBA player has an elite strength," Stevens explained. "Some of them have 10 of 'em, and those guys are the very best in the league, right? But every one of 'em is here for a reason. And there are times when you can really soar with that skill, and there are times when they may not be as effective."
It seems like a simple thing. It makes all the sense. Remember … these guys are incredibly good. But so many coaches – in every sport, really – can be so determined to fit players into their systems of varied rigidity that sometimes there is no place for a player with a specific set of skills and obvious weaknesses. Please tell me Stevens is never going to leave.
EVERYBODY LOVES DRAYMOND
The MIT Sloan Sports Analytics Conference has gained renown during its decade of existence for bringing together the brightest minds in and on the fringes of the sports world to share innovative ideas regarding the gathering and application of data. But as franchises have become more guarded about their in-house insights and innovations, there are fewer revelations annually at Sloan.
That doesn't at all affect the event's appeal, however, at least to someone like me, who appreciates and is curious about analytics but hardly qualifies as expert. One of the fun little secrets of Sloan is that its greatest appeal is in the gossip and anecdotes, especially when it comes to the NBA. Perhaps the most fascinating revelation from this year's event, which took place two weeks ago, came when Brian Scalabrine said on a panel that the top of Celtics assistant general manager Mike Zarren's 2012 draft board looked like this:
1. Anthony Davis
2. Undisclosed player
3. Draymond Green
Presuming that's true – and Zarren, who has been at Sloan in each of its 10 years, didn't deny it – it leaves a couple of questions.
Who did he have at No. 2?
 With two first-round selections that year (Nos. 21 and 22), why the hell didn't the Celtics grab Green, who ended up going 35th overall to the Warriors and has grown into an exceptional and distinctive All-Star and champion?
Zarren didn't say, but it's not difficult to speculate that he had Jared Sullinger at No. 2 on his board, given that he was a superstar college player whom the Celtics got at No. 21. At Michigan State, Green wasn't the shooter he is now, and he wasn't in the superb physical condition that he's in now, either. It's fair to presume the Celtics passed on him with their second first-round pick because of some perceived redundancy in skillset with Sullinger.
So they took a flier on Fab Melo at No. 22, a painfully raw shot-blocking big man. He flopped, of course, and Green became a superstar with the Warriors. We can wonder how he would have fared here – you know Stevens would have figured out how to use him in a hurry – but the logic for passing him up, even as they recognized his talent, isn't totally faulty.
HIELD IN HIGH REGARD
Thanks to the Cavs' pathetic no-show against them on Thursday night, the Nets were tied with the Suns for the third-worst record in the league (20-51) entering Friday. As you may have heard, the Celtics own the Nets' No. 1 pick this year.
Third is not a bad spot, even though the wish is for the ping-pong balls to finally cooperate and give the Celtics a shot at Ben Simmons or Brandon Ingram. (Still favoring Simmons here. That LSU situation was toxic.) Any player picked after those two will feel like a consolation prize.
I am one of those unapologetic NBA fans who watch the tournament with one eye toward how some of the better college players might fare in the pros, and I really like both Oklahoma's Buddy Hield and Kris Dunn of Providence as NBA prospects. They're both slightly undersized, but Hield is a killer shooter, and Dunn is fast and fearless. In another draft, one in which we weren't banking on the Celtics getting a top-two pick, I'd be thrilled with either of these guys ending up in Boston.
This year, it would feel like small consolation, even though I suspect either player would win the fans over quickly.
THERE WILL BE NO FINALS REMATCH
Two Celtics-related predictions before our shot clock runs out
1. The Cavaliers are not going to the 2016 NBA Finals. They're the most talented team in the East, but as their loss to the Nets on Thursday reminds us, they've got some quit in 'em. I'm not sure who will take them down: It could be Miami, could be the Raptors, maybe even the Celtics. But a unified, relentless team can beat them. And will. And then LeBron will have a very interesting decision to make.
2. The Warriors will go 73-9 to break the 1995-96 Bulls record by one game. They're at 64-7 with 11 games remaining. They'll lose one of their two remaining matchups with the Spurs. And it wouldn't shock me if they lost to the Celtics April 1 – yes, for their first home loss of the season – though I think the Jazz might get them next Tuesday in Salt Lake City. We all hope they get there, right? The 1995-96 Bulls were joyless by comparison.