Celtics
Bill Walton tells the story of how he ended up with the Celtics
Red Auerbach wasn't going to listen to no doctor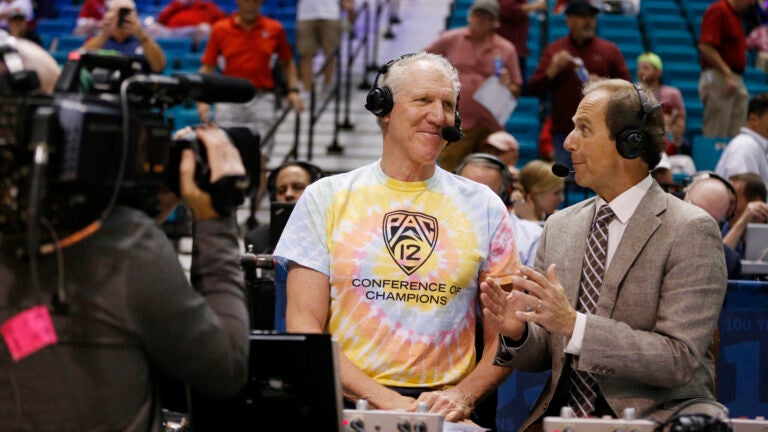 Bill Walton joined the Celtics in 1985 by trade, and Boston won an NBA Championship in the ensuing season. And while Walton fit in seamlessly as the Celtics sixth man, he explained that joining the C's was not so seamless.
Walton spoke with Yahoo! sports writer Adrian Wojnarowski on "The Vertical Podcast" to discuss the former Celtics' new book, Back From The Dead. Walton discussed a number of topics, and spoke at length about how the Celtics-Clippers trade came to completion.
Here are Walton's thoughts from the interview, published on March 23.
"The Celtics are the best (organization in sports)," Walton said. "They have the most championships. They have the most Hall of Famers. They have the most members of the all-time team for the NBA. They are the best. So I initiated this trade.

"I called up Red (Auerbach) and Red said, 'OK. But let me take care of it.' So he negotiated all summer with (Clippers owner) Donald Sterling to try to make this deal happen. And Sterling just dragged it out and dragged it out,and was treating me with the Celtics like I was the greatest player ever – when I hadn't been able to play at all for all these years with my broken feet. And so finally they make the deal. And I go in. I'm going to sign the papers at Sterling Plaza, Wilshire Boulevard there in Los Angeles. And I walk in there.

"And there's Donald Sterling sitting there in his ostentatious throne behind his big, ornate desk. And he's just leering at me with that reptilian, evil smile of his as I walk in the door. And he says, 'Walton, if you want to make this deal go down, I owe you a fortune in deferred compensation,' which was the economic model of the day, 'and if you want to make this deal go down and you go to Boston you've got to leave every dime of that money here with me today.' Now, this money had already been litigated over countless times, and I had won unanimously every single time. And so I looked at him and I reached across the desk, after he said that I've got to leave all the money that I had in the world right there with him, and I took that pen, and I signed that paper with as much confidence and bravado as I could possibly muster. I signed it, got up, turned, and never looked back. But as I walked out that door, out in the streets of Los Angeles that day, I asked myself, does he, Donald Sterling, really think that all his money, and now all of mine, would ever buy back his soul?

"And then I got to the Boston Celtics, and the biggest problem was that I still had to pass a physical because there's no way I'd ever been able to pass a physical. But Red Auerbach, he showed up at the hospital. And the doctors are all looking at my X-rays. And I could hear them talking. And I had just left everything back in California, and I'm coming here, moving to Boston, with no idea how it was all going to play out. And so I could hear the doctors talking among themselves: 'What are we going to tell Red? We can't pass this guy. Look at his feet. Look at his knees. Look at his hands and wrists. Look at his spine. Look at his face. There's no way we can pass this guy.'

"And then Red, he bursts in through the double doors at Mass. General hospital there at the east end of Storrow Drive. And he's smoking his cigar in the hospital, and he walks in and says, 'Who are you guys and what are you doing with my player?' And they're saying, 'Red, come here. Look at this. Look at his feet. Look at his face. We can't pass this guy.' And Red says, 'Shut up. I'm in charge here.' And Red pushes his way through all the doctors, comes over. I'm lying on the table there in the doctors examining room. Red looks down at me. He says, 'Walton, can you play?' And I looked up at him with the sad, soft eyes of a young man who just wanted one more chance. One more chance to be part of something special, to be part of the team, to be with the guys one more time. And I looked up at him, and I said, 'Red, I think I can. I think I can, Red.'

"And Red took a step back, folded his arms, and took a drag on that cigar. Oh my gosh. And he held that smoke in as long as he possibly could, and you could just see all the machinations going on, all the calculations, all the deliberations as to how this is all going to play out. Finally he just exhaled, and I swear that smoke came out green, Adrian. And it was shamrocks and leprechauns up against the white LED lights on the wall. And Red, through the smoke, with a big, cherubic grin on his face, looked at the doctors, looked at me, and he said, 'He's fine. He passes. Let's go. We've got a game.' And we were able to go out and win a championship. I'm the luckiest guy in the world, Adrian. Thank you Red Auerbach. Thank you Larry Bird. Thank you Boston Celtics. Thank you people of New England. Thank you Celtic nation. Wow. What a dream come true."
Despite his history of injuries, Walton played all 80 games during the 1985-86 season, averaged and 7.6 points and 6.8 rebounds, and finished with a career-high 56.2 field goal percentage. He played 10 games during the 1986-87 regular season, but joined the Celtics for their playoff run, which ended in a loss to the Lakers in the NBA Finals. Walton retired following the 1987 season.
Listen to the entire interview with Yahoo! here.
(H/T MassLive.com)