Celtics
Marcus Smart is having the worst 3-point shooting season in NBA history
Antoine Walker had the second-worst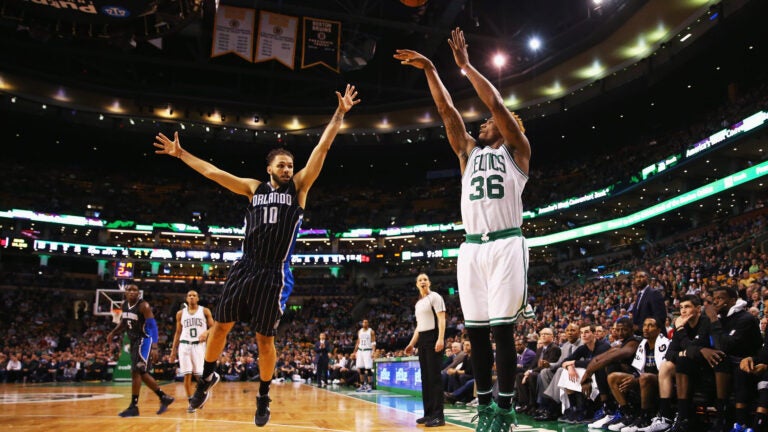 Marcus Smart is an exciting young player. He has excelled defensively, and in particular he steals the ball more frequently than just about everyone in the league.  On a per game basis this season, he's scoring and rebounding more, and has turned into one of the better defensive rebounders at the guard position. He has also improved his free throw shooting. The rest of his shooting, in particular his three-point shooting…is a huge problem.
This should be readily apparent to anyone who has watched the Celtics over the past week. In the team's last three games, Smart is 0-for-11 from downtown: 0-for-5 last Monday against the Magic, 0-for-1 on Wednesday against Toronto, and then 0-for-5 again on Saturday against Phoenix. It's been an ugly week shooting the ball for Smart, who overall was just 4-for-26 from the field. While this was an extremely bad week for him shooting-wise, it's just the worst of what has been a bad season.
Let's focus on his three-point shooting. Smart has not only been bad at shooting threes, he's been worse than he was last season, and he has been trending downward as this season has progressed. He shot just .238 from downtown before injury forced him out of the lineup at the end of November. In his first 14 games back, from Dec. 27 through Jan. 22, he shot a measly .156 from downtown. Perhaps he could be forgiven for this downturn, as he was working his way back into the lineup.
Fortunately, he would improve. In his following game, he hit three of his six three-pointers in a win over the 76ers. In six of the following 10 games, he hit multiple threes, and for that 11-game stretch from Jan. 24 to Feb. 10, he had .429 three-point percentage (3PT%). That's well above the .353 league average, and was a genuine ray of hope. But then came a nine-days layoff for the All-Star break. When Smart left, so did his shooting touch. In the 18 games since the All-Star break, Smart has hit just 13 of the 72 threes, for a woeful .181 3PT%. That's really, really bad.
This has gone on long enough that this is no longer cute or innocent. For the season, Smart has taken 215 three-pointers, and has hit just 54 of them, for a .254 3PT%. In the history of the NBA, 1,943 players have taken at least 200 three-pointers in an individual season. The highest percentage hit was Tim Legler's .522 3PT% in 1995-1996 (128-for-245). The worst of those 1,943, right now, is Marcus Smart this season. Smart is literally enduring the worst season shooting three pointers in NBA history.
Celtics fans have seen this before. If you follow the link above, you'll note that the player with the second-worst 3PT% ever is Antoine Walker, from the 1999-2000 season. In case you don't recall, this was Walker's fourth season. He was better in both the preceding and following season, which makes the 1999-2000 season an anomaly for Walker. Whether it becomes an anomaly for Smart is obviously uncertain.
What is certain is that Smart is currently one of the worst three-point shooters in NBA history. In his brief NBA career, Smart has hit just 145 of the 487 three pointers he has launched. In NBA history, 560 players have taken at least 450 three-pointers in their career. Of them, Smart ranks 525th, one of the 40 who have hit fewer than 30 percent of them.
With more context, we see it's actually worse than this. Some of these players played in the 1980s, when the three-pointer was new and players didn't shoot it as frequently. Former Celtics guard John Bagley, for instance, only took 473 threes in his 11-year career (1983-1993), as opposed to Smart, who has blown past that mark in two seasons. Other players are forwards, who are not expected to be a good three-point shooters. All-Star/Hall of Fame forwards like Charles Barkley, Kevin Garnett, A.C. Green, James Worthy and Chris Webber find themselves in this group. This is Garnett's 21st season. He's taken 632 threes in that time. Smart will likely blow past that mark next season.
In 1993-1994, the NBA averaged 9.9 three-point attempts per game. The next season, that jumped to 15.3, and has been at least at 12.7 ever since. This season, the NBA is at 23.9, the fourth-straight year the record for threes per game has been broken. If we restrict our player search to guards who have taken at least 450 threes from 1994-1995 to the present, we see that Smart ranks 308th out of 317, or tenth worst.
This isn't the end of the world for three reasons. One, look at the nine players worse than him – Ron Harper, Tyreke Evans, Dwyane Wade, Rajon Rondo, Rod Strickland, Bimbo Coles, DeMar DeRozan, Anthony Carter and Andre Miller. Wade, Rondo and DeRozan have been All-Stars, and five of the others played for at least 13 seasons. The other is Evans, who is in his seventh NBA season, and has averaged 33.4 minutes played per game throughout his career. Smart can still have a very long NBA career.
The other pieces of good news are related. Three-point shots are highly variable, and as such take a long time to stabilize. Research by Nylon Calculus shows that a player's three-point percentage doesn't stabilize until 750 shots, which Smart isn't up to yet.
That's because that Smart is still very, very young. I have written before that Dwyane Wade is the worst three-point shooter of all-time. But Wade didn't debut in the NBA until he was 22. Smart is 21 this season. If we restrict our previous search of players who have taken 450 or more threes in their careers to 450 or more by the end of their age-21 season, we end up with a list of 26 players.  The list includes Kevin Durant, James Harden, Rudy Gay, Allen Iverson, Stephon Marbury, Kobe Bryant, LeBron James, Tony Parker, Antoine Walker, Kyrie Irving and Carmelo Anthony. That's pretty good company. Smart ranks 25th on the list, with only Anthony having been worse.
This list, on the whole, is a good news-bad news situation. The good news is that Smart is in a select group of players who have been trusted to play this much at a young age, and that many of them have had excellent careers. The one other piece of good news is that the player who improved his shooting the most following his age-21 season was the one player who was worse than Smart – Carmelo Anthony. In his first three seasons in the NBA, Anthony hit just 148 of the 524 threes he took, for a .282 3PT%. In the following decade, including this season, he has a .359 3PT%, which is a dramatic improvement.
The bad news is that Anthony is the outlier. No one else got close to Anthony's improvement, and as a whole, this group shot worse from downtown following their age-21 seasons than they did in their age-18 through 21 seasons. Some, like Danilo Gallinari and Allen Iverson, were/have been much worse.
Marcus Smart has been a very poor three-point shooter. This isn't a death knell for his career. He does other things well, and can be a productive NBA player for a very long time. But unless you believe that he can follow in Carmelo Anthony's footsteps and significantly improve his three-point shooting, what we're seeing is what we're getting from him. He either needs to spend a lot more time shooting threes at the Celtics practice facility in Waltham than he does during games in Boston, or he and coach Brad Stevens need to adopt a game plan that better suits his strengths.
[bdc-gallery id="147137″]