Celtics
Evan Turner day-to-day following late-game eye injury
Over the past eight games, No. 11 is averaging 15.4 points with 5.4 rebounds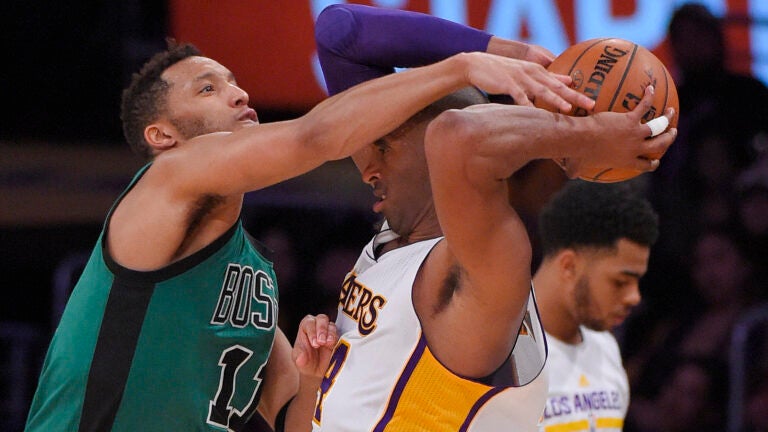 Evan Turner is looking great in the last eight games, and even better in the last two. He earned his 12th start of the season Sunday night, replacing Avery Bradley, who was out for personal reasons. On Sunday, Turner was having another positive night, up until the game's final seconds.
Following a missed free throw, Turner rushed down on defense with about 20 seconds left on the clock and the Celtics leading the Lakers, 105-100. The 6th-year guard went up for a contested rebound against Lakers big man Julius Randle, then crashed down out of bounds.
Turner ran into the locker room, and after the game was having trouble fully opening his eye. The team released a statement calling the injury a left eye abrasion, and that Turner would be reevaluated on Monday.
In thirty six minutes played Sunday night, Turner was 7-for-12 from the field 1-for-1 from beyond the arc with four rebounds, four assists, and 17 points, playing a key role in the 107-100 win.
This came two days after a season-best 21 point performance against the Warriors where he added five assists, five rebounds and three steals, and shot 61.5 percent from the field, making Golden State's defense look April foolish.
Over the past eight games, Turner is averaging 15.4 points with 5.4 rebounds, and 4.3 assists per game, while shooting 66.6 percent from three and 52 percent from the field. On the season, Turner leads the Celtics in field goal percentage, shooting 45.6 percent through seventy-seven games.
Turner's eye witnessed some abuse against the Lakers, but it didn't stop him from getting hyped about Boston officially clinching a playoff spot. And by the next morning, Turner already seems to have a sense of humor about the injury.
Meet the 2015-2016 Boston Celtics
[bdc-gallery id="147137″]