Celtics
If Celtics don't get a top-2 pick, there is one more draft prize who is more than a consolation
The NCAA Tournament sometimes leads to flawed evaluations of players. But Oklahoma's Buddy Hield is the real thing -- and you know Brad Stevens would use him right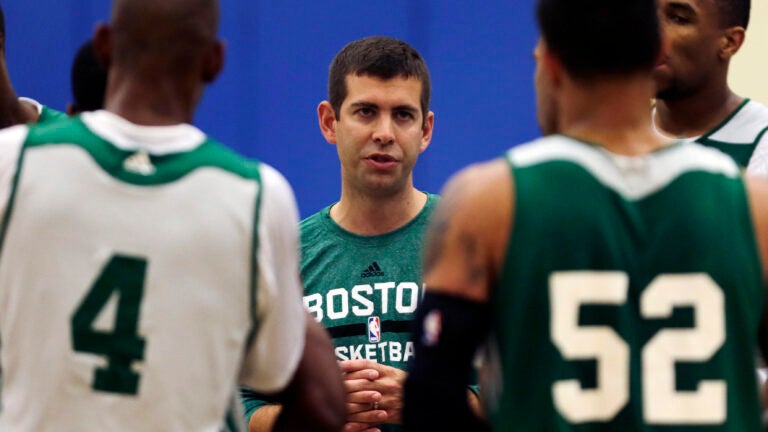 COMMENTARY
Every basketball fan who correctly favors the NBA over the NCAA does this to some degree. We're all guilty of it. It's irresistible.
We treat the NCAA men's basketball tournament, that annual sports/culture/gambling fiesta that is so much fun that it remains resistant to ruin by the slippery men who run college athletics, as a chance to scope out and scout players who might have a real future at the game's highest level.
The problem is that there's a very high probability of future feelings of shame if you actually share those sizzling opinions that were gathered in a small sample-size. Because the tournament at its best is sports at its most exhilarating. A player who repeatedly performs exceptionally – and often above his norm — through a couple of rounds is going to have an exaggerated profile. You're going to like him as a pro prospect maybe more than you should.
Oh, hey, here comes an example right now:
You can have Ben Simmons if you'd like; I'll take Brice Johnson 100 times out of 100 on my NBA team…

— Michael Wilbon (@RealMikeWilbon) March 20, 2016
It's often fool's gold, as I first learned as a teenager, when I was convinced Houston's Benny Anders (look him up – now he's a story) was a superior skywalker …
… to teammate Clyde Drexler, or that Gary McLain, who ran the offense with near-flawless expertise while leading Villanova to the '85 title, would be a quintessential intelligent point guard in the NBA. (Years ago, McLain admitted to being coked up while meeting President Reagan at the White House. He never played in the NBA.)
I guarantee you that there's someone out there who saw Kris Jenkins's instant-classic buzzer-beater  Monday night and decided right then he's the next Draymond Green. (Probably Wilbon.)
And perhaps there's someone else who may have spent the first round of the tournament thinking Villanova guard Ryan Arcidiacono's name was Archie Diacono. Six wins later, that person, of course, is suddenly an expert on the kid's game and will tell you he could really help the Sixers next year. (That person might be me, now that you mention it.)
The setup of the tournament, and the stars it makes, encourages major hyperbole. I get that. It's irresistible. (Seriously, look up Benny Anders. Better yet, find him.) But if you are wary of looking like a fool a little too often, it can make you hesitant to opine on a player who intrigues you as a pro prospect.
For me, that player is/was Buddy Hield, Oklahoma's tireless, bold shooting guard. Hield was the superstar of the tournament through the early rounds, scoring 27, 36, 17 and 37 points in the Sooners' first four games en route to the Final Four. He made 47.5 percent of his 3s, and he shot 56.7 percent from the floor through those games, and was the star of the tourney before the Sooners ran into the Villanova buzzsaw in the semifinals.
Hield was very easy to believe in during his run. He was arguably the best player in college basketball this year, so his bona fides were already in place when he began drawing comparisons to exceptional guard performances of the recent past – Steph Curry leading puny Davidson to the fringe of the Final Four in '08, or Kemba Walker putting UConn on his back in '11 and taking the Huskies to the title.
He's still easy to believe in now, even if we recognize his flaws – for instance, that he's not a particularly polished defender, or that he's older than Marcus Smart, or that his 6-foot-4-inch height isn't idea for an NBA shooting guard. (Kevin O'Connor has an especially thorough write-up on Hield in his highly recommended draft guide.)
While watching Hield, I tried to do it through a slightly higher level of assessment than saying, "He's a great shooter and he seems to have fun out there. GO GET HIM, DANNY AINGE!" Since the Celtics, such a rewarding team to follow in this moment and one with so many possibilities ahead, will be major players in this year's draft, I tried to watch Hield through the lens of what  I believed Ainge would like about him. But even more so, I tried to look at him at how Brad Stevens, who has an uncanny ability to get the most out of everyone, might use him.
It would be disappointing if the Celtics – who own the Nets' lottery pick this year and are just a half-game back of the Suns for the third-worst record in the league – don't end up with LSU's Ben Simmons (a supreme talent who couldn't overcome a poor coach and selfish teammates) or Duke's Brandon Ingram (who has the sleepiest eyes since Sam Perkins but plays with admirable effort and alertness.)
Any player chosen later than those two might seem like a consolation prize. Maybe that will prove the case. But the more I saw Hield, and thought of him being used as a deadeye shooter in the Celtics' offense, the more I became convinced that he's not a consolation at all, but a true prize.
Don't get me wrong, I want Simmons or Ingram, preferably the former, to end up on the Celtics. (Brice Johnson would be about 25th on my wish list.) But the ping-pong balls forsake the Celtics again, I'll be happy to see Hield in green.
We know Stevens will use him to the best of his powers, and Hield has some damn impressive powers. We can't forget that, even if that Villanova kid — Diacono, right? – did give him a tough time the last time we saw him. Sometimes a player is better than our last memory, too. Hield will prove that, wherever he goes.
Looking at the top NBA draft picks of the last 20 years
[bdc-gallery id="147034″]