Celtics
Celtics-Hawks Game 1 preview: How does Boston score?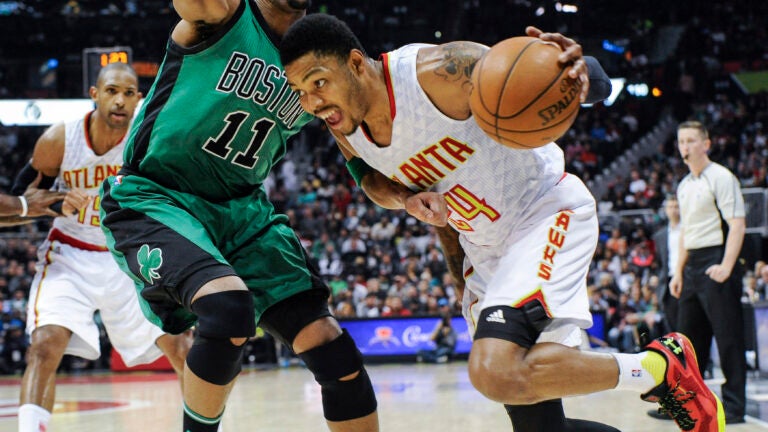 COMMENTARY
PREGAME COVERAGE: Welcome to the NBA Playoffs, and just as an opening statement, it's really too bad that the Celtics are where they are right now. I don't mean in the playoffs. I mean on the road in Atlanta, against the best of the three teams they finished tied with in the standings. It's a double whammy and they deserve better.
Then again if this leaves Boston feeling slighted in any way, it might be a good thing. Disrespect is basically a legal form of HGH for these guys. Not to mention if they can't beat Atlanta without home court, they certainly can't beat the Cavs or the Raptors, so there's no point in complaining. There are no points for complaining. In the playoffs there are two options, survive or disappear — and this Celtics team isn't ready to go. But come Saturday at 7 pm, they will be ready to fight.
VEGAS: The Hawks are five-point favorites in Game 1.
Beyond that, the Celtics are +130 to win the series. That means if you hypothetically bet $100 on them to advance, you'd win $140. By comparison if you bet that same $100 on the Grizzlies to beat the Spurs, you'd net $2500.
Finally, according to Vegas the most likely Celtics/Hawks outcome is "Hawks in 7". That's listed at 3.5 to 1 odds. "Celtics in 7" is 5 to 1, "Hawks in 4" is 10 to 1, and if you think the Celtics have in sweep in them, "Celtics in 4" pays you 18 to 1.
PLAYER INTROS
Boston
PG: Isaiah Thomas — A lot of people have spent a lot of time arguing about whether Thomas has what it takes to carry a team in the playoffs, but this is where the arguing stops. Now is the time for IT to put up or shu—merely settle for being one of the top 10 point guards in the world.
SG: Avery Bradley — It might be nice if they announce the NBA All-Defensive teams during the first round, so that if Avery gets screwed he can unleash merciless lockdown vengeance on Atlanta. It might also be nice for Bradley to maintain his 15-point scoring average without disappearing for full quarters (sometimes halves) at a time.
SF: Jae Crowder — Everyone loves Jae and for good reason, but once again he needs to rediscover his range. He's 9/38 (.237) from three-point land since returning from injury. If the Hawks don't have to worry as much about Crowder, they can worry more about Isaiah, and that's a domino effect that ends in disappointment for Boston.
PF: Jared Sullinger — Atlanta's dynamic frontcourt makes this a tough match-up, which explains why Sullinger averaged fewer minutes against the Hawks than he did against all but two other teams in the East. In fact the last time they played, Sullinger didn't even start the second half. Don't expect too much from him in this series.
C: Amir Johnson — Johnson is the only Celtic with more than six years NBA experience but he hasn't won a playoff series since he was a 20-year-old role player on the 2008 Pistons. That said he's currently playing his best basketball of the season, and had one of his best games as a Celtic in Boston's lone win over Atlanta: 17 points, eight rebounds, four assists, three steals and three blocks.
Atlanta
PG: Jeff Teague — His numbers are down over the last few years but Teague is still a grimy gamer, sort of a poor man's Chris Paul, and a prime candidate to emerge as Public Enemy No. 1 by the time this series moves back to the Garden.
SG: Kent Bazemore — In 2011, Bazemore's Old Dominion team lost to Brad Stevens' Butler squad in the NCAA tournament. Three years later, shortly after midnight on the dawn of NBA free agency, Stevens first phone call was to Bazemore. He wanted him in Boston. So on one hand the Celtics are familiar with him, which is good. On other hand, they really like his game, which for these purposes is a little scary.
SF: Kyle Korver — The good news is that this was Korver's worst three-point shooting season in seven years. The bad news is that in Korver's worst three-point shooting season in seven years, he still hit only nine fewer threes than Isaiah Thomas and did it on 68 fewer attempts.
PF: Paul Millsap — The best player on either team, and in the playoffs that's typically bad news for the other team.
C: Al Horford — The only player left (on either side) from that crazy first round series in 2008. But will we still be able to say that this time next year?
FIRST QUARTER: The Millsap Problem
You don't want to overreact to one game, but this isn't just about the 31 and 16 that Millsap dropped on April 9. In four games this season the All Star averaged 22.5 points, 10.3 rebounds and three assists against the Celtics. The points per game were his best against any Eastern Conference team. He also shot .576 from the field, .429 from three and 16 of 19 from the foul line.
So how do they stop him?
Not that this helps, but the Celtics could really use Brandon Bass here. He's the perfect combination of size, strength, speed and athleticism. In reality, they've leaned a lot on Amir Johnson so far this season, but that hasn't gone so well. Millsap is too mobile for Amir. And if he's too mobile for Amir you know he's too mobile for Sullinger. Beyond that Kelly Olynyk and Tyler Zeller have both tried and unsurprisingly failed to handle Millsap. Evan Turner and Crowder have been there, too. But ultimately that last option is the best option. If Millsap comes out in Game 1 running circles around Johnson and Sullinger, Brad Stevens needs to give Sullinger a quick hook, go small with Turner or Marcus Smart and then call a timeout.
From there he puts Isaiah on Teague, some combination of Bradley/Smart/Turner on Bazemore and Korver, Amir on Al Horford and then he turns to Crowder and says: "Listen, Jae. I know you're not 100 percent right now, but we need you. Our chances to win this series rest on your ability to suck it up, stand tall and make Millsap work for absolutely everything. NOW GO MAKE HIM WORK."
SECOND QUARTER: How does Boston score?
The biggest fear is that this series becomes a slow it down half court battle, and there are two big reasons for that concern:
1) That's when the Celtics offense is at its worst.
2) That's when the Hawks defense is at its best. Especially lately. On the season they have the second best defensive rating in the league, giving up 101.4 points per 100 possessions, but since the All Star Break, Atlanta's defensive rating is a bonkers 96.8. That's the best mark in the league by a long shot. In this case, I also wonder if Mike Budenholzer might randomly roll out Thabo Sefalosha against Isaiah Thomas, to bother him with height the same way Cleveland did last year with Iman Shumpert and the Warriors did earlier this year with Shaun Livingston.
At any rate, if you want to know how the Celtics are going to score, the only acceptable answer is that they will need to run and run and push the tempo to Tommy Heinsohn's heart's content. The more chaotic, the more emotional, the more times they can smash their finger on the fast-forward button the better. They need to run like their season depends on it, because it does.
HALFTIME TRIVIA
Over the last 40 years, only two players have appeared in the postseason as members of both the Celtics and the Hawks — who are they?
Answer: Dominique Wilkins and, obviously, Grant Long.
THIRD QUARTER: The Swing Guys
Home court advantage is huge in the playoffs. It's big for the fans, for the refs, for the All Stars and for pretty much everyone involved. But the segment of the basketball population most affected by home court is not the fans or the refs or the All Stars, but instead the lesser experienced role players. The journeymen. The up-and-coming or fringe stars. These guys are more likely to raise their game in the presence of 20,000 inspired home fans, more susceptible to turtling in the presence of 20,000 haters. These guys — the swing guys — are the biggest variables in any playoff series, and the biggest reason for the vast difference between playing at home vs. the road.
For Atlanta, this year's swing guys are Bazemore and Dennis Schroeder. For the Celtics, they're Kelly Olynyk and Marcus Smart.
In a series that's so close in so many ways, the pair that can give the most consistent effort home and away could end up determining who advances to the next round.
FOURTH QUARTER: The Tryout
In the big picture, the playoffs are enormous scouting opportunity for the Celtics. With all the data they collect and all the different ways and levels on which they measure a player's worth, the chance to evaluate them up close for anywhere from four to seven consecutive games is invaluable. With that said, you better believe they'll be paying extra special attention to Al Horford this series. Obviously, as a four-time All Star, Horford has an established track record. This isn't really a tryout. But he's also a few months shy of 30 years old and will be asking for a ton of money this summer. The next four-seven games should give Boston some additional important insight into whether he's worth it.
POSTGAME PREDICTION
Atlanta 101, Boston 93: It will start ugly, stay close, but late game execution will make the difference.
Greatest Celtics of All-Time
[bdc-gallery id="118766″]