Celtics
The Celtics' key to victory is shutting down Paul Millsap and Al Horford
The Celtics can't afford to put slower players on Atlanta's two big men.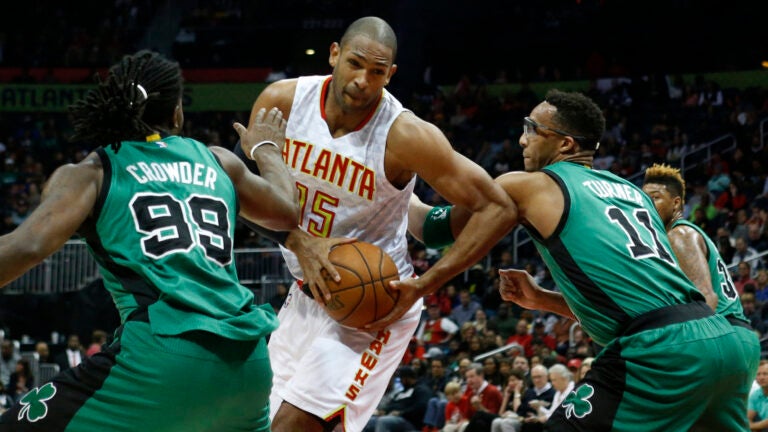 COMMENTARY
Paul Millsap and Al Horford are beasts of the east. The duo poured in more than 31 percent of the Atlanta Hawks' points this season, and pulled down more than 38 percent of their rebounds, and they crushed the Celtics all season. Stopping them needs to be the Celtics' main priority in the first round of the Eastern Conference Playoffs.
This will be easier said than done. Millsap in particular is a nightmare for the Celtics. In their four regular season contests, Millsap averaged 22.5 points, 10.3 rebounds and 3 assists against the C's. While those numbers can't be taken as gospel – three of the four games came in the beginning of the season, when the Celtics had a different composition (specifically, David Lee was still on the roster) – they're a pretty good indicator of Millsap's ability. What's more, Millsap is coming in hot. He was just named Eastern Conference Player of the Week, partially on the strength of his 31 point-16 rebound effort against Boston on April 9th.
He doesn't have the profile that some stars do, but Millsap is every bit as effective. In terms of Win Shares – an advanced metric that measures the number of wins a player contributes to his team – Millsap ranked 13th in the NBA this season, three spots ahead of Isaiah Thomas at 16th.
Millsap is so hard to match up with, and the Celtics are no exception, because he moved very quickly for a big man, and can spread the floor. This is in direct contrast to the Celtics starting bigs – Amir Johnson and Jared Sullinger – who are the two slowest players on the team, both according to tracking system SportVU and the naked eye. Millsap on the other hand, moved nearly as fast as Thomas, which is notable since Millsap is 6'8", 246 lbs., while Thomas is 5'9", 185 lbs.
Millsap's speed is an issue, but his ability to spread the floor is also a big factor. Johnson and Sullinger play in the paint, but nearly 20 percent of Millsap's shots this season were non-corner three pointers, according to Austin Clemens' shot charts.
Al Horford is very similar. While Horford doesn't move as quickly as Millsap, he spreads the floor even more. While Millsap took nearly 60 percent of his shots in the paint, Horford only took 43 percent of his shots in the paint, according to Clemens' shot charts. Millsap's speed, and the ability of both to stretch the floor, mean the Celtics need to think creatively – guarding them with Johnson and Sullinger are not the solution.
The suggestion here is that the Celtics match up Jae Crowder on Millsap and Jonas Jerebko on Horford. The Celtics need to be able to move defensively with Atlanta's duo, and Boston hasn't kept up thus far. A prime example is the aforementioned April 9th game. The NBA compiled Millsap's 31 points in a video, which you can find here . If you watch it, you'll notice a couple of things. The first and most glaring is that when Johnson is guarding Millsap, he doesn't go out to meet him for outside shots until it's too late. Johnson's natural tendency is to stay in the paint. The second is that none of the bigs who guarded him – Johnson, Sullinger, Tyler Zeller and Kelly Olynyk – are quick enough to stay with Millsap.
Both Crowder and Jerebko are capable of playing on the perimeter and in the paint. While we think of Horford as a center and Jerebko as a power forward, both of their listed heights are 6'10". There's no size disadvantage there. And putting the quicker players on Millsap and Horford won't give up much of a rebounding edge either. While Sullinger is easily the best rebounder on the team, Jerebko is the equal of Johnson on the defensive glass – Johnson grabbed 19.6 percent of the defensive rebounds he could this season, and Jerebko 19.4 perecent, a negligible difference. In any case, the Celtics need to worry more about the first shot than the second. Plus, the Crowder-Jerebko alignment would help the C's when they're on offense. Since both Crowder and Jerebko work on the perimeter, it would constantly pull at least one of Horford or Millsap out of the paint, making it much easier for Boston to clean up their own misses.
The assignment would be a tall one for Jerebko, no doubt, as he only got in more than 20 minutes of game action 14 times this season. Extra time for Jerebko would also mean less time for the Celtics' three-guard combo of Avery Bradley, Marcus Smart and Thomas, and it would also be harder for Johnson and Sullinger to get minutes. But if it puts Boston in position to win, it won't matter.
Al Horford and Paul Millsap have been a problem for the Celtics, and the Eastern Conference, for quite some time now, and will be continue to be if the Celtics don't get creative. One of the reasons the C's were so heavily rumored to be targeting Horford at the trade deadline this year is because of his unique shooting ability for a big man. The Celtics have had a hard time matching up with both him and Millsap this season, and as a result have had little success against Atlanta. If they want to take this first round series, they're going to need to push out of their comfort zone, and match up Jonas Jerebko and Jae Crowder on Horford and Millsap.
Meet the 2015 Boston Celtics
[bdc-gallery id="147137″]