Celtics
Celtics' Avery Bradley heard 'a pop' in right hamstring, but hopes to be ready for Game 2
The shooting guard had to be helped off the floor in the fourth quarter of Game 1.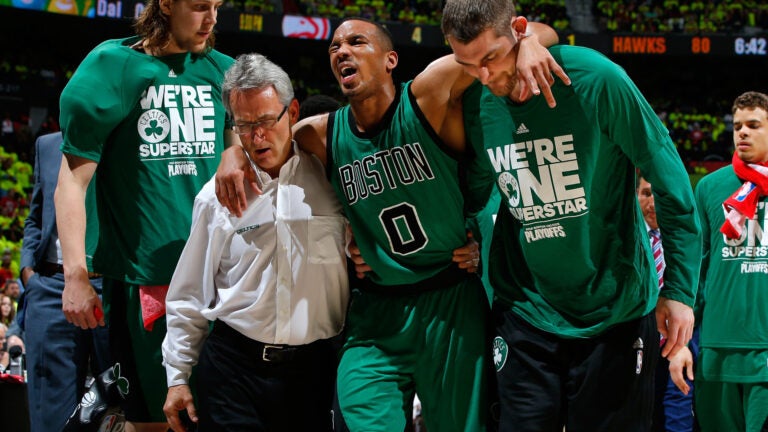 Celtics starting shooting guard Avery Bradley suffered a right hamstring strain in the fourth quarter of Saturday's 102-101 loss to the Atlanta Hawks in Game 1 of the best-of-seven first round series.
"He's very, very sore," Brad Stevens told reporters in Atlanta after the game. "He said on the court that he heard a 'pop.' I don't know if he got hit or what. We'll see. He'll get treated and everything else."
Bradley injured the hamstring while defending Hawks point guard Jeff Teague on a drive to the basket in a tie game midway through the fourth quarter. The veteran guard landed on Teague's foot after contesting a layup and came up limping as he ran towards the other end of the floor.
"When I came down, I felt weird," Bradley said. "I took a few steps and I just couldn't walk."
The 25-year-old attempted to signal the Celtics' bench to substitute him out on the ensuing possession, but was forced to give a foul after a Jae Crowder 3-point shot. Afterwards, he collapsed to the floor in pain and had to be helped off the floor. He finished the game with 18 points in 33 minutes of action.
After the game, Bradley said his aim was to play in Game 2. But after needing assistance to put on his socks and shoes in the locker room, such a speedy recovery may be unlikely.
"I don't really want to talk about it that much," Bradley said. "I just want to try to get treatment and take it day by day and hope that I can be back for the next game."
Bradley will undergo an MRI on the hamstring in Atlanta on Sunday.
https://twitter.com/celtics/status/721526632926867458?lang=en