Celtics
Do the Celtics have a blueprint for beating the Hawks?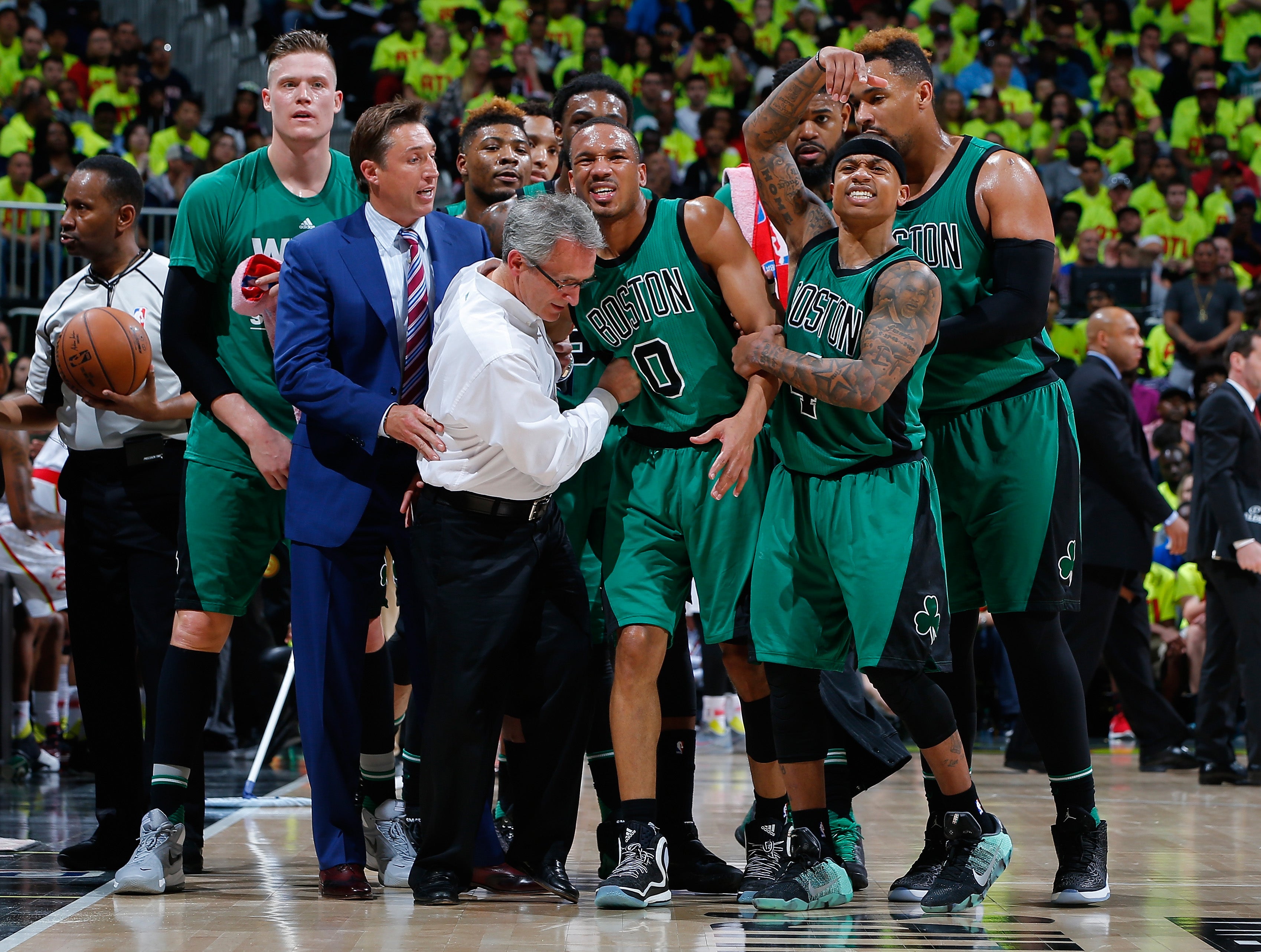 COMMENTARY
When Avery Bradley came up limping in the fourth quarter of Game 1 against the Hawks, Boston hoped for the best but couldn't help but fear the worst. Then on Sunday afternoon, Brad Stevens grabbed hope by the collar, doused it in gasoline, and lit a match.
"Avery has a pretty significant strained hamstring," Stevens told reporters.
With that news the sixth-year shooting guard will most likely miss the rest of this Atlanta series — and his absence cuts deep. First of all, Bradley's only 25 years old but in this world he's a veteran. No one has been with the Celtics longer. Only Amir Johnson has played in the NBA longer. Only Evan Turner has more on-court postseason experience than Avery, and his 605 career playoff minutes top the combined totals of Isaiah Thomas, Jae Crowder and Jared Sullinger (405). He might not say much, and when he does you might not be able to hear it over a gust of wind or Jared Sullinger burp, but a quiet leader is still a leader and Bradley's earned that title.
He also led the Celtics this season in minutes per game (33.4) and was the team's second-leading scorer (15.2). The best thing about Bradley's scoring? He doesn't need plays called for him. He doesn't dominate or demand the ball. Instead he moves without the ball and typically exists as the perfect egoless complement to Thomas, Turner and whoever else is out there with him. He also spreads the floor as one of only three Celtics (along with Thomas and Crowder) with 100-plus three-pointers on the season.
Finally, Bradley is arguably the best perimeter defender in the league. This isn't the time to make that argument but he's at least in the conversation. At the very least we can say that when Avery's guarding a player that player wishes Avery was guarding someone else. He's relentless. He's an agitator. He's a difference-maker.
And now that difference doesn't exist.
Now the Celtics are down 1-0 and have to win four of the next six games against a team that's beaten them four straight and four out of five times this season. But that said you're crazy if you think this series is over. Bradley's injury might raise the degree of difficulty and leave the Celtics more exposed, but losing Avery isn't a deathblow to Boston's goal of a securing a second straight playoff date with The Lebrons — and here's why:
For starters the Celtics are 1-4 against the Hawks this season. The only win was back on November 13 in Boston, and guess who didn't play in that game? That's right — James Young!
But also Avery Bradley.
AB sat out with a strained left calf, and even though it was more than five months ago both teams are pretty much intact. Fourteen guys played 15+ minutes that night, and all 14 are still in the rotation. So what did Boston do then that might translate into now?
Well, after going toe-to-toe with Atlanta for the first two and a half quarters, the Celtics finished the third — with Thomas, Turner, Crowder, Johnson and Kelly Olynyk — on a 19-7 run where they forced four turnovers, blocked three shots, scored six fast break points and shot three of six shooting from three.
In other words the Celtics forced turnovers, pushed the tempo and when they got an open look from deep they connected half the time.
The Hawks actually climbed back within three points with three minutes left in the game, but Brad Stevens called a timeout, put Thomas in for Smart, and then IT, Turner, Crowder, Sullinger and Johnson finished on a 10-0 run to seal the 106-93 win.
In other words, the Celtics executed down the stretch. They also hit a total of 11 threes to Atlanta's six. They committed 10 turnovers to Atlanta's 16. That's a recipe for NBA success, and in this case it marked the only time in five head-to-head meetings this season that the Celtics held the Hawks under 100 points.
And they did it with Bradley on the sidelines.
On that note how's this for a weird, almost unbelievable stat?
The Celtics were 5.5 points per possession better on defense this season with Avery Bradley on the bench.
Yup.
Now you can break that down any way you like. You can be as skeptical as you'd like. You can tell the whole damn world that this is where analytics don't tell the whole story and that there are too many wrinkles and nuances involved to make any grand statements about a profoundly talented player.
I hear you.
I'm not making grand statements.
I'm just saying that, according to Basketball Reference, Bradley played 2,536 minutes this season — and Celtics opponents posted a 105.9 offensive rating.
He sat for 1,420 minutes — and Celtics opponents posted a 99.8 offensive rating.
Speaking of Celtics opponents, no disrespect to Jeff Teague and Kent Bazemore. The pair combined for 46 points in Game 1 and Teague added 12 assists. Teague's a former All Star. They both play in the NBA and are among the top 30 players in the world at their position.
But Teague and Bazemore aren't Kyle Lowry and DeMar DeRozan. They're not the Splash Brothers. They're not the healthy reincarnation of Wall and Beal, Rose and Butler or even Lillard and McCollum. Regardless of anything that happened in Game 1 and whoever is healthy in Game 2, the primary goal of the Celtics defense is still to contain Paul Millsap and Al Horford. Now obviously there's a trickle down effect if your guards are consistently beat on the perimeter, and that's not something you worry about when Bradley is out there. Generally speaking there's no good time to lose him.
But there could be worse times than in a series against these Hawks.
And then there's this —
The first matchup of the season between these teams was a one-possession game with three minutes left. The second game was a blowout, but the third was tied with three and a half minutes left. The fourth was a two-point game with five minutes left. Saturday night was a one-possession game in the last minute. The point is that these are all close games. These are two very evenly matched teams. And when you add in the magnified emotions of playoff basketball these fourth quarters are going to be nuts. Saturday night was just the beginning. With the talent so close, and the stakes so high, these games will be won by the team that can keep it's head on straight; that makes the smartest decisions and plays with the most composed confidence.
Now before I go on, if it's not obvious already, I love Avery Bradley's game. I wish everyone approached the job the way Avery does. I don't think Danny Ainge gets enough credit for stealing Bradley at No. 19 in 2010, especially in light of the criticism he received off the bat. Moving forward Bradley has at least two First Team All-Defenses in him, and as the cap keeps rising, he remains one of the best bargains in the NBA. That said, Bradley does have a tendency to lose his mind a bit in crunch time. I'm not forgetting the game-winner in Cleveland but do you remember that horrible foul against the Bucks?
OK, fine. Maybe that's a bit of a stretch. It's hard to criticize Bradley too much for his late game decision making, especially when this next paragraph goes to bat for Marcus Smart.
Back before this series started there were two players I (and I wasn't alone) thought would ultimately help carry or kill the Celtics, and regardless Avery's status, Smart and Kelly Olynyk still hold the key to Boston's success.
In Smart's case, don't get caught up in all the debate about who takes over Avery's minutes. You figure Terry Rozier and RJ Hunter will both get a chance and if they play well they'll be rewarded with more run. But now more than ever the Celtics will be leaning on Smart to recapture that jump shot, stay within himself, and stay on the court in the face of potential injuries, foul trouble, random fights and flagrant flops. You know what it's like when Smart's at his best, you know the way he effects the game, and you know anything less than that will make it very hard for the Celtics to advance.
As far as Olynyk, the shoulder is a concern. We still don't know if he'll even play. If not the Celtics will miss his range a lot. With Bradley hurt, and Jae Crowder's jumper in witness protection, the Celtics spacing is at an all-time low. Even if Olynyk's not hitting his jumper, the Celtics would settle for the simple threat of it. Something to keep the defense honest. But if that jumper is clicking this team is on another level. It's not a coincidence that Olynyk scored 15 points in 16 minutes during Boston's lone win over the Hawks.
Bottom line: Before and after Avery's injury, Smart and Olynyk can still make the difference in this series.
Finally here's one last reason why the Celtics are still alive despite losing their starting shooting guard for the foreseeable future.
Because these circumstances breed doubt, and doubt is like steroids for this team. I know it's cheesy and cliché and that every team plays the "No one believes in us" card, but this Celtics squad truly does run on disrespect. They never play better than when everyone assumes they're dirt. Unfortunately time usually evens things out, and for every shock the world performance there's eventually a stinker that makes you want gouge your eyes out. But in this moment, at this moment, the Celtics have their backs against the wall, and most of the basketball world is writing them off.
If I'm the Hawks, I don't like that.
And if I'm the Celtics? Well, I wouldn't let hope burn out quite yet.
Boston Sports – Most Significant Injuries
[bdc-gallery id="537880″]