Celtics
Three questions facing Celtics coach Brad Stevens following the loss of Avery Bradley
Brad Stevens has a number of tough lineup choices to make without his starting shooting guard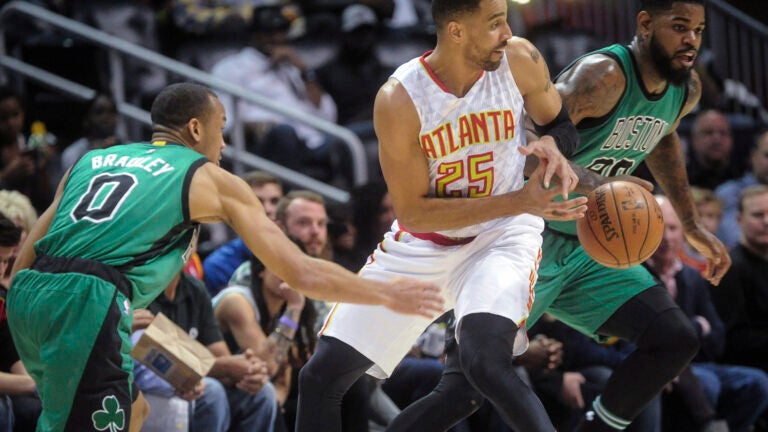 COMMENTARY
Despite suiting up in only 76 games, Avery Bradley played more minutes for the Celtics during the 2015-16 regular season than anyone outside of Isaiah Thomas. Boston's starting shooting guard led the team in minutes per game (33.2) and was counted upon by Brad Stevens to anchor the team's second unit most nights, thanks to his two-way versatility.
With Bradley (strained hamstring) likely sidelined for the remainder of Boston's first-round series against the Atlanta Hawks, Stevens has been forced to go back to the drawing board to determine the best way to juggle rotations without one of his key cogs.
"We've obviously had games without [Bradley] before," Stevens said at practice Sunday via ESPNBoston. "We have to have other guys step up. I think the biggest challenge is that we're playing small anyways and so you might have to go even deeper into that, which is OK. We'll have to decide if we're gonna go with some of those young guys and go deep and play four smalls again or if we're gonna play more traditional again and go back to playing that way. So we'll look at it and figure that out over the next 48 hours."
Let's take a closer look at some of Boston's potential options moving forward and attempt to figure out what is the best way the Celtics can get by in the series life after Avery.
Start Smart or Turner?
The Celtics went 3-3 in games played without Bradley this season. Turner drew the start at shooting guard in five of those contests, including Boston's late-season win over the Lakers in Los Angeles on April 3. It's worth noting that the one game that Smart did start in place of a injured Bradley though came against the Hawks back on Nov. 13, a 106-93 win at the TD Garden.
With both options clearly on the table for the coaching staff, the decision will likely come down to what side of the floor that Stevens deems more important at the start of the game. On the one hand, Boston's offense has sputtered lately with its original starting five, and moving Smart into that unit with his 34.8 shooting percentage won't help matters in that area, especially when replacing Bradley's 15.2 ppg.
If Stevens elects to go with Turner, he will be able to have another offensive creator in the game that can take the pressure of Thomas. Getting Thomas off the ball will also create another 3-point shooting threat (Thomas) to spread the floor, which is important since Bradley was one of the team's best shooters from downtown.
The problem with that alignment though is that it leaves Boston exposed defensively against Jeff Teague. The point guard erupted for 23 points and 12 rebounds in Game 1 and got to the free throw line 11 times. Turner doesn't have the quickness to stick with him and Thomas has a rough time staying in front of him as well all season long. Smart is the team's best option on Teague if Stevens places a premium on the team's starting defense.
Stay with a traditional starting five or go small?
Seeing that there is no catch-all solution in replacing Bradley in the starting five, Stevens could attempt to elect to address the offensive and defensive issues by starting small with both Smart and Turner. The Thomas/Smart/Turner alignment would bump Jae Crowder to the four and either Jared Sullinger or Amir Johnson would be shifted to the bench.
That small lineup gives Boston plenty of defensive versatility but also leaves Stevens with a very weak bench, especially in the backcourt. To compensate, Stevens likely would have to stagger Turner and Thomas for their rest on the bench to ensure the team has a shot creator and reliable ball handler on the floor at all times.
The fact that Turner did start the second half of Game 1, in essence keeping Boston playing small-ball for the final 42 minutes of that contest, is telling in the sense that Stevens preferred the small grouping so much in Game 1. Whether the team has the depth to pull it off for 48 minutes is another question, and that's where the rookies come in.
Which rookies get a shot?
Danny Ainge had plenty of critics panning him for selecting two guards in the first round of the 2015 NBA Draft, despite already having a crowded backcourt on the roster. Less than one year later that depth could pay immediate dividends in this postseason series, as Terry Rozier and R.J. Hunter both are strong candidates to enter Stevens' bench rotation.
Hunter played three minutes in Game 1 in the first half and with Boston's outside spacing woes, he poses much more of a spacing threat to opposing defenses than Rozier, despite his lackluster 30.2 3-point percentage.
Rozier is the stronger candidate to see extended minutes in my mind, however, due to his explosiveness and defensive ability. Boston is going to need to throw a variety of players at Teague and reserve point guard Dennis Schroder to keep them from breaking the Celtics down with dribble penetration and Smart's not going to be able to handle that duty for 48 minutes.
The choice between the two could fluctuate from night to night, but if Stevens plans on starting small, seeing both players get some minutes is not far fetched, especially if Olynyk (shoulder) is sidelined.
The bottom line for Stevens is it's going to take a committee to replace Bradley and his 33 minutes per game over his extended absence. Stevens has shown a willingness to experiment and explore all options to find the right combinations and that's a trend you can expect to continue for Game 2 and beyond.