Celtics
Danny Ainge says Celtics need to give Isaiah Thomas help on offense
"We need to get better supporting cast around Isaiah."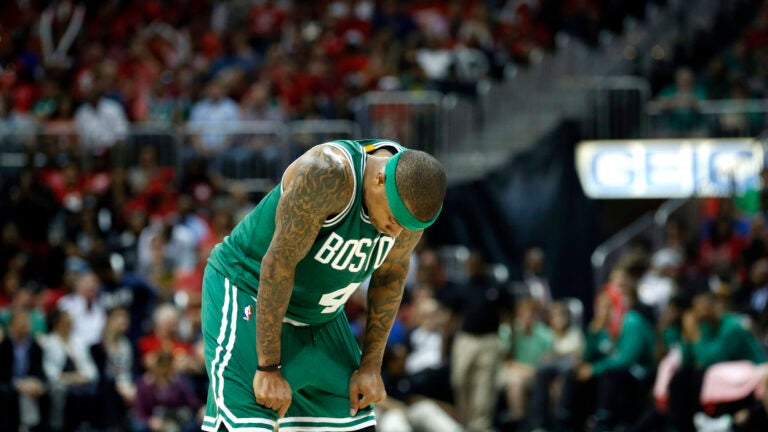 Isaiah Thomas hasn't been himself during the Celtics' playoff series against the Hawks. The Celtics scorer has shot 12 of 36 (33 percent) during the two-game span. During the 2015-16 season, he shot 42.8 percent from the field.
"You can see Isaiah is a focal point for [the Hawks]," Celtics president of basketball operations Danny Ainge said Thursday on "Toucher and Rich" on 98.5 The Sports Hub.
Thomas has noticed the defensive attention, too.
"There's always two guys on me, at least, when I don't have the ball. They're looking in my eyes, they're face-guarding me," Thomas told ESPN.com on Wednesday after Game 2. "The best players figure it out. That's just a sign of respect from [the Hawks], and I just gotta figure it out. Lock in and — man, I'm missing easy layups that I usually make. I'm getting midrange shots that I usually knock down."
The Celtics, who were shooting 43.9 percent from the field during the regular season, have a 34.2 field goal percentage during the postseason. They posted 19 points in the first quarter in Game 1, and an all-time playoff low of seven points in the first quarter of Game 2.
"The challenge is our shooting and our spacing," Ainge said. "They're doing a good job of covering the 3-point line and the penetration. … As we get better shooting, as our players become better shooters, I think that it's going to open up the court more for Isaiah."
The Celtics supporting cast is ailing. Two of the Celtics' best shooters, Kelly Olynyk and Avery Bradley, are dealing with injuries. Ainge said Olynyk is day-to-day, while Bradley is unlikely to return for this playoff series. And Ainge noted Jae Crowder has not looked himself since returning from the ankle injury he suffered in March.
"It's not all about Isaiah," Ainge said. "We need to get better supporting cast around Isaiah."
The Celtics roster should get upgrades during the upcoming free agency period and NBA Draft, in which the Celtics have three first-round selections. Ainge said in January the current Celtics squad is not a championship-caliber team.
In the meantime, Ainge said coach Brad Steven is "grinding" and  "trying to figure out how to attack this [Hawks] team."