Celtics
Debating the Celtics' chances to come back against the Hawks
Sports debate!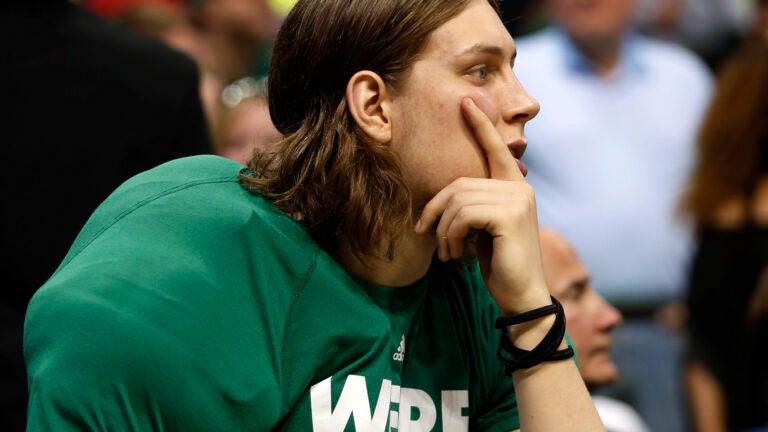 Boston.com correspondents Brian Robb and Rich Levine co-wrote this post
COMMENTARY
While you were drowning your Celtics sorrows, Brian Robb and Rich Levine were exchanging emails, trying to get to the bottom of what went wrong and wondering if there's enough time for the Celtics to make it right.
***
BRobb- Great game tonight. Thought you did a real nice job keeping Millsap in check. But jokes aside — this is ugly. Not only are the Celtics down 2-0, but through two games they're shooting 65 for 190 from the field. That's 34 percent. They're 16 for 63 from three. That's 25 percent. They've scored a combined 62 points in the two first halves, and did I say ugly? This is uglier than the love child of Sam Cassell and Popeye Jones. So with that let's cut to the chase and kick things off with the only question that matters:
Is this series over?
Can the Celtics still win?
For the record there's one clear and indisputable right answer here.
Look forward to your reply
– Coach Acie Earl
***
Rich – You're not going to believe this, but history is not on the Celtics' side! Throughout history 94 percent of teams that go up 2-0 win the series and I'm pretty sure that percentage is even higher for squads matched against teams without their second-leading scorer. With that said, the Celtics are not playing the Cleveland Cavaliers here. It's the Hawks. The story of this series has not been how good Atlanta is, but rather how bad the Celtics have played. Game 2 should have been over by halftime, but the Hawks don't put teams away.
With a 28-13 regular season home record, Boston is fully capable of taking these next two games and making things interesting. The problem? I'm not sure the guys who need to play well are capable of it. Will Jae Crowder's ankle allow him to have a good shooting night in this series?
***
First of all, the correct answer is yes. Yes they can still win this series. Obviously it won't be easy. We both know history is stacked against them. But this is sports. This is why we love sports. Crazy things happen all the time — things a lot crazier than these Celtics winning the next two games at home against these Hawks. At that point it's a three-game series, and the Hawks are still the favorite, but the Celtics are in the game. Doc Rivers loves to say that a playoff series doesn't start until the home team loses, and I hate to fall back on one of Doc's clichés, but it's true. Once the Celtics lose at home, this series is over, but until then this thing is up for grabs.
As for Crowder, I don't think the Celtics can count on his jump shot coming back at any point this series because the problem goes far beyond this series. Game 2 was Jae's ninth since returning from his ankle injury and over that time he's 11 for 49 from three-point land — that's 22.4 percent. By comparison, Amir Johnson's season three-point percentage was 23.3. So yeah, that's brutal. Especially if Kelly Olynyk is done, the loss of Jae's ability to stretch the defense is devastating.
I'll say this about Crowder though (not that it should come as a surprise): The dude is still finding ways to contribute. He's averaging 8.5 rebounds over the first two games. In Game 2 he had four steals and two blocks, and helped hold Kent Bazemore to 2 of 14 shooting (with one of those two baskets coming on a transition three that rolled around the rim for 15 second before falling). Bottom line: Jae's value does not live and die with his ability to score. On the other hand —
What's up with Isaiah, man? He's now 30 for 90 from the field in six playoff games as a Celtic. He's nowhere near the guy he was in the regular season and nowhere near the guy the Celtics need him to be. You think salvation lies in some home cooking? Any thoughts on his wrist? He's had surgery on that thing each of the past two offseasons and it looks like a problem once again.
**
I think the sore wrist is certainly a factor for Thomas. He hasn't had a good shooting night since he landed on it against the Bucks a couple weeks back. It's clearly not as bad as the bruised tailbone he dealt with last season, but the history of wrist problems there is concerning.
The bigger issues for Thomas right now though are the Hawks and his teammates. It's just a nightmare matchup for him, especially with Bradley and Olynyk out. Atlanta's opponents shot just 56.7 percent in the restricted area in the regular season, which is the lowest mark in the league. Combine that with a Celtics roster that's one of the worst 3-point shooting teams in the league and you have a recipe for disaster that we have witnessed firsthand. The Hawks are packing it in and making sure Thomas always sees multiple bodies on drives to the paint. There's no reason for Atlanta to ever leave him since no one else has proven he can hurt you from outside. Plus, there's the whole "everyone is a foot taller than him" thing. He's also not hitting jumpers off the dribble. Other than that, everything is great though.
These problems aren't going away in Game 3 either, which means Brad Stevens has to mix things up right? Thomas needs more spacing, so that means the Celtics need to start small, right? With Crowder shooting so poorly, does a capable threat like Jerebko need to be inserted into the mix from the opening tip? (Thomas/Smart/Crowder/Jerebko/Johnson)?
***
Isaiah's body isn't in a great place but neither is his head. There have been a handful of times dating back to the end of the regular season where he gets clean looks at the rim — looks that earlier in the year he would have finished with his right hand while blind folded — and he just misses. Maybe he's thinking too much. And in a sense it's hard to blame him. You can imagine the mental toll this season, and his new All-Star status, and his stupid beefs with guys like Tanguay have taken. That's a lot of weight on his shoulders. It's not easy being the "The Man." But right now that's who the Celtics need him to be.
As for Brad, you know he'll mix things up. You know he'll spend the next two days in Belichick mode, breaking down every scenario and possible innovation. He may he take the floor on Friday night in a ripped hoodie. But at the same time, without Bradley and most likely Olynyk, how much mixing can Stevens really do? I think we both agree that Sullinger shouldn't play much more than the 16 minutes he did in Game 2. Between Horford's length and Millsap's general explosiveness, Sully is a liability on both ends. I like the idea of Jonas stepping in with the starters, but if Brad really wants to mix it up he'll slam his foot on the gas from the get go with Amir Johnson on Horford, Crowder on Millsap, Smart on Korver, Isaiah on Teague and TERRY ROZIER on Bazemore.
That might not fill your spacing needs on the surface, but Rozier was 2 for 3 from long range in Game 2. He can keep the defense honest. And he's the kind of guy that you expect will perform even better at home in front of a whacked out Garden crowd.
There should be a few guys like that. Every playoff series features fringe guys who are Jekyll and Hyde at home and on the road.
So who else would you say really needs to step up their game for the Celtics to head back to Atlanta tied 2-2?
***
Let's figure this one out by process of elimination. Crowder and Isaiah are hurt. Smart busted up his ribs and has never been a reliable offensive option. Johnson already is playing over his head when you compare his production in Game 2 to the rest of the regular season. Sullinger is playing like he belongs out of the rotation. I'll go with the two guys that look healthy and have shown they can hit a shot outside of the paint: Evan Turner and Jonas Jerebko.
Turner will keep coming off the bench in all likelihood, but his ability to handle the ball while also creating offense for himself and others is something this team desperately needs. That also takes some pressure off Thomas because he has a much better chance to shoot and attack this Hawks defense when it's rotating as opposed to honed in on him with the ball.
Jerebko's shooting just 1-of-5 from downtown this series, but he's hitting over 41 percent of his 3-point attempts in the friendly confines of the TD Garden. I'm not counting on anything from Olynyk when it comes to shooting with a bum right shoulder, so Jerebko has to be the guy that makes Atlanta pay for packing the paint. His solid play on the defensive end has been one of the few positives in this series as well for Boston, wouldn't you say?
***
Your process of elimination is flawed for ruling out Marcus because of an injury. That assumes he processes pain like the rest of us when in reality pain way very well make him stronger. And no, he hasn't been a reliable offensive option, but he's shown flashes. We know that it exists somewhere inside his soul. So for me he's still the guy who has the most to gain and the highest ceiling as the series shifts back to Boston. Even more than Turner, mostly because ET's already playing pretty well. Before Amir got hot, Turner kept the Celtics within striking distance all by himself in Game 2. And as for Jonas, there's no question he needs to play more, and no question that he'll play better at home, but even at his best he's a complimentary player. You're not winning a playoff series on Jonas Jerebko's back. He might push Boston over the top but only if one or two of this teammates take them there first. Marcus Smart needs to be one of those teammates.
My biggest positive after two games, and this involves your comment on Jerebko's post defense, is the job they've done on Paul Millsap. I mean what do you think Brad Stevens would have done last Saturday afternoon if you told him "Hey coach, just so you know Millsap is going to average 9.5 points and 7.5 rebounds over the first two games."? He'd have kissed you right on the mouth, Brian. So that's good. That's something to build on. So is Amir Johnson's performance. He's looking like Kevin Willis out there with that ugly jump hook. Does he even look at the rim? Does it matter? And my last positive takeaway is born from a negative place, but that'll happen after sitting through two games like the Celtics just played. It's the one thing that can keep Celtics fan feeling optimistic as they wait Game 3. And it's the perfect sentiment with which to end this playoff-caliber correspondence —
It can't get any worse.
The Greatest Boston Celtics of all time
[bdc-gallery id="118766″]