Celtics
The 10 most resilient wins in Celtics playoff history
These were do-or-die games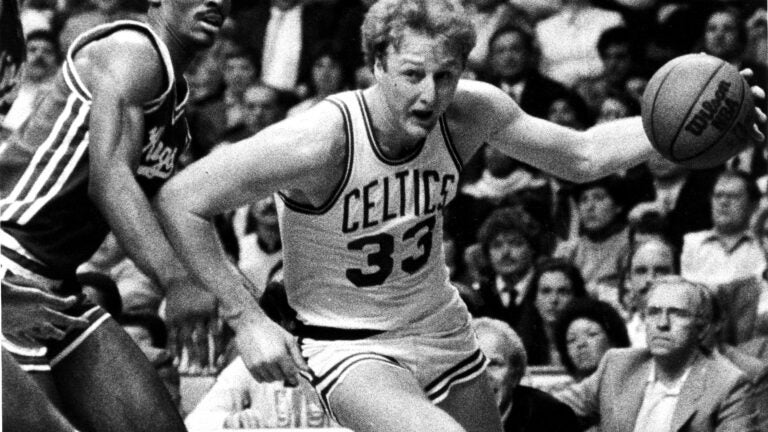 COMMENTARY
The Celtics haven't played their best against the Hawks thus far. Without sharp shooter and elite defender Avery Bradley, the team will need to be extra resilient in order to climb out of the 2-0 deficit they face. Coach Brad Stevens is confident in his team, saying on Wednesday that "we've responded to moments like this throughout the year and we're going to have to do that again."
In point of fact, the Boston Celtics franchise has made a living out of resilient wins. Searching through the many, many playoff wins the team has had over the years, here is one man's opinion of the team's 10 most resilient wins. Whether it's wins after vicious losses or games where the team refused to bow, this year's Celtics can find plenty of inspiration in their forebears.
10. June 5, 1985 – NBA Finals, Game 4, 107-105 win over Los Angeles Lakers
After dropping Game 3 to the Lakers 136-111 – starters Larry Bird, Dennis Johnson and Danny Ainge collectively shot just 13-43 from the field – the Celtics refused to leave LA down 3-1. Kevin McHale, Johnson and Bird scored 28, 27 and 26 points, respectively, and all three had double-doubles. Down two at the start of the fourth quarter before gritting out the win, this one would likely rank higher if they hadn't dropped the following two games – including the clincher at home – to Magic Johnson and Co.
9. May 19, 1982 – Eastern Conference Finals, Game 5, 114-85 win over Philadelphia 76ers
The defending champs were on the ropes. In the previous game, Philly had trounced Boston to the tune of 119-94 to take a commanding 3-1 series lead. But after Andrew Toney went for 39 points in Game 4 on 14-for-21 shooting, the C's held him to just 18 on 6-for-20 shooting in Game 5. Larry Bird went for 20 points, 20 boards and 8 assists, and Robert Parish and Cedric Maxwell chipped in with double-doubles as well. The C's would eventually lose this series, but they made the Sixers earn it.
8. March 22, 1960 – Eastern Conference Finals, Game 6, 119-117 win over Philadelphia Warriors
After taking a 3-1 series lead, the C's looked to salt away the series at home in Game 5. But Wilt Chamberlain and the Warriors had other ideas. Chamberlain's 50-point outburst led the Warriors to a 128-107 win that sent the series back to Philly. Philly would once again present a stern challenge at home in Game 6 – four of their players would top 20 points – but behind 25 points from Bill Russell and 22 from Tommy Heinsohn, the C's would prevail, and clinch the East in enemy territory.
7. May 26, 1987 – Eastern Conference Finals, Game 5, 108-107 win over Detroit Pistons
Generally speaking, when a team puts seven players in double figures, they win. But in Game 4 of this series, the Celtics did just that, yet still lost in resounding fashion, 145-119. After being up four at halftime, the Pistons blew the doors off the Celtics, to tie the series at two games apiece. But Larry Bird wasn't having any of it the next game. The Legend played 47 of the 48 minutes in a tour de force Game 5 performance that saw him come within one assist of a triple double – 36 points, 12 rebounds and nine assists. Oh, and one steal. You might remember that one.
6. April 15, 1968 – Eastern Conference Finals, Game 5, 122-104 win over Philadelphia 76ers
A year after the Celtics' championship streak had been broken by the 76ers, they found themselves down 3-1 to them again, with Game 5 in Philly. No matter. Undaunted, the C's would rattle off three straight wins, starting with this one. Sam Jones led the way with 37 points, and John Havlicek chipped in with 29. A few weeks later, the Celtics were once again NBA champions.
5. May 25, 2002 – Eastern Conference Finals, Game 3, 94-90 win over New Jersey Nets
The Celtics trailed by 20-plus for much of this game, and at one point it grew to 26. At the end of the third, the lead was 21 points, and Antoine Walker had seen enough, laying into Paul Pierce and the rest of the team on the bench. Fueled by Walker's emotion, the Celtics would complete perhaps the best in-game comeback in NBA playoff history. It wouldn't matter in the end – this was the last game of the series the C's won – but they really had no business being there in the first place. Tony Battie started for this team. That they made it that far, and refused to back down in this game was pretty remarkable.
4. June 12, 1984 – NBA Finals, Game 7, 111-102 win over Los Angeles Lakers
Also known as the Cedric Maxwell game. Before the game, which the Lakers needed a police escort to get to, Maxwell told his teammates to "climb on my back, boys," and they did. Maxwell hit 11 free throws by halftime en route to a team-leading 24 points, and he had eight rebounds and assists as well. In what might have been the best NBA Finals series of all-time, one in which the Showtime Lakers actually showed their aggressive/tough side to win Game 6, the Celtics were the team who stood tallest at the end.
3. June 4, 1976 – NBA Finals, Game 5, 128-126 3 OT win over Phoenix Suns
Chad Finn just wrote about this game last week. Do yourself a favor and read what he wrote about it. 
2. May 12, 1974 – NBA Finals, Game 7, 102-87 win over Milwaukee Bucks
The Celtics battled Kareem Abdul-Jabbar plenty over the years. In this particular series, Jabbar looked to have Boston's number. He averaged 32 points, 12 rebounds and five assists for the series. He was at his finest in Game 6, when he poured in 34 points and grabbed eight rebounds as the Bucks won a two-overtime thriller in Boston, 102-101. That sent the series to a seventh and final game back in Milwaukee. But the Celtics refused to be demoralized, and won a Game 7 of the NBA Finals on the road for just the second time, and brought the championship home for the first time in five seasons.
1. 1984 NBA Finals – Game 4, win over Lakers following 137-104 loss
This is one of the most important games in Boston Celtics history. After getting shellacked 137-104 in Game 3, Larry Bird said his team played like "a bunch of sissies" and called their performance "very embarrassing." Kevin McHale would make sure they didn't play like that again when he clotheslined Kurt Rambis on a fast break lay-up. His foul would not only get you ejected but also suspended today.
It would be a close game, and the Celtics had to grit through it. They only shot 43 percent from the floor as opposed to the Lakers, who shot .588, but the Celtics were able to get off 26 more shots than the Lakers on the strength of their 27 offensive rebounds.
The game would go into overtime, and the Celtics would have to finish it without Robert Parish, who fouled out in overtime. Faced with going home down 3-1, the C's would instead tie the series with the overtime win in Inglewood when James Worthy bricked a free throw that could have helped tie the game with 10 seconds left.
Honorable Mentions: 1969 NBA Finals, Game 7 vs. LA Lakers; 1953 East Semis, Game 2 vs. Syracuse; 2008 First Round, Game 7 vs. Atlanta Hawks; 1959 East Finals, Game 7 vs. Syracuse; 2009 First Round, Game 7 vs. Chicago; 1960 East Finals, Game 6 vs. Philadelphia
The Greatest Boston Celtics of all time
[bdc-gallery id="118766″]