Celtics
Isaiah Thomas facing possible suspension for hitting Hawks' Dennis Schroder
Thomas said the contact he made with Schroder was unintentional after the game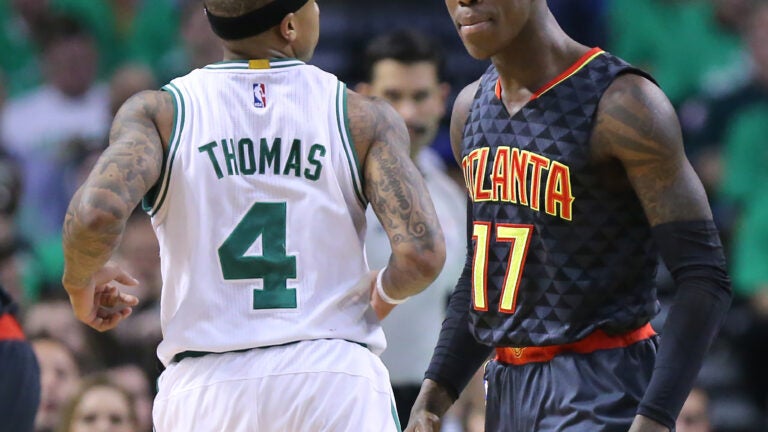 Isaiah Thomas faces possible NBA discipline for making contact with the head of Atlanta Hawks point guard Dennis Schroder with his left hand during Game 3 of the Hawks-Celtics series on Friday night. The NBA is reportedly reviewing the incident.
The play occurred with 1:27 remaining in the first quarter of Boston's 111-103 victory. Before the contact, Schroder was running back up the floor after making a layup while Thomas was pointing at one of his teammates. After the ball was inbounded to another Celtics player, the 5'9" guard swung his left arm across his body and his left fist connected with Schroder's head. No foul was called on the play.
Thomas would go on to score a career-high 42 points as Celtics closed within 2-1 in the best-of-seven series.
The former head of NBA player discipline Stu Jackson commented on the play after the game on NBA TV, noting he believes that Thomas will be subject to a one-game suspension for making contact with Schroder's head with a closed fist.
"The rule here is very clear," Jackson explained on NBA TV, "and it's a very bright line, albeit that you're making a decision on a very key player in this playoff series. And for that reason it makes it difficult but the league office is supported by the rules that all the teams and all the players are very aware of. And in my mind, he will get suspended for one game."
Thomas told reporters after the game that he was not concerned about potential discipline since the contact was not intentional.
"I'm not [worried about discipline] because I didn't mean to hit his head," Thomas said. "He got mad, he was talking. It's playoff basketball. That's what it's about. I'm not going to back down from anybody and he knows that."
Schroder was whistled for a foul on Thomas on the ensuing possession and both players were given technical fouls after exchanging words after the play. Schroder was called for a flagrant-1 foul in the second half of the defeat after making contact with Thomas in the face as he tried to defend a shot.
A ruling on the potential suspension is expected to come down later today, according to former Nets assistant general manager Bobby Marks.
P1: League protocol on the Thomas/Schroder incident will have NBA security interviewing both players on the incident.

— Bobby Marks (@BobbyMarks42) April 23, 2016
https://twitter.com/BobbyMarks42/status/723858716890697728