Celtics
Marcus Smart's relentless effort in Game 4 personifies Celtics' collective toughness
The second-year guard's all-around performance was reminiscent of DJ at his best.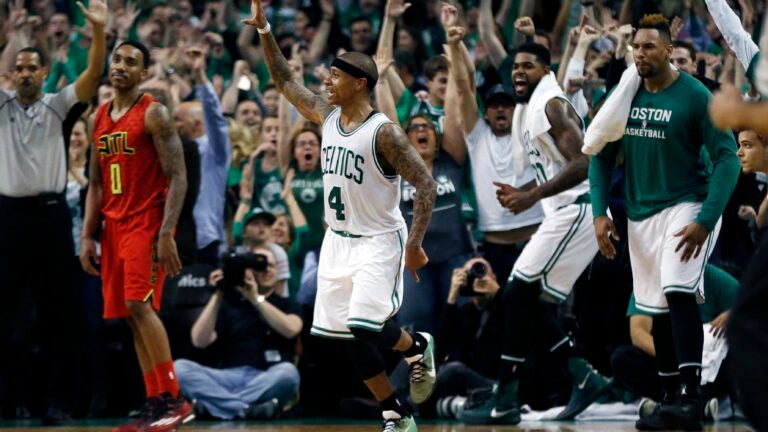 COMMENTARY
The temptation in the immediate aftermath of the Celtics' stirring Game 4 victory over the Atlanta Hawks is to tag it The Marcus Smart Game, for both posterity and as a salute to his extraordinary all-around effort. This was a performance Dennis Johnson – beloved ol' DJ – would have been proud to call his own during that '80s heyday. It was just that amazing.
The Celtics' affirming 104-95 overtime victory, an instant classic as far as games from first-round series go, deserves permanence in our overflowing mental vault of all-time postseason highlights. Smart's breathtaking contributions – he took over the game on both ends of the court in the fourth quarter – are the main reasons why this one is to be remembered.
What did he do? What didn't he do? The  second-year guard submitted a 20-point, 8-rebound, 5-assist, 2-steal stat line, guarded and shut down Paul Millsap after the Hawks forward torched taller defenders all night, hit a couple of huge, no-no-YES! 3s, scored 11 straight Celtics points in one stretch, slashed baseline and hammered home a dunk, spotted Amir Johnson for a crucial slam, and on and on and on.
He stacked incredible play after incredible play on top of one another, and each one was essential as the Celtics rallied from a 16-point deficit to even this series at 2-2. Smart is not a superstar. But this was a superstar-level feat.
Hell, yes, it was The Marcus Smart Game, and we'll remember it that way. But there should be a couple of caveats attached. First, it should be noted that this is not the only time he will seize a game in such a manner. This is the first, sure, but there will be others, trust me.
Smart is a polarizing player. He's relentless and unpolished and electrifying and frustrating. But the good and the bad all come from the same place – he's desperate to win, and sins can be forgiven when that is the honest motivation.
Smart giveth and taketh away and flopeth too much and only occasionally swisheth – and sometimes all in a matter of a few possessions. It's easy to forget during our alternations of admiration and exasperation that Smart just turned 22 in March and has just 135 NBA games to his name. I'm confident he'll drive us nuts again once or twice before this series is over. But Sunday was a preview of what's to come and a confirmation that our patience will be rewarded. Give me a talented but flawed player with Smart's will, skill and spirit any time, and I'll take my chances.
Which brings us to the other caveat: This isn't just about him. This Celtics roster is full of unheralded players willing to scrap for every possession, every point. Perhaps that is by design or a lucky coincidence or something in between, but man, has Danny Ainge ever assembled a team – not just a roster, a team – of fighters.
This may be news to the Postseason Posers, but isn't to those who have paid attention to this team all season. But Sunday night's show, in a do-or-die-soon situation, was the most prominent example of these players' collective grit and – to paraphrase Kevin Garnett, who would love this group – guts.
Isaiah Thomas had 28 points, including an crucial corner 3-pointer in overtime he drilled while fading to his right. The other, original Isiah Thomas is the best little man in NBA history, John Stockton included. This Isaiah Thomas will never gain that acclaim, but he is stealing moves out of his near-namesake's repertoire, hitting big shot after big shot and doing it like he can't fathom any other outcome.
Evan Turner is heavily counted on as a primary ball handler and scorer, and the Sixers/Pacers discard delivered again, chipping in all over the place with 17 points, seven rebounds and six assists. Jonas Jerebko scored 16 points and hit a huge 3-pointer in overtime. Amir Johnson had nine rebounds and four field goals, and every bucket was important. Pretty sure LeGarrette Blount even had a couple of clutch rebounds off the Celtics' bench.
Maybe the greatest tribute Celtics fans can give them is a refusal to go quietly – the Garden crowd was raucous Sunday – that rises from the confidence that the Celtics themselves will not go quietly. The Hawks scored the first 14 points of the second half, seizing control and a 16-point lead. Had Atlanta held on for the win, they'd have been up 3-1, heading back to their home court, facing a Celtics team that was without Avery Bradley (for my green, their best all-around player) and scarcely using a hampered Kelly Olynyk.
Some might have suggested a Sunday loss meant it was over for the Celtics. Yet I don't think I was alone in resisting any temptation during that rough third quarter to begin pecking out a postmortem. These Celtics had come back to win a dozen times previously this season in games they'd trailed by double figures.
We figured they'd rally. It's what they do. Now, we didn't know if they'd rally to win. But we knew that third-quarter deficit wouldn't deplete their will. As long as there is time left, these Celtics will have some fight left.
This Celtics are the anti-Rockets: They have character, toughness, camaraderie, and more talent than they get credit for. It also helps that they have a coach bold enough to put a second-year guard on a star forward who can't seem to miss a shot – Millsap finished with 45 points – and it helps that they have a second-year guard determined enough to make that forward miss and miss and miss again when the game is on the line.
This was The Marcus Smart Game. But it wasn't his alone. It's not just that the Celtics refuse to back down. It's that so many of them step up, again and again, until moments of frustration morph into one more once-improbable satisfaction. Damn, what a likable basketball team we've got ourselves here.