Celtics
Isaiah Thomas on sprained ankle: 'I'll be ready' for Game 6
The point guard landed awkwardly on a layup attempt in Game 5.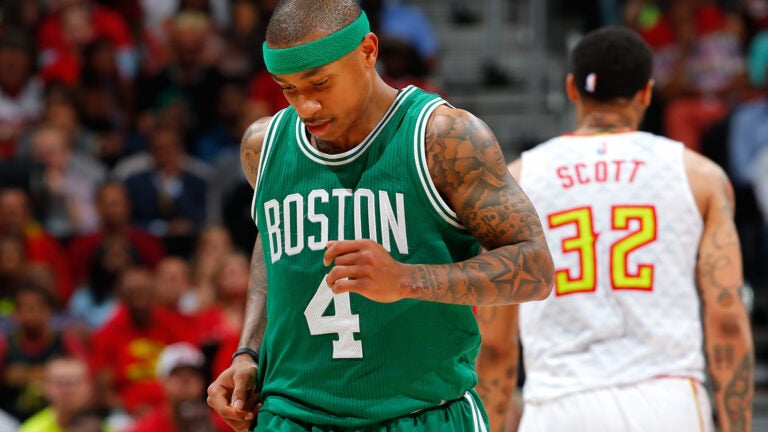 Isaiah Thomas suffered a mild left ankle sprain in the fourth quarter of the Celtics' 110-83 Game 5 loss to the Hawks on Tuesday night, but Boston's leading scorer doesn't plan on missing Game 6.
"I'm playing no matter what," Thomas told reporters in Atlanta after scoring seven points on 3-for-12 shooting. "I'm not going to sit out. I just tweaked it. I tweaked it in Game 4 as well in the fourth quarter so I just tweaked it again. And it hurt right when it happened but I came back here and I'll be all right."
The point guard suffered the injury on a drive to the hoop with 10 minutes remaining in the fourth quarter. He landed awkwardly after attempting a layup and started limping down the court. After committing a foul, Thomas immediately headed to the Boston locker room for an evaluation.
"The only thing that I was told on that play in the fourth quarter he twisted his ankle," Celtics coach Brad Stevens said after the game. "It's a mild ankle sprain from what they can tell. So he'll get treatment. He'll get a film tomorrow, and go from there."
With Boston trailing by 29 points at the time of the injury, Stevens was also asked if he had any regrets about leaving Thomas in the game.
"You know what?" Stevens said, "With this team, I think it's a very valid question, with this team I've seen just enough crazy stuff to think that we may be able to get back in it and give them a chance from 12 [minutes] to 9 or 8 to see if it can happen. He actually had a sub at the table when it happened. So I know that's quite a task and quite a mountain to overcome but we've all seen this team do some crazy things when they're down."
The Celtics face an elimination game on Thursday night at TD Garden, with the Hawks leading the series 3-2 after Tuesday's win. Thomas will spend the time in between receiving treatment on his injury and preparing for the do-or-die affair.
"For the most part the swelling is all right," he said. "I don't swell that much. Hopefully it doesn't get any worse by (Wednesday), which it probably will. I'll just get treatment all day (Wednesday) and then before the game on Thursday."