Celtics
He hasn't just seen Celtics history, he is Celtics history: A chat with Tommy Heinsohn
The Hall of Fame player and coach – still going strong as a broadcaster at age 81 – reflects on Russell, Havlicek, Bird and his six decades in green.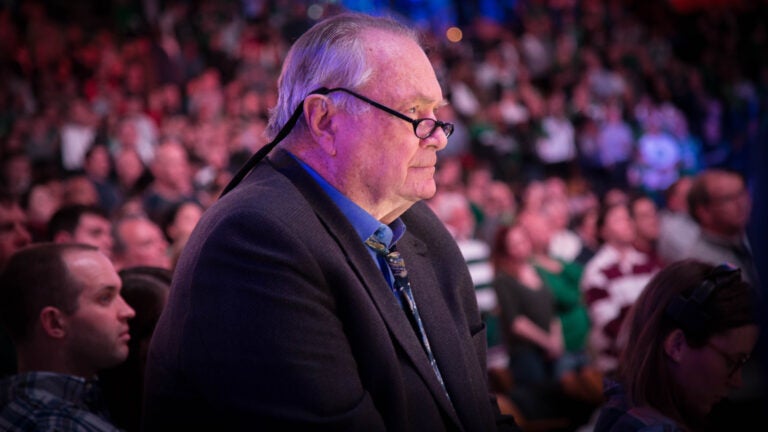 COMMENTARY
The epiphany should never have been necessary. Tommy Heinsohn has been bonded to the Celtics in some meaningful capacity – player, coach, broadcaster – for 61 years. He joined the organization in 1956, and save for a successful foray into the insurance business after his playing career ended and a beyond-his-control hiatus after he was fired as coach, he has remained a continuous part of the most successful franchise in basketball history.
Sixty-one years. Six decades. Go ahead and put that in your own personal context. For me, that means realizing that my 75-year-old dad was but a teenager the year Heinsohn showed up in Boston as a territorial draft pick out of Holy Cross. Then consider all that he has seen and experienced with the Celtics.
He arrived the same year as Bill Russell, played for Red Auerbach, made six All-Star teams, won eight championships. Heinsohn retired as a player in 1965, joining Auerbach on the television broadcasts while giving the insurance gig a go, but his blood remained green all along. He returned to the bench as head coach for the 1969-70 season at Auerbach's pleading. He won two more championships with teams led by John Havlicek, Jo Jo White and Dave Cowens in 1974 and '76.
He was fired amid the Curtis Rowe-Sidney Wicks insubordination in January 1978. Six months later, the Celtics drafted Larry Bird. Heinsohn returned as a full-time broadcaster in 1980, simultaneously holding a prominent national gig at CBS through the next decade. He called almost all of Bird's career, and all of Reggie Lewis's and Paul Pierce's too. And everything since.
You probably know all of this. You know this too: As much as anyone – perhaps more than anyone – Tommy is the Celtics. He is a one-man symbol of their lore.
So about that epiphany. It came around to get me back in February, in the immediate moments after this admirable 2015-2016 edition of the Celtics had just completed one of their most stirring victories of the season. The Celtics had just overcome Chris Paul and the Clippers, rallying from five points down at the end of regulation en route to a wildly fun 139-134 overtime victory. The buzz from the win lingered after the game, and no one was more into it than Heinsohn. There he was, at 81 years old, well past 11 p.m. on a Wednesday, filling the Comcast SportsNet New England studio with energy, enthusiasm and astute observations on how the Celtics pulled off their eighth straight home win.
It was remarkable and inspiring and should not have been a surprise, and that's when it walloped me: I cannot believe how sharp he is, at this hour, at his age, after this game. Why I have I never talked to Tommy? I had better talk to Tommy. In my seven years as a Boston.com sports columnist and The Boston Globe's sports media voice, I'm ashamed to admit I'd somehow never had a conversation of any length with him beyond a passing greeting and some brief Celtics conversation in line for a sandwich in the TD Garden lunch room.
I wanted to shed the sudden guilt of taking him for granted. You must talk to the rare people like this, with rich institutional knowledge and still in possession of sharp recollections of when and how they gained that knowledge, when you can, and before you can't. More than that – more selfishly than that — I just wanted to talk basketball with him, a rewarding perk of this gig that can be lost in the grind of late deadlines and words that refuse to come. So rather than being part of Heinsohn's audience, as every Celtics fan under the age of 80 has essentially been forever, I got smart. I set up an audience with him.
A few weeks ago, before a game, we chatted in a quiet office in the catacombs of the Garden for more than an hour. He wears his years more in person than he does on our televisions, but he talks the way he prefers the Celtics to play: with relentless pace and tempo. As you might expect, he's a man of his era – he seconds that Oscar Robertson grumpy-old-man gripe that today's players don't know what tough defense is – but he also has a tremendous appreciation for this era. He respects today's players, and he knows them; he'll tell you who is, oh, the seventh man for the Jazz without a moment's consideration. He loves the sport, no matter who's playing it or when, but especially, as always, if they're playing it for his Celtics.
I'm going to get out of the way as much as possible now, other than to ask the questions I should have asked long ago. Here's Tommy, in all his familiar gruff and charming wisdom.
THE PLAYER
It's hard to believe now, but Heinsohn's Celtics career nearly ended before it began. Red Auerbach, perhaps in his savviest season (he also landed Bill Russell in 1956), snagged Heinsohn with a territorial draft pick after a record-setting career at Holy Cross that included a 51-point game against Boston College as a senior. But Heinsohn, unfamiliar with Auerbach's methods and convinced he didn't especially want him, nearly took a job in the real world rather than playing in the still-fledgling NBA.
Heinsohn: "Red, in his own inimitable style, would pooh-pooh everything. 'Well, he's this, he's not that, he can't do this.' And I thought, Jesus Christ, they don't want me. So, there was a guy from Holy Cross who worked in PR in Peoria for the Caterpillar plant. And they had the Cats, an AAU team. I majored in economics at Holy Cross and I had been involved in organizing different things. He said come on out and talk to us. He offered me a job. That's what I wanted if I wasn't going to play pro. And I got back from that trip and they made me a nice offer – more money than what the Celtics offered – and I was seriously thinking about it. So I got back, and [Bob] Cousy called me, and he said, 'What the hell are you doing?' And I didn't know Cousy then other than to shake his hand. I'm younger than him, he was long out of school and a star with the Celtics when I was just getting into college. And I said, 'Jeez, Cooz, Red is saying this and that,' and he said, 'Aw, c'mon, stop crying, don't listen to him. That's what Red does. They really you want you.' Later I found out that they called Cooz to tell him to convince me to come.
"So I get there to meet with Red and them, and I said, 'Hell, I didn't think you guys wanted me.' Red was like, 'Nah, we want you.' Then he moves on and starts immediately asking me questions about [Bill] Russell because I'd played against him in a holiday tournament. Red had not really seen him. When he was asking me, I said, 'Red, he can't shoot a lick. But the son of a bitch will block every shot you take!'''
Heinsohn beat out Russell for the 1956-57 NBA rookie of the year award (Russell arrived in December, after the season had begun, because of his Olympic commitment). But it was already apparent that while Heinsohn was a star, Russell would become transcendent. Russell is, however, difficult to explain to the generations of fans who didn't witness his heyday, who didn't gain the firsthand and visceral knowledge of what he did as the fulcrum of 11 championship teams. Blocks were not kept as an official statistic then. He shot just 44 percent from the field and 56 percent from the free-throw line. How do you explain Russell's greatness if you didn't see it? Ask someone who was there.
Heinsohn: "He changed offenses, let alone star players. He changed what you thought you could do. You can't underestimate the importance of that. Everything he did was geared to winning, which is why he won so much, OK? The Olympic gold medal, two NCAA titles, everything with us. He wasn't along for the ride, he was the ride! They don't have a clue nowadays on what he was doing. He had a book on everybody. He would take away your angles and make you commit. He would never foul out because he wouldn't try to block the shot when it was in your hand. He'd always wait until the release. That's how great an athlete he was. There's a picture you see a lot, of Wilt [Chamberlain] and Russell. And Wilt's gonna do the roll-down thing. And here's Russell, with his hand, and he's going to stop it. And he did stop it. When a guy takes a shot and when you get up there, that's a hell of a timing event.
"And let me tell you, he was the best athlete on our team. He beat the Jones boys [guards K.C. and Sam] in sprints. There was a film that the USA Information Service made of basketball that they exported to Europe and what have you and they showed us this one day and there was Russell. The other team runs a play and he does his thing and it all looks like everyone is in unison. And then they run it in slow motion, and you see everybody on the team that's got the ball trying to run their play, and he's so [expletive] quick he's anticipating where they're going before they start to move. He knows what they're doing before they begin to do it! He blocked four shots on that play.
"And of course, they didn't keep stats for stuff like that then. Cousy would have had, Christ, one-thousand more, two-thousand more assists because of the way they keep track of them now. The way Russell blocked shots, he'd do that every third game where he blocked three or four shots in a sequence, on the same play. The measure of what he did, they're still trying to emulate and nobody even comes close. All right?"
THE COACH
Heinsohn played with and coached another Celtics icon, John Havlicek. They were teammates for three seasons (1962-65), then Heinsohn had Havlicek on his side for his entire reign as coach (1969-78). One of Heinsohn's few frustrations is that the 1972-73 Celtics, who won 68 games, fell five wins short of the title after Havlicek suffered a shoulder injury during a seven-game loss to the Knicks in the Eastern Conference Finals.
Heinsohn: "Hey, listen. Everyone has the ones that got away. As a player, Russell got hurt [in 1958]. We lost to St. Louis. Got hurt right in the Finals. They beat us in 6. Havlicek getting hurt in '73 diminished us, as you'd expect. The Knicks were a great team. But we got ours eventually. When I coached, I coached an amalgam of veterans and new players and had to blend 'em together within a short period of time. Within five years we won the title. And we did it with the smallest team in the league. [Paul] Silas, the power forward [on the 1974 and '76 champs] was 6-6, yet twice we led the league in rebound margin.
"You know how we did that? We ran! We ran whenever we could! We wore 'em out. They talk about pace today. We had pace and tempo, and we controlled it. During my tenure as a player and coach, that was always the secret weapon. Playing with pace. If you run against the world's greatest marathoner, you're going to lose. But suppose they allow you to organize a relay team? The guy would never get to Heartbreak Hill. That was always the secret weapon of the Celtics through the eras. Aggressiveness, the pace of the game, all little things that were involved in making that happen and continue to make it happen. Little tricks, fundamental things, which you don't see that often anymore.
"Hell, I played that style, 37 minutes a game. I was in essence the power forward most of the time. I would rebound, and then you were expected to fill a lane, which is the circle route, get out past the sideline and go. It would wear your ass out, you know, full court, and they'd all be on my case. 'You're out of shape, you're smoking, blah blah blah.' I said, 'Cousy, dammit, you go foul line to foul line, head of the key to head of the key, and Russell runs down the middle of the floor. I'm accumulating mileage out here!' But Havlicek, he could take that circle route and not even breathe hard. He was really a fabulous athlete. If he could play until he was 100 [years old] physically, he'd still be playing. He loved to play. I don't know if he would have stuck around longer if he knew Bird was coming in a couple of years. I don't know. I don't know. Havlicek was at the stage where he was getting hurt and they would shoot him up with this or that."
When the Celtics' 17 championships are considered, the '60s dynasty and the Big Three Era of Larry Bird, Kevin McHale and Robert Parish naturally draw the most attention. The new Big Three Era of Kevin Garnett, Paul Pierce and Ray Allen even gets some buzz, having broken a 21-year championship drought in 2008. Heinsohn agrees that his '70s title teams sometimes get relatively short shrift despite dominating in their own right, albeit for a shorter span.
Heinsohn: "We developed the basketball fans around here, I can tell you that. Cousy and I lived in Worcester and we'd drive back and forth to practice and you'd start seeing hoops in driveways in Newton. When Russell left, I became the coach and we're trying to rebuild the team and the backup, Henry Finkel, is the center, and that's not the same thing, you know, and people are trying to figure out what the hell we're doing. We're doing one of those shakedown cruises, trying to sell tickets and feeling out the people after the season and we could tell they weren't sure about the direction and what we were doing. It's like what's going on now, with what Danny has done. People don't really understand the magnitude of it. That's what really kind of happening in that era. If we'd won in that year we were 68-14, it might have changed. But the fans showed up for us, the Phoenix game, triple overtime, all the great moments, they were always there. Christ, we were way better than the Bruins. They didn't draw as much as we did.
"So, it took time to build, and then build it back after Russell left. And when my team that won the two titles reached its final phase, the owner – Irv Levin, I called him Irv the Swerve – was a bad owner, he just didn't understand what the hell was going on, everything was all my fault. He wouldn't sign players, making personnel decisions. I was never involved in the financial aspects. But he'd call me up about certain players. Silas had an out in his contract, and he called me up and said, 'What about Paul Silas?' and I said, 'I don't know anything about the financial aspects, but I'll tell you this. This guy is the second-most-important player on our team. If you don't sign him, we won't have the same basketball team.' So … take that, put that in the equation. We ended up with Sidney Wicks, Curtis Rowe, and the team disintegrated. It was a damn good team while it lasted. It should have lasted longer."
THE BROADCASTER
After the Celtics fired him, Heinsohn had other opportunities to coach; the Houston Rockets were one potential suitor in the late '70s. But wary of meddling ownership elsewhere after dealing with the Celtics, he never took another coaching job. Instead, he moved to the third phase of his career: broadcasting. Bird arrived for the 1979-80 season; Heinsohn, along with Mike Gorman and for many years Cousy, came along as the team's television voices in 1980-81. Heinsohn also served as the top analyst for CBS's NBA broadcasts through much of the '80s. His allegiances – and his disdain for referees – were never hidden.
Heinsohn: "I always enjoyed watching competitive people. That's one of the reasons I left the business world. I was in the management end of the insurance business. I ended up taking the coaching job because of the players being motivated to be good. That's what keeps me going, watching them grow as players and people. And when you get that close to them and you've been around so long, you necessarily get a rooting interest. Yeah, I let that show as a broadcaster. I've been accused!
"Our audience here are Celtics people. I've done national broadcasts where you've got to be down the middle. The way I developed the broadcast on the national basis is that I would get scouting reports on both teams. Then I would devise strategies on how I would coach against them based on their weaknesses and strengths. I'd lay that out to the production people and we would try to catch some of that stuff. That's the first time that the Lakers people ever heard that they had weaknesses. And the Celtics people too. I ended up wearing a purple and green tie split down the middle. Little bit of both, you see. Don't think many people in LA bought it, though."
The Celtics have won four championships during Heinsohn's tenure as a broadcaster. Three during the Bird years (1981, '84, '86) and the most recent title ('08). But in between those banner seasons, there were some down times, especially in the late '90s, when Rick Pitino was hired to be the franchise savior and proved anything but.
Heinsohn: "Bird captivated people of course – hell, he captivated me, he captivated Cooz, he captivated all of us! – but after he retired and those guys moved on and Reggie [Lewis] and Len Bias died so young, there were some times when you wondered what they were doing, what the direction was. I can remember when Pitino was here. He comes up to me one day … and I thought Pitino would work out, I knew him from when he got the job at BU, followed his career, and he did a great job at Kentucky. But he comes up to me one day and says, 'Tommy, is this true that you and Red, 10 points down with 2 minutes to go, would say to the players during a time out, 'Does anybody got anything?' I said, 'Yeah. That was a big thing.' So he's says, 'Well, if it's good enough for you, and good enough for Red, it ought to be good enough for me.' So he's got Antoine Walker and a young Paul Pierce and they're down in that situation and he calls time out. And he goes, 'Does anybody got anything?' Silence. Nothing. Finally Antoine Walker pipes up and says, 'You're the [expletive] coach, tell us what to do.' Pitino missed the whole point. From beginning to end, the players have to be involved in decision-making. You've got to allow them to be invested.
"Right from the beginning of training camp, Red would say, 'I was up thinking about this and let me show you what I think, I think this might work.' He'd trot it out and show you, 'What do you guys think?' And everybody would say, 'Ah, you know, this might work too' and everybody would massage it. You had pride of authorship. You were expected in front of your teammates to recognize how they were playing you, what the best thing was to counter that as it fits into some of the things that we have. And you'd say, 'I can do this.' And someone else would say, 'I can do this.' And Red would say, 'Hell, OK, we'll use yours first, yours second, and yours third.' And you felt obligated in front of your teammates to make that sucker work.
"Compare that to now, when they call timeout, six coaches go to the free-throw line and the players sit on the bench, and half of them are checking the cheerleaders out. Their heads aren't there, when what it's supposed to be is a band of brothers. They've got part of that in this team. They all feel like we've got to do this together. We were together. We sure were."
THE HERE AND NOW
While Heinsohn, who was instrumental in founding the players' union, can grumble about how easy today's players have it, his appreciation for the modern NBA player is always evident. His frustration with game in its present state is that over-coaching is an epidemic and that players are deserving of the kind of trust that Pitino, for one, never could muster for his roster.
Heinsohn: "The game has really changed. The game used to be a players' game. You play in a fundamental way. Everybody knew how to take advantage whatever was in front of them. I compare the teams of that era that I played in to a jam session with a jazz group at 2 o'clock in the morning in Harlem. Somebody would do a solo, but everybody knew how to complement the solo, right? It also applies to the Bird era, the way K.C. [Jones] trusted that group. And we're at the stage of the game right now where they supply them with the music and they're there turning the page for them to also read the music. It's a coaches' game. No one wants it to be a coaches' game except for the coaches!
"I'll tell you, one of the many things I love about Brad [Stevens] is that he doesn't embarrass anybody, he promotes people, they know where they stand. [Steve] Kerr does that too with the Warriors; he's smart enough to trust smart players. Whenever I hear a coach start to complain about his players, I say, 'Forget about it. It's all over.'
"That's the secret of what they're doing here: let the player be the player. Let him do what he does well. Part of the problem with [Rajon] Rondo here was that he was a square peg they were trying to hammer into a round hole. He was a smart guy. And he got frustrated. He was a modern Bob Cousy. First time I saw him in a preseason game, the first six minutes, I said this kid is going to be something else. He threw a three-quarter-court bounce pass for a layup, which I hadn't seen since Cooz. So this guy had a good basketball brain. I could tell. But he played for Doc. Doc was a very, very good coach, but he wasn't an uptempo coach. He never played it, he never was coached to it. He may think he did – he'd say we want to run – but he didn't, not to that extent.
"When I first met Brad, the first time, he told me that we're going to play a style that will allow the player to play like he can play. Evan Turner is a typical example. Everyone else who had him tried to make him a quick forward – come off picks, spot up, and that's not his game. [Incredulous] That's not his game! Put the ball in his hands, and then you have something. So they found a way. Danny [Ainge, the Celtics' president of basketball operations] will pick those type of people, with the right personality, Brad will find a way how to use them.
"Danny has a really good ability to pick the right personality types. I don't know how the hell he does it. When I was recruiting people in the insurance business, it was tough to find out who was really committed to winning. He does it really, really well. Doc Rivers, sitting here once after one of the games, said, 'Hey, Danny's doing a great job.' He says, 'Not surprising. He's one of like two general managers that actually goes to college games.' So he's done a hell of a job. Now, we need some additional players. I can't wait to see where this goes, because it's going in the right direction fast, I'll tell you."
THE LEGACY
Heinsohn was elected to the Hall of Fame as a player in 1986. In 2015, he was elected again for his coaching exploits. And an argument can be made – though probably not in Laker country – that he also belongs as a broadcaster. He has been, in basketball parlance, the rarest of triple threats. When he is asked how he figures fans of different generations see and relate to him, he has a standard answer, punctuated with that familiar laugh.
Heinsohn: "Well, Mike [Gorman] put it best. There's a generation – it's an old generation, my friend, but it's a generation! – that remembers me best as a player. There's a generation that remembers me best as a coach. There's a generation that thinks of me as a broadcaster. And kids, they think I'm Shrek! I'll tell you what, I'll take all of it!"
http://cinesport.boston.com/boston-globe-sports/finn-opinions-tom-heinsohn/