Celtics
The Celtics' season ended painfully, but it delivered inspiration along the way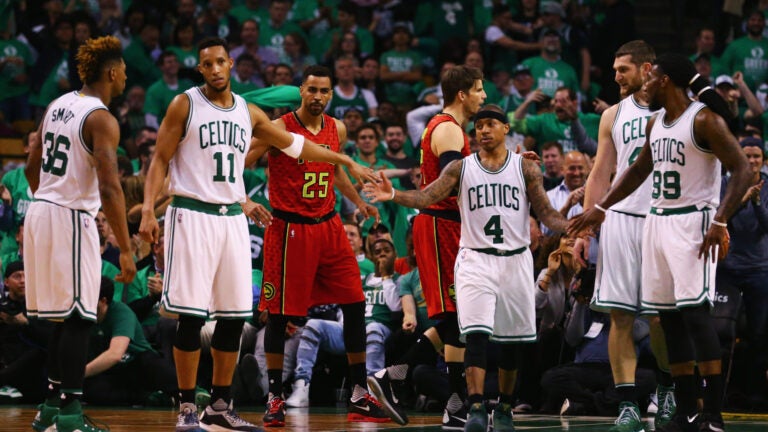 COMMENTARY
The Celtics were two and a half point underdogs against the Hawks last night at the Garden, and this was strange because the home team had been favored in each of the series' first five games. You also had to go back more than a month — to March 16 against the Thunder — to find the last time the Celtics were underdogs at home. Before that, you had to go back three months to Dec. 15 against the Cavs. The point is that the Celtics got a lot of respect at home this year. Better yet, they earned a lot of respect. But now here they were, in Game 6, with the season on the line, playing in front of maybe the best home crowd in the Eastern Conference, and there it was: Two and a half points.
"They're just out of gas," a friend argued before the game.
"OK," I thought. "Well, that's perfect."
That's because in 30 something years of watching the Celtics it's hard to remember a team that ever operated better with the gas light on. It's hard to remember a team that played better when they had more excuses not to, and, man, did the Celtics have themselves a few excuses heading into Game 6. There was Avery Bradley's hamstring, Kelly Olynyk's shoulder and Jared Sullinger's waistline. There was Jae Crowder's ankle and Isaiah Thomas' ankle. There was just enough going on to make the world believe that Boston didn't have a chance … and that was just enough to give them every chance in the world. Right? Right.
Then the game started.
And what can you say except that the Celtics were out of gas.
They had nothing left physically, mentally and in every other sense of the word. Isaiah couldn't hit a jumper or get to the rim. Evan Turner's patented midrange shot started looking like a half court heave. Crowder had more fouls than made baskets. Marcus Smart had four steals while the rest of the team combined for one. Isaiah had 10 assists while the rest of the team combined for six. Jonas Jerebko had one rebound in 33 minutes while the combo of Sullinger and Olynyk posted two points and five rebounds in 12 minutes. The Celtics trailed by three points after the first quarter, eight points at halftime and by the start of the fourth they were down 21. The whole game was a slow, systematic and overpowering chokehold applied by a superior opponent.
"They're just better than us right now," Celtics coach Brad Stevens said after the 104-92 loss. "It pains me to say it."
And it was a pain to watch it.
It was an ugly game, an ugly way to end the season, and sure, that negativity sucks. Rick Pitino would be proud. We should probably use this time to celebrate everything these Celtics brought to the table for 88 games. From Oct. 28 through April 28, from player one through player 15 (well, at least once they got rid of David Lee) this team came to play just about every single night. Even more, they played together. They enjoyed playing together. At a time when athletes' salaries and extraordinary lives can create a divide between those athletes and the fans, these Celtics broke down the walls for a second straight season and inspired anyone that was open minded enough to give them a shot. They played the game like fans would like to think they would if they could make millions on a basketball court. In not so many words, they cared, and while that shouldn't necessarily qualify as a special quality — like comedian Chris Rock says "that's what you're supposed do" — in this world it's commendable, and for six months this team did the Celtics and the city of Boston proud.
And you know what? That's not going anywhere. There may be changes this summer. The roster will turn over and keep turning over until a championship is within reach. But the culture will remain the same. It's a culture that begins with owner Wyc Grousbeck, who supports and trusts president of basketball operations Danny Ainge, who supports and trusts head coach Brad Stevens, who supports and trusts his players, and the Celtics are only looking for players worth supporting and trusting. They're building something here. Something to be supported. Something to be trusted. Something to look forward to. And over the next the few months there will be plenty of days for falling back on that optimism.
This just isn't one of them.
Today that optimism is a disservice to the team that spent this season killing themselves in a Celtics uniform, for the Celtics uniform, because let's be honest: That optimism isn't necessarily for them. It might be but while you and I can sit here today making Game 6 excuses while day dreaming about draft picks and max contract players, the guys in that locker room get to wonder if Thursday night was the last time they'll put on a Celtics uniform.
"That's just the business of the NBA," Isaiah Thomas said. "One thing I do know, I'd ride with these guys to the wheels fall off, I mean this was a special group."
"I really don't know," Evan Turner said about his future in Boston. "I would love to come back but at the same time, lot of things, lot of variables are going to occur that I can't control."
"That's what sucks about it," Crowder said, "but like Isaiah said it's part of the business. But we did build a bond with each and every guy in the locker room. You never want to see it end, and it was tough to see it end today."
So yeah, the future might be bright, but let's not pretend this present moment is any fun. It's the end of the road for a group of solid players and more importantly one inspiring team. But no matter what happens next — forget what Vegas said — the 2016 Celtics will always be favorites in Boston.
The Greatest Boston Celtics of all time
[bdc-gallery id="118766″]