Celtics
Evan Turner after Game 6 loss: 'Hopefully, it's not my last game in a Celtics uniform'
The veteran swingman is set to become an unrestricted free agent in July.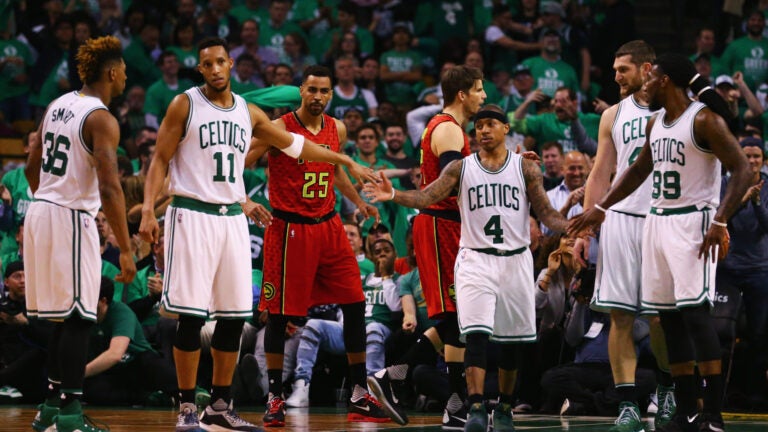 The Celtics' season had only been over for mere minutes on Thursday night when Evan Turner was faced with questions about his uncertain future.
Like the rest of his Celtics teammates, Turner ended the year on a disappointing note, shooting a mere 4 of 17 from the field while scoring eight points in Boston's 104-92 Game 6 loss to the Atlanta Hawks. On the season though, Turner proved to be a vital component of Boston's offense, averaging 10.5 points and 4.4 assists per game while playing a variety of positions.
While his versatility was key to Boston's 48-win regular season, Turner's true value to the team will be assessed this offseason by president of basketball operations Danny Ainge. In the meantime, the soon-to-be unrestricted free agent made it clear he would like to return to Boston if the opportunity presents itself.
"I really don't know [if I will come back to Boston]," Turner said after the loss. "I would love to come back but at the same time, lot of things, lot of variables that are going to occur and things like that that I can't control. Whenever July hits we'll talk about it."
The Celtics signed the former No. 2 overall pick to a two-year, $6.7 million deal in the summer of 2014 after a disappointing stint with the Indiana Pacers. Since then, Turner has put together two solid campaigns in Boston, improving his all-around play under head coach Brad Stevens.
"He's done a lot," Turner said of Stevens. "He's a smart guy. He rekindled my fire for the game. Just enjoy it. Brad's definitely helped me grow as a player in regards to seeing things in a bigger-picture format. I think he's definitely helped us all with becoming better pros and doing the little things. I think everybody in this locker room he's put in positions to succeed so I definitely appreciate that and most importantly off the court he's a great friend and great guy."
Turner also admitted he enjoyed the experience of playing in Boston.
"I love playing for the Celtics," he explained. "I love the city and everything. It's definitely been a blessing. Hopefully it's not my last game in a Celtics uniform. The coolest thing is to wear the uniform. I don't take that for granted. The tradition and opportunity and the energy around it is great."
And while the 6-foot-7 swingman appreciated those experiences, he understands the reality that Ainge may be chasing big stars this summer in free agency, instead of players like him.
"Honestly, I don't really worry about [free agency]," Turner said. "I'll let my agent handle it, and at the same time there will be a lot of different things. Danny's going to do what's best for the organization, and I have to do what's best for my career."