Celtics
The Celtics have already come so far—and the best days are ahead
Two years and a couple of savvy trades ago, the Celtics won 25 games. Now they're coming off a 48-win season, with cap room and draft picks galore. You bet you should be optimistic.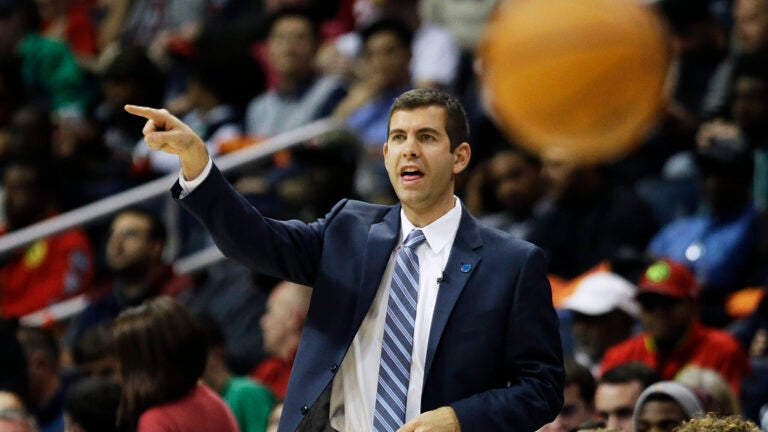 COMMENTARY
A little more than two years ago, Brad Stevens's first season as an NBA coach came to an ignominious end. His Celtics lost their season finale of the 2013-14 season to the Washington Wizards, 118-102. It was their 57th loss against just 25 wins in the first year of the post New Big Three era. The defeat was as anti-climactic as an NBA game can be that doesn't involve the Sixers.
The Celtics' starting lineup that night included rookie forward Kelly Olynyk, combo guard Avery Bradley, and three players who have long since become past tense around here: Phil Pressey, Jeff Green, and Brandon Bass. The three reserves who saw playing time – Chris Johnson, Chris Babb, and Joel Anthony – wouldn't form a Big Three on a D-League team.
Two years. It wasn't that long ago. And it was forever ago.
Five days after the Celtics' 2015-16 season ended with a 104-92 loss to the Hawks in Game 6 of their first-round playoff series, the abrupt ending remains a lingering bummer.
An ankle injury reduced the essential Jae Crowder to a relative bystander. Olynyk and Bradley – two of the team's more capable perimeter threats – were injured for the series.  The injury bug infected them at the worst time, and those who were in relative health didn't play their best. In the final two games of the series, the Celtics were overmatched, outplayed and sure as hell outshot by the Hawks.
There was supposed to be more. It was supposed to be the Celtics, not the Hawks, who provided at least a brief nuisance to LeBron James and the Cavaliers in Game 1 of their second-round series Monday night.
Ah, well. What can you do? Actually, there is one thing:
Remind yourself of how far the Celtics have already come, and where they are headed.
There's a reason why I brought up that flashback to the bottom-scraping depths of two years ago. The mood really should not be disappointment, at least not now, nearly a week after the season ended. It should be one of anticipation. They've already come so far, and there is so much more to come for these Celtics.
Look at the players and assets Celtics president of basketball operations Danny Ainge has added over the past two seasons. His trades for Crowder and Isaiah Thomas were such heists – as well, of course, as the earlier, Auerbachian deal for a gym bag full of Nets first-round picks – that his fellow executives might be wise to stop taking his calls.
More? He signed Bradley to a reasonable deal ($8 million per year) and watched him emerge as the best defensive guard in the league and a dependable shooter coming off screens. He drafted Marcus Smart, a 22-year-old with ferocious defensive skills. He's erratic, but it comes from a good place. He wants to win. He will win here.
Ainge rebuilt without pulling a Sam Hinkie or wallowing in mediocrity. The Celtics won 48 games this season with a roster of tough, flawed players who were utilized brilliantly by a coach with an uncanny talent for putting them in a position to succeed.
With any semblance of context, I don't know how anyone who understands the NBA and recognizes the complexities of building a roster can feel anything but tremendous optimism for this franchise at this moment in time. We all have heard from that vocal segment of the media that, whether by ignorance or deliberate deception, likes to downplay and even dismiss the Celtics' progress. If you can't ignore those voices, then take solace in this: soon, they will have no argument left. They're trolls beneath a crumbling bridge. They'll be shrieking into the void in between CBS Sports Minute commentaries while we're over here watching a damn good basketball team.
This was a fulfilling season for fans who recognize that not every enjoyable year has to end in a championship. And yet the promise of more fulfilling seasons is directly ahead. This offseason may be more interesting and rewarding than the season itself.
You know the situation: The Celtics have eight draft picks, including one that could/should be in the top three. They have enough salary cap room to sign a couple of max-contract players. At the very least, they have caught the attention of Kevin Durant, and the loyal denizens of TD Garden showed Al Horford in the last series what a dedicated fan base really looks like. They have Ainge orchestrating all of this (I am not betting against him sitting next to Durant's mom at a Thunder playoff game), and they have Stevens, the best young coach in the sport, to make it all mesh on the court.
Just think about what the Celtics will look like when they have a scorer to accompany the admirable Thomas, or a big man to protect the rim, or a couple of dead-eye shooters to discourage double teams. Think of what they will be like when Crowder and Smart are defensive menaces who aren't as depended upon to score as they were late this season. Think about what they will do when Stevens is coaching a roster with an advantage in pure talent for once.
I'm with you. I wish this Celtics season had lasted longer. They were so fun to watch at their best. But what's ahead is going to be even better.
This year's Celtics won 48 games and never gave up the fight even when the odds were against them. Imagine what they will be when the odds are with them.
I'll miss this team. I already do. But I cannot wait to see who they are when we see them again.