Celtics
Danny Ainge on Celtics offseason: 'Nobody is ever untouchable'
It's shaping up to be a busy offseason in Boston.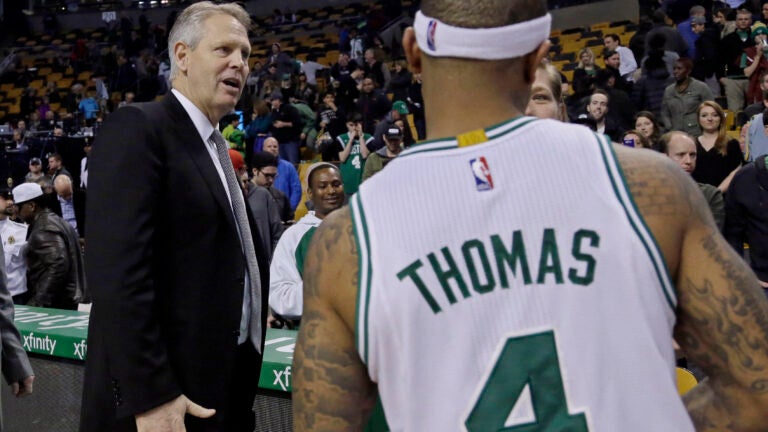 Danny Ainge has high expectations for the Celtics this offseason, as the team enters the fourth year of its rebuilding process. Boston showed progress in year three by winning 48 games during the regular season, tied for third-best record in the Eastern Conference. But after a second straight first-round exit from the postseason, the Celtics' president of basketball operations acknowledged this offseason will be different than recent years.
"We look forward to every offseason. This offseason is bigger," Ainge said Wednesday at his end-of-season press conference. "My expectations are high this offseason, and yet I also know that it takes good fortune. We need the ping-pong balls to bounce our way [at the NBA draft lottery] to give us the best opportunity. Whether we use [the first-round pick acquired from the Nets] or whether we trade that pick, and in free agency, we have opportunities. And that's all we have."
Heading into the offseason, Ainge has the benefit of more draft picks and trade assets than most teams around the NBA.
"We have no guarantees of great things happening," Ainge said. "We just have a lot of hope. And so we have a lot of work ahead of us, and we have to have plan A through Z. Usually it's more A through G, but we have A through Z this year just to have an opportunity to upgrade our team."
With eight picks in the 2016 NBA draft, salary cap space for two max free agents, and a contingent of talented young players on attractive contracts, there will be numerous routes that the veteran executive could use to reshape his roster. With superstar players in his sights, Ainge wouldn't rule out moving his current personnel for the right piece either.
"Nobody is ever untouchable," Ainge said. "I mean, when Kareem Abdul Jabbar gets traded, you know there's no such thing as an untouchable in the NBA or in any league for that matter. There are certain guys that we want to keep and build around and move forward."
Ainge previously transformed his team into a contender during the 2007 offseason by landing two stars via trade in Ray Allen and Kevin Garnett to pair with Paul Pierce, but he believes the current roster's makeup is different this time around.
"I'm not sure we have a Paul Pierce on our roster," he said. "But I do think we have a lot more things to trade, a lot more things to move."
After the NBA draft lottery takes place on May 17, the Celtics will have clarity about the positioning of their top pick. This could allow them to start pursuing different avenues of improvement, including consolidating some of their eight picks. With nine players already signed to guaranteed contracts for the 2016-17 season, it's evident that the team won't have room for everyone.
"I have no sense of [how different we will look next season]," Ainge said. "I have hope but I have no sense. There are scenarios where our team could be better and significantly better, and there are scenarios where we have younger players that are maybe not as good from a win record standpoint, but with development standpoint being a much, much higher ceiling."