Celtics
Celtics Report Card: Grading the guards
Isaiah Thomas and Avery Bradley headlined a productive season for Boston's backcourt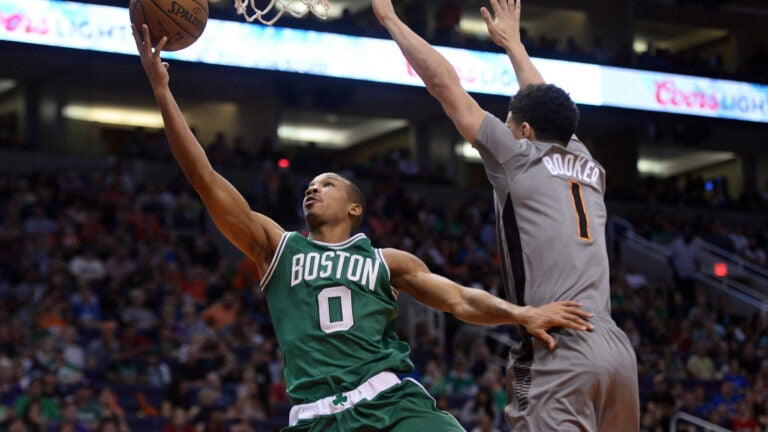 COMMENTARY
As Danny Ainge embarks on the biggest offseason of the Celtics' latest rebuild, an integral part of the process will be evaluating his team's own assets. Ainge's roster took a major step forward in the regular season with an eight-win improvement over last year's campaign, but several weaknesses were exposed in the team's second straight first round exit against the Atlanta Hawks. In order to help shape Boston's offseason, we'll take a look at the performance of the roster throughout the season and how each player's progress may help shape his role in the future of the Celtics. For the first edition, we'll begin with the guards.
Isaiah Thomas
Notable 2015-16 stats: 22.2 ppg, 6.2 apg, 42.8% FG, 6.6 FTA per game.
Overview: It's easy to forget that Thomas entered the 2015-16 season as Boston's sixth man. That changed quickly when an injury to Marcus Smart forced Thomas into the starting lineup one week into the year, and the 5-foot-9 point guard did not look back from there. The 26-year-old averaged a career-high 22.2 ppg in just 32 minutes a contest, anchoring an improved Boston offense as the team's dependable spark plug. His outside shooting remained above-average (35.9 percent from 3-point range) and his attacking mentality (career-high 6.6 free throw attempts per game) kept defenses on their toes all year long. His 9.7 win shares put him 16th overall in the league, ahead of premier names including Damian Lillard, Jimmy Butler and Paul George.
Summer assignment: While defense has never been a strong suit for Thomas, he still can make gains on this end of the floor to turn into a more well-rounded All-Star. Boston had its best defensive rating (97.5) when Thomas was on the sidelines, and that's a tribute to his inability to keep opposing guards out of the paint.
Grade: A
Avery Bradley
Notable 2015-16 stats: 15.2 ppg, 44.7% FG, 36.1% 3PT, 1.5 SPG
Overview: At first glance, Bradley's offensive numbers seem rather pedestrian for a veteran shooting guard in the NBA. However, Boston's ugly first round exit against the Hawks demonstrated just how pivotal Bradley was all season to what the Celtics do on both ends of the floor. He was the team's leader in minutes per game, and he spent much of that court time anchoring Boston's bench unit as a primary offensive option. For a team that lacks reliable scoring outside of Isaiah Thomas, Bradley provided his outside shot, giving the Celtics a team-best 107 offensive rating when he took the floor. There's no denying his defensive impact most nights either, as evidenced by him limiting stars like Stephen Curry to subpar shooting performances on several occasions in the regular season.
Summer assignment: Reduce the streaky shooting. A quick glimpse at Bradley's monthly splits show a bit of a roller coaster ride for the 25-year-old with his long-range jumper. A couple months above 40 percent are encouraging, but they are balanced out with a sustained stretch between 25-30 percent. With Bradley's goal to be a 40 percent 3-point shooter, he needs to eliminate these extended slumps.
Grade: B+
Marcus Smart
Notable 2015-16 stats: 9.1 ppg, 4.2 rpg, 3.0 apg, 1.5 spg, 34.8% FG, 25.3% 3PT
Overview: There's no denying that the second-year guard was a net positive for the Celtics in 2015-16, but he did take a notable step back in a couple critical parts of his game. His shooting numbers regressed considerably, including an eight-point drop beyond the arc from his rookie season. Injuries (toe, ankle, knee, thumb) also popped up regularly, which kept Smart out of action for 21 games. Those concerns aside, there were positive signs for the 21-year-old. He reduced his turnover rate and improved his rebounding. Smart also increased his free throw attempts by 1.2 per 36 minutes, a promising number for a young guard who has yet to prove he can handle running an NBA offense on a full-time basis. Defensively, Smart remains one of the best backcourt options in the league. His versatility to guard bigger players, such as Paul Millsap in the postseason, still makes him one of more intriguing young prospects in the league.
Summer assignment: Become less dependent on the 3-ball. Smart was statistically one of the worst 3-point shooters in the NBA this year and still took nearly half (4.0) of his shot attempts per game (8.7) from beyond the arc. That's not a winning formula for any team in the league. Smart must improve his penetration abilities and improve his shot selection so he's not shooting Boston out of games on off nights.
Grade: B-
R.J. Hunter
Notable 2015-16 stats: 2.7 ppg, 1.0 rpg, 36.7% FG, 30.2% 3PT, 8.8 mpg
Overview: With an early season injury to Smart, Hunter saw his most consistent playing time in the first month of the season. The rookie out of Georgia State beat out fellow wing James Young for these early rotation minutes, a promising development for his spot in the depth chart. Boston's talent in the backcourt pushed Hunter to mostly Maine Red Claws duty once the team was at full health, with inconsistent shooting and overmatched defense limiting him all year long. Both issues are not surprising coming from a rookie, but they were painfully showcased in the first-round loss against the Hawks, as the shooting guard was a net minus on both ends of the floor.
Summer assignment: Improve speed of shot release. Hunter has one of the prettier strokes on the Celtic roster, but his inability to get the ball off quickly against NBA defenses damaged his effectiveness all year long on a team that was in dire need of outside threats. With roster space at a premium for Boston in the coming years, Hunter must prove he can be a viable offensive threat off the bench in order to secure his spot with the franchise.
Grade: C-
Terry Rozier
Notable 2015-16 stats: 1.8 ppg, 1.6 rpg, 27.4% FG, 22.2% 3PT, 8.0 mpg
Overview: Unlike his fellow backcourt mate, Rozier's rookie season peaked in the latter stages of the season. After being plagued by ineffective shooting during his shot in the rotation in the month of November, Rozier was cast aside until March, spending several months getting his reps in with the Red Claws. Stevens gave him another chance when Jae Crowder was sidelined with an ankle injury, and Rozier took advantage of the opportunity by showing up the athleticism that made him a surprise first-round pick. He was a force on the boards, held his own defensively and proved himself capable of hitting an open jumper, especially against the Hawks in the postseason. In a series that lacked many bright spots for Boston, Rozier's glimpses of potential against Atlanta were encouraging.
Summer assignment: Like Smart, the key for Rozier to staying on the court will be his offensive efficiency. He's got the skills to hold his own on the defensive end, but he needs to improve his consistency and shot selection in year two to become a regular part of Stevens' rotation.
Grade: C-
The top NBA Draft picks of the last 20 years
[bdc-gallery id="147034″]