Celtics
Celtics report card: Grading the wings and swings
Jae Crowder and Evan Turner showed terrific signs of progress during the 2015-16 season.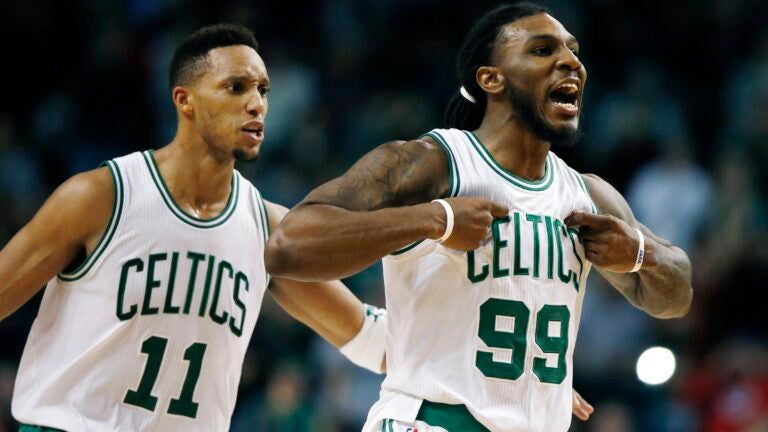 COMMENTARY
As Celtics president of basketball operations Danny Ainge embarks on the biggest offseason of his latest rebuild in Boston, an integral part of the process will be evaluating his team's own assets. Ainge's roster took a major step forward in the 2015-2016 regular season with an eight-win improvement over last year's campaign, but several weaknesses were exposed in the team's second straight first-round playoff exit.
Before the major moves of Boston's offseason begin, we'll take a look at the performance of the roster throughout the season and assess how each player's progress may help shape his role in the future of the Celtics. For the second edition of the report card, we'll evaluate the team's wings and swingmen.
You can check out the first set of grades on Boston's guards by clicking here.
Jae Crowder
Notable 2015-16 stats: 14.2 ppg, 5.1 rpg, 1.8 apg, 1.7 spg 44.3% FG, 33.6% 3FG
Overview: It may be hard to remember now after a brutal performance in Boston's first-round loss to the Atlanta Hawks, but no one on the Celtics' roster made bigger strides as a player  during the 2015-16 regular season than Crowder. The swingman received legitimate All-Star consideration at the halfway mark of Boston's campaign after excelling in the first starting opportunity of his career. He set career highs in nearly every major statistical category, evolving into the ideal 3-and-D versatile wing that is so valuable in today's NBA.
Crowder's defense was not a surprise to fans, but seeing the 6-foot-6 forward morph into a reliable third contributor for Boston's offense most nights made the five-year, $35 million deal he signed last summer look like one of the best deals in the NBA. Unfortunately, a late-season ankle/foot injury hampered the 25-year-old down the stretch, causing his shooting averages to dip a couple percentage points in the final month of the year. However, that sour finish should not take the shine away from the terrific progress Crowder made in his fifth NBA season.
Summer assignment: While Crowder's 33.6 percent mark from 3-point range this season was a career high, it still falls well below the NBA league average of 35.4 percent. In order for the Celtics to climb out of the league basement for outside shooting, Crowder must continue to make strides in this department, especially if he is going to be firing away at such a high rate (5.0 attempts per game in 15-16)
Grade: A-
Jonas Jerebko
Notable 2015-16 stats: 4.4 ppg, 3.7 rpg, 41.3% FG, 39.8% 3PT, 15.1 mpg
Overview: An overcrowded frontcourt and a slow shooting start limited the 6-foot-10 Swede's contributions in the early parts of last season. Once David Lee was banished to the bench, more consistent opportunities started coming for the 29-year-old who had excelled as a stretch four for Celtics coach Brad Stevens in his debut season in Boston. In year two, Jerebko ultimately finished second on the team in 3-point shooting percentage behind Kelly Olynyk. He was one of the team's only true threats from downtown in the series against the Hawks. With him on the floor, the Celtics' defensive rating was two points better (98.4), a tribute to his versatility in handling a variety of wing and big opponents.
Summer assignment: Incredibly, Jerebko's 3-point shooting percentage was better than his accuracy from inside the arc for a large chunk of 2015-16 season as he shot a career-low 41.3 percent from the field. In order to avoid the label of a one trick pony, Jerebko  needs to work on his in-between game so opposing defenses have to honor his drives a bit more.
Grade: B
Evan Turner
Notable 2015-16 stats: 10.5 ppg, 4.9 rpg, 4.4 apg, 1.0 spg, 45.6% FG, 24.1% 3PT
Overview: The former No. 2 overall pick may have come off the bench in his second year in Boston, but Turner actually saw more court time (28 minutes per game) during the 2015-16 season. And for good reason: At age 27, the 6-foot-7 wing anchored Boston's second unit offense and delivered his most efficient season to date in an NBA uniform. Despite a woeful shooting season from 3-point range, Turner hit a career 45.6 percent of his field goal attempts. He was a vital contributor in the defensive rebounding (2nd on team) and distribution (2nd on team in assists) departments, giving Stevens whatever the team needed most nights. Perhaps most importantly, Turner played within himself, feasting on mid-range jumpers from the elbow and working the pick-and-pop with bench mates like Kelly Olynyk and Jerebko. After outperforming his two-year, $7 million deal in Boston, the veteran is due for a big raise in free agency this summer.
Summer assignment: While Turner made some strides on the defensive end in his sixth season, Kent Bazemore regularly abused him with backdoor cuts during the Hawks series. Off-ball awareness has been a concern for Turner throughout his NBA career and it's an area that he will need to sharpen if he wants to be counted on in a crunch time role against speedier opponents.
Grade: B+
James Young
Notable 2015-16 stats: 1.0 ppg, 0.9 rpg, 30.6% FG, 23.1% 3PT, 6.9 mpg
Overview: You can trace a disappointing year two for Young all the way back to the 2015 NBA Draft. Once Ainge selected R.J. Hunter and Terry Rozier with his two first-round picks, the battle for playing time got a lot tougher for former Kentucky standout. Unfortunately, the 20-year-old did little all season to earn increased minutes. Young played in just 29 games, two fewer than his rookie year, and his numbers regressed across the board. Whether it was with the big club or the Maine Red Claws, Young failed to earn the trust of the coaching staff, as evidenced by him being glued to the bench in the playoff series against the Hawks. He's failed to knock down open shots in his limited opportunities and the rest of his game is not yet NBA-ready. He's too young to label a "bust," but the lack of visible potential he's shown in two-plus seasons has to be concerning for the 2014 first-round pick.
Summer assignment: Very few players take part in NBA summer league in their third NBA season, but Young's status with the team makes him a prime candidate for more seasoning. He's got to prove himself as a capable player on both ends of the floor and that starts with gaining some confidence with his outside shot. It's unclear if the Celtics still consider him a part of their future at this stage of the rebuild, but additional reps in summer league can only help his value right now.
Grade: D