Celtics
Report: 'High likelihood' Philadelphia 76ers trade Jahlil Okafor or Nerlens Noel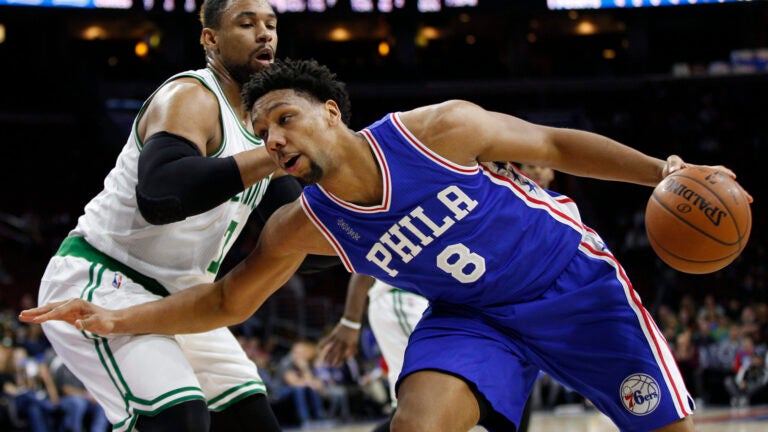 Either Jahlil Okafor or Nerlens Noel probably won't be in a Philadelphia 76ers uniform at the beginning of next season, according to ESPN's Chad Ford.
The two big men play very similar styles, close to the rim on both sides of the ball — and with the increasing prominence of three-point shooting forwards in today's NBA, several league executives believe that the two simply cannot play together.
Joel Embiid plans to return to action next season and, in an interview for 97.3 ESPN, Ford said that he believes the Sixers won't wait in attempting to get some value back for either Okafor or Noel in order to make some room in their front court.
 "I think that there's a very high likelihood, that whether it's to move up in the draft or use them to grab a free agent in a sign and trade or just to a trade, that you will not see the Nerlens Noel-Jahlil Okafor pairing at the start of next season. I think that they'll gauge the interest of both players. I think that there might be a slight preference for Noel, to keep him around with the Sixers, and I think you might be right, there might be a slight, better value for Okafor out on the market, but I think everyone agrees that that combination of those two players doesn't necessarily work.

The Sixers needs to pick up assets, especially if they're gonna go ahead and do a Ben Simmons or Brandon Ingram with the first pick in the draft. Then they're gonna need those assets to start to fill out their backcourt, because the 24th pick and [the 26th pick], you're not finding starters. I'm not even sure that you're necessarily finding rotation players at that back end of the draft that are gonna make big impact, so they're gonna have to do that via free agency or via trade, and I think either Okafor or Noel — I don't think they'll trade both — but one of those two is probably their best trade chip."
One team being discussed as a possible destination for Okafor is the Boston Celtics. When asked if the Sixers should trade the 20-year-old center for Boston's No. 3 overall pick in this year's draft, Ford said "absolutely."
"If I was Philadelphia, it would be done tomorrow," Ford added. "I don't know if Boston would do it, but for Philadelphia, 100 percent. That would allow them to actually I think bring in another guard, an elite guard, whether that's Kris Dunn or Jamal Murray, and suddenly now you've got a very, very bright future. I think that's an easy call for the Sixers if Boston would do it."
The Celtics' biggest draft busts
[bdc-gallery id="465756″]