Celtics
A Celtics fan's guide to the NBA Finals
Boston has a soft spot for Cleveland, except...LeBron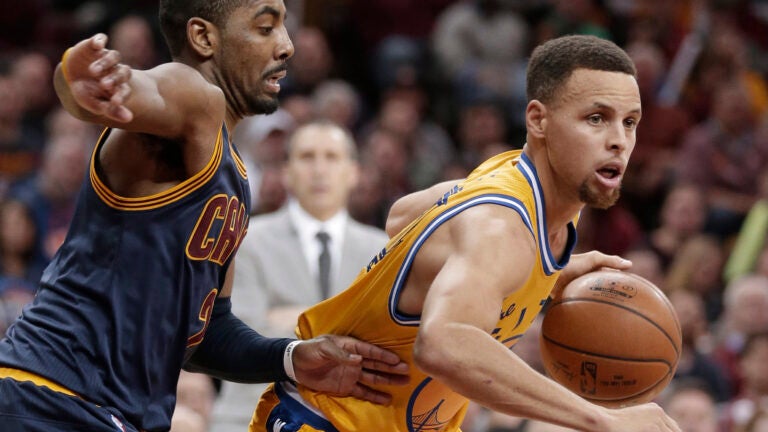 COMMENTARY
The NBA Finals start on Thursday night in Oakland, and on the surface Boston's rooting interest boils down to two words: Not LeBron. This is the sixth straight season that the self-proclaimed king sits one step away from the crown, and in a year that already saw Peyton Manning book a trip to Disney, the idea of James dancing with Larry O'Brien is downright disturbing. It's like picturing your parents during their first make out session, or their most recent make out session, or . . . hmm, OK how do I get out of this?
Then again, in this case it's hard to ignore who LeBron James is playing for. As a city formerly defined by sports misery; one that knows what it's like to suffer year after year and watch loved ones literally pass away before achieving the ultimate fan validation, Boston has a soft spot for Cleveland. We know that for every moron that burned LeBron's jersey eight years ago, there were 10, 50, 100 Ohioans sitting at home, numb to the pain, just thinking, "Don't cry for me. I'm already dead." Boston knows how that feels. Boston knows how close Cleveland is to shedding that burden and living free. Boston knows how much that means. So maybe that's enough to nudge you to the dark side? To get behind LeBron? After all, at some point the greater good outweighs your feelings about the guy who creates it. It's like if Pitbull performed a free concert for thousands of underprivileged children. You could still stand there at the show and think, "My god this is horrible" while simultaneously understanding "You know what? This is amazing."
You see this is where emotions get complicated. This is where emotions make the brain cloudy. So for the sake of the Celtics, and these NBA Finals, and this column, let's ignore emotion and focus on results. That's what matters. The truth is that from Boston's point of view, what happens between the Cavs and Warriors isn't about what happens between the Cavs and Warriors. It's about what happens after what happens. You know what I mean? It's about circumstance. It's about shoes dropping and chips falling. It's knowing that these Finals will change the course of NBA history and determining which history breeds Boston's brightest future.
So that's the question: Regardless of how you feel about LeBron, and regardless of any soft spot for Cleveland, which Finals outcome is best for Boston?
And I'll answer that right after a quick run down of a few other Celtics related notes that might enhance your NBA Finals experience.
***
Max Potential: One player to keep an eye on — you know, other than the numerous All-Stars and future Hall of Famers — is Harrison Barnes. The 24-year-old forward is a restricted free agent this summer, and he'll most likely command max money. For that reason, he'll most likely end up somewhere other than Golden State. And for that reason, he'll definitely be on the Celtics' radar.
Barnes's departure won't be a matter of Golden State not wanting him, but more that the team is just too stacked. Even if they think Barnes is worth max money, he's not worth it when he's only your fourth best starter, who also happens to play the same position as your best bench guy. The minutes aren't there. The touches aren't there. And how weird would it be when Barnes strolls in on the first day of training camp, with career averages of 10.1 points and 4.6 rebounds, making $7 million more than Klay Thompson and $10 million more than Steph Curry?
Either way, someone will offer Barnes a big contract, and on paper, he's a guy that might really help the Celtics. He's a 6-8 small forward who can defend power forwards and hit an open three. As years of playing alongside Curry and Thompson have proven, Barnes doesn't need plays called for him to score, but instead (like Avery Bradley) can do it within the flow of a spread, unselfish offense. He'd also come with a ton of playoff experience, at least one championship ring, and loads of untapped potential, but that's also the knock on Barnes. That we're still talking about potential. That he's been in the league four years and the world is still waiting for him to explode. The question is whether this lack of marked improvement is a matter of being stuck on a stacked squad or if Barnes is just the next Jeff Green — and it's on the Celtics to answer that before July 1.
Obviously they've already done endless research on Barnes, and certainly they're smarter than letting one playoff series dictate what they do with their precious cap space. But over the next six or seven games, the Celtics will have one last chance to evaluate Barnes on the game's biggest stage against Boston's biggest conference rival.
LeBron's History: So you already know that LeBron James is the first player since the original Celtics dynasty to reach the Finals in six straight seasons. With that you can assume that he's played in a hell of a lot of playoff games and put up all kinds of gaudy numbers — and that's correct. James is rapidly climbing the all-time playoff rankings in just about every statistical category, and he's in line to displace a few Celtics legends before these Finals are said and done. For instance —
Danny Ainge is currently tied with Karl Malone for 10th on the all-time postseason games played list. They have 193, which is four behind Manu Ginobili, 15 behind Scottie Pippen, and 66 behind all-time leader Derek Fisher. LeBron has 192, which means he'll tie Ainge and Malone on Thursday, and knock them out of the Top 10 on Sunday.
LeBron hit three three-pointers in Game 6 against Toronto to pass Paul Pierce (272) for sixth on the all time playoff list, but he's still 111 short of all-time leader Ray Allen (385). Steph Curry enters the Finals with 210 career playoff threes — 175 behind Allen — which means that Steph should break the record sometime around Game 5.
LeBron is currently 24th all time with 170 playoff blocks, and needs 17 in the Finals to leap frog Kevin Garnett into 21st place. LeBron also ranks 11th all time with 1,679 playoff rebounds, and with five more will vault Larry Bird into the all-time Top 10.
The one playoff category where LeBron ranks nowhere close to the all-time Top 10? Yup, personal fouls. But with nine more he'll pass Bird (466) for 31st all time. And before you use that to argue, "Hey, that means Bird never got called for fouls either!" remember that LeBron has already played 28 more playoff games and more than 1,200 playoff minutes than Bird ever did.
Connections: There's not much to choose from in the way of former Celtics in these Finals. There's only one player to have been drafted by Boston (Cleveland's Dahntay Jones) and he was traded to Memphis on Draft Night in a deal for Marcus Banks and Kendrick Perkins. Jones also signed with the Celtics in September 2007, earned a free trip to Rome, but was released a few days before the start of the season. Either way he's only played 32 minutes in the playoffs and isn't likely to play much more.
The only player in this series to ever actually play for the Celtics is Warriors guard Leandro Barbosa. The Brazilian Blur signed as a free agent in 2012, played 41 games, tore his ACL and was then traded to the Wizards with Jason Collins for Jordan Crawford.
On the bench, Ron Adams still serves as an invaluable assistant to Steve Kerr and was even more invaluable during Luke Walton's run as interim. He was Brad Stevens' right hand man during Brad's first year in Boston, and did plenty to make that first rocky season a little more tolerable. Meanwhile, Cleveland head coach Ty Lue spent four years on the Celtics coaching staff before moving to LA with Doc Rivers in 2013. And finally, one of Lue's assistants spent only one season playing for the Celtics — but what a season it was.
Ladies and gentleman, a round of applause for JAMES POSEY.
***
OK, so now that the pleasantries are out of the way, let's get back to the original question, plain and simple, quick and dirty: Is it possible that the Celtics might be better off with Cleveland winning the title?
Answer: Hell no.
Maybe if you subscribe to the theory that winning in Cleveland opens the door for LeBron to once again leave Cleveland, but that still seems unlikely. And even if he leaves, where will he go, Miami? That's still the East and that's still a problem.
The far more likely scenario is that winning a title in Cleveland sets LeBron free. It takes every ounce of pressure off his career, allows him to look back and forward and know that there's nothing he didn't achieve; nothing anyone can hold over his head. At that point, LeBron can just have fun and play basketball and anyone who's watched him over these last 13 years knows that that's LeBron at his absolute best. Calm and carefree is his deadliest form. That's when everything becomes easy, the jump shot starts falling, and with that burden removed not only from him, but his entire supporting cast, and his entire city, the Cavs won't be going anywhere. They won't look back for a few years.
But what if they lose? What if they drop their second straight Finals?
Well, first of all that helps the Celtics in the Kevin Durant sweepstakes and I'm sorry if you don't want to hear that. I'm sorry if you've already abandoned hope that Durant might consider moving to a basketball obsessed city with a genius head coach, rock solid infrastructure, plus the talent, assets and cap space to emerge as an immediate Eastern Conference contender. But if you still believe, you're rooting for the Warriors here because there's no way Durant joins Golden State after back-to-back titles. That's a no win situation for a superstar because if they win it again, big deal? They already did that twice without him. If they don't three-peat, well, then what's the biggest difference between the last two years and this year? What's changed? Where can the world place the blame?
But Durant aside, considering how volatile this situation is in Cleveland, with everyone running around, scrambling to keep LeBron happy while Kevin Love is always caught up in some nonsense, and Kyrie Irving remains quietly unhappy and JR Smith just exists through it all, floating around like a grenade with its pin out, just waiting to go off at the worst possible moment — another Finals loss could really wreak havoc on the Cavs.
It creates another year of animosity and pent up emotion. There's far more urgency for LeBron to finally do what he promised to do. He'll feel the need to impose change, to play GM LeBron, and anyone who's watched him over the last 13 years knows that that's LeBron at his absolute worst. Passive aggressive, fingernail-biting LeBron is his most susceptible form. Not to mention, given the state of the Cavs, the only way to really change things at this point would be to REALLY change things. To trade Irving — maybe to the Clippers? To trade Love — hey, why not to the Celtics? You figure at that point, Cleveland will feel the need to build their roster around beating the Warriors, so maybe they'd be interested in a First Team All Defense shooting guard who's shown a knack for giving Golden State headaches? Maybe they want Ohio native Jared Sullinger to help fill the void left by Love? And what about a few draft picks to boot?
Who knows? We'll see. Anything can happen. But what happens after what happens will be much better for Boston if we can look back on the 2016 NBA Champions and sum them up in two words.
Not LeBron.
And maybe two other words.
Sorry Cleveland.
The Greatest Boston Celtics of all time
[bdc-gallery id="118766″]