Celtics
Jimmy Butler thought the Celtics would draft him in 2011
"I always play well in TD Garden," Butler said.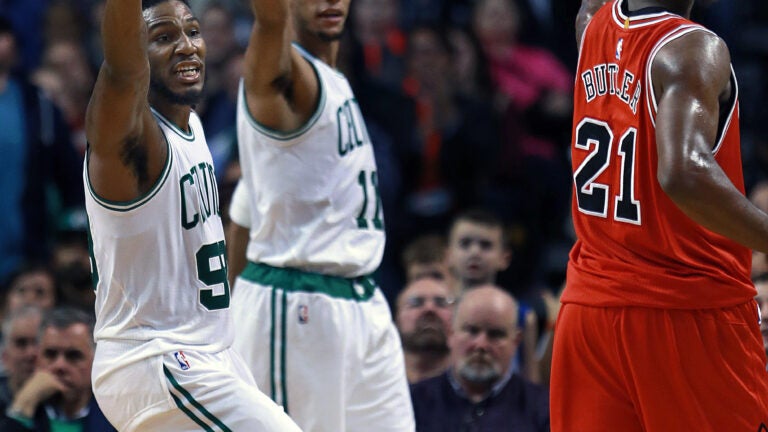 In the 2011 NBA Draft, the Boston Celtics picked MarShon Brooks, and then quickly traded him to the Nets for a pick and JaJuan Johnson.
Jimmy Butler, who went 30th-overall to the Bulls, didn't think that's how it would go for the Celtics.
"What's crazy is I thought I was going to end up with y'all [the Celtics]," Butler said on Wednesday's "The Bill Simmons Podcast." "Doc [Rivers] being from Marquette [in college], I was — I'm ready. But I'm not mad. I went 30th to Chicago, and it's a good place for me right now."
Last season with Chicago, the guard averaged 20.9 points, 5.3 rebounds, and 4.8 assists. But amid swirling trade rumors, the 6-foot-7 guard noted there are other cities where he likes playing.
"I always play well in TD Garden," Butler told Simmons. "And then I like L.A. I've got a lot of friends out here, so I like to play in front of them because I'm always stuck in the harsh winters of Chicago."
Butler admitted he's followed the rumors that he could be traded, because he's constantly getting texts messages from his friends. And fans have pestered the 26-year-old guard on social media about a potential trade to Boston. Chicago fans are pleading him not to leave.
"I literally, I don't control that," Butler said. "It's not like I'm a free agent. I can't do anything about that. And so people get mad: 'Oh, we hate you. You want to leave.' I never once said that. There's absolutely nothing that I can do. Literally the only way is if I got traded."
If he gets traded, Celtics fans are likely hoping he ends up in Boston where he thought he might end up during the 2011 draft.
[H/T MassLive.com]