Celtics
LeBron James is a legend who should be appreciated in his own time
After leading the Cavaliers' epic rally from 3-1 deficit to win NBA title and delivering a championship to Cleveland, King James's record is unassailable.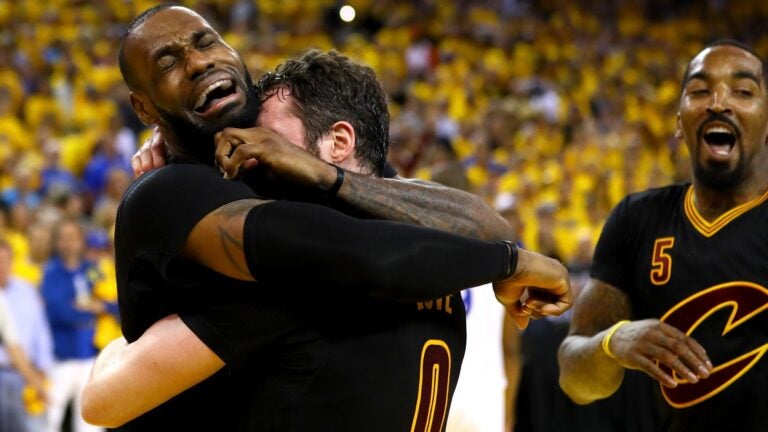 COMMENTARY
And so we come here not only to mourn the conclusion of an especially compelling season, but also to celebrate, even if we do wish there were somehow a Game 8 of the NBA Finals on the agenda for later this week. This is a happy time, at least for those of us who live farther away than a bricked 3-pointer from the Bay Area, because we can officially declare all of the negative LeBron James narratives officially dead.
The anti-LeBron sentiments of people who presume to know basketball shouldn't have existed anyway, not for this long, 13 seasons into his career. But they're expired now, hallelujah. They have been pounded into the final resting place for deceased hot takes like a viciously redirected Andre Iguodala layup. May they rest in peace, and may those of us wise enough to recognize and marvel at LeBron's basketball brilliance long ago finally get some peace.
King James formally reigns now, after the Cavaliers' instant-classic 93-89 victory over the Golden State Warriors in Game 7 of the NBA Finals Sunday night, capping a comeback from a 3-1 deficit against a team that won a record 73 games in the regular season and would have had a case as the greatest of all time had it won its second straight title.
It is undoubtedly James's crowning achievement. But this has been his throne for years now. He did not need this epic performance – he was unanimously voted the Most Valuable Player after leading the Finals in points, rebounds, steals, assists and blocks, which is to say everything that matters, all while delivering Cleveland its first professional sports championship since 1964 – to secure his place as one of the five or six greatest players in the history of Dr. Naismith's invention.
He was already there, already a superstar among superstars, and if you must pinpoint a moment when this specifically happened for him, his I'm-not-going-to-be-denied 45-point, 15-rebound tour de force that finished off the Celtics' New Big Three in Game 6 of the 2012 Eastern Conference Finals would be a fine place to look. But Sunday night sure helps. It may not entirely mute an absurdly vast and vocal pack of caterwaulers who tried to diminish all that James had accomplished coming into Sunday night's Game 7. It will, however, make it easier for us to mock them openly and without remorse.
There was plenty of pregame talk about how a win would secure LeBron's "legacy," a charbroiled topic that helpfully fills an awful lot of airtime and column inches. Legacy is one of those words and concepts that sports writers like me at once adore and misuse. A legacy is not so much a specific individual's place in history as it is something that is left behind. LeBron is still very much soaring in the present tense, and as he reminded us with his chase-down block of that Iguodala layup attempt with 1 minute 51 seconds remaining and the score tied at 89-89, he is never left behind.
That block will be remembered as one of the seminal defensive plays in the NBA history, essential in preventing the Warriors from scoring a single point over the season's final 4 minutes and 39 seconds. It may even be remembered as the definitive play from this game, which would be remarkable given that Kyrie Irving hit the winning 3-pointer over Steph Curry in the final minute. Iguodala will be hearing LeBron's footsteps on every layup he takes for the remainder of his NBA days, even when he's playing on a random Tuesday night three years from now against the bleepin' Utah Jazz.
No, LeBron's "legacy" was not at stake Sunday night. But I will agree that his secure and rarified place in NBA lore was at least enhanced. I'm not ready to put him alongside fearless, ferocious Michael Jordan, a six-time champion. But it is with an open mind that I'll hear an argument for LeBron, now a three-time champion at age 31, versus any other iconic player, and I acknowledge that as someone who not only spent his youth reveling in watching Larry Bird's Celtics, but who also appreciated having such a worthy and stylistically different rival in Magic Johnson's Lakers. LeBron may be the second-best player I've ever seen. I'm not ready to make that commitment now, but … he probably is.
LeBron, who has been to the Finals every year since the Celtics last came out of the East in 2010 … who scored 37 points in a Game 7 against the Spurs in 2013 … who is now 4-2 in Game 7s in his career … who took the 2007 Cavs to the Finals with Larry Hughes as the No. 2 scorer … who put fear into the Warriors last year with Irving and Kevin Love injured and dishonorable lump Matthew Dellavedova riding shotgun … who, trailing 3-1 submitted a 41-point game, another 41-point game, and a triple-double to take down the defending champions … is a player to be savored and admired in his own time.
I can do that. It's easy. Can you? Sure, he whines – so did Magic, and Kevin McHale, and Danny Ainge, and many of our regional favorite sons. The Decision was a bad one, but I suspect he is forgiven where it matters now. So forget the legacy talk and resist any temptation to grade his achievements on a scale because he is so physically dominant. Appreciate the player now, while he's doing all of these amazing things – I mean, he came home and delivered a title to Cleveland — because few have or will ever match him. Don't embrace debate. Embrace the great.