Celtics
An in-depth scouting report on Paul Pierce, NBA studio analyst
The Celtics great and current Clipper contributed to ESPN's Finals broadcasts. Here's the truth about how he fared.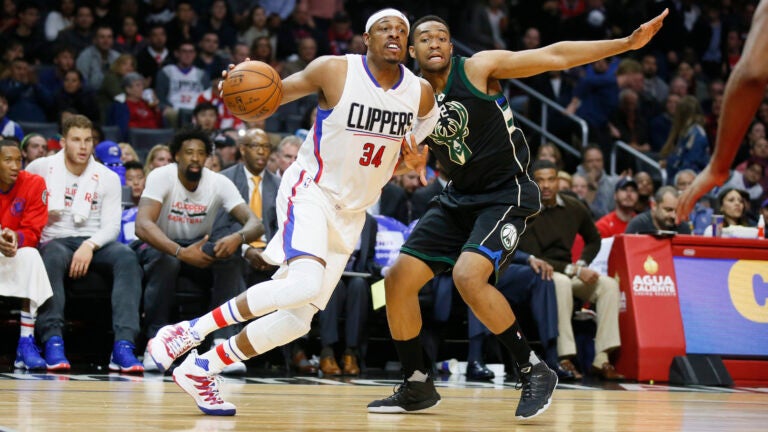 COMMENTARY
Hard to comprehend that Paul Pierce, who spent the first 15 seasons of his career as a Celtic and sentimentally belongs forever to the green, has now played for four NBA teams (Brooklyn, Washington, and the LA Clippers). Strange to say, but he's gone from a one-team wonder to something of a journeyman.
During the NBA Finals, Pierce played for a team of a different sort, joining ESPN's coverage of the Warriors-Cavaliers epic as a studio analyst for all seven games. Pierce, who turns 39 in October, hasn't announced whether he plans to play a 19th NBA season, though his 36.3 field-goal percentage last season might suggest that it's a good time to put away all of his step-backs and geometrically inspired drives to the hoop and discover his second career.
Perhaps it will be as an NBA television analyst. The future Hall of Famer makes sense as a prospect based on his playing pedigree and name recognition alone, which is primarily why ESPN gave him a shot. And Celtics fans know well that Pierce's confidence teeters on cockiness and yet still comes across as charming, which is crucial in making the audience like him.
But how did his personality translate to seven games with Sage Steele, Doug Collins and Jalen Rose on ESPN's "NBA Countdown" set? Glad you asked. I DVR'd and rewatched every one of his appearances – pregame and during halftime – on countdown during the Finals. Here's the scouting report on Paul Pierce, analyst.
Needs to work on improvising when a play breaks down: At halftime of Game 1, the Warriors held a nine-point lead on their home court. The crowd was predictably giddy at the break, and some sort of brief concert going on in the background of the Countdown halftime report only served to ratchet up the decibel level.
As Steele introduced Pierce as the 2008 Finals MVP – "The Truth!" barked Jalen Rose in acknowledgment, something that became habit over the course of the Finals – Pierce leaned in awkwardly, as if he couldn't hear Steele just a few feet to his right, then rigidly read some bland talking points off a sheet of notes he held up in front of him.
"Before the game I said the Cavs have to get turnovers,'' he said. "They're not. The Warriors are forcing turnovers and getting easy buckets. That's a bad sign for the Cavs."
It wasn't an empty observation, but it was overshadowed by the nervous delivery. Pierce has rarely looked rattled in any basketball-related circumstance, but he did here.
Has excellent defensive awareness: Pierce was noticeably more relaxed during Game 2 than he was during Game 1, smiling easily and talking animatedly, and his insights became sharper.
At halftime of Game 2, the Warriors led by 9 points en route to a blowout win. But it wasn't the Warriors' offense that impressed Pierce.
"I'll tell you why they [the Cavaliers] are not finishing in the paint – Andrew Bogut,'' said Pierce. Then, as a highlight sequence of Bogut's defensive myriad contributions plays, Pierce narrates in perfect sync with the clip.
"This block leads to a Steph Curry 3,'' Pierce said as the Warriors sharpshooter was shown knocked down a pull-up from the top of the key – "and that's the shot that got Steph Curry going."
Recognizing the value of Bogut also foreshadowed what would happen to the Warriors when they would lose him to injury.
He isn't all about the box score: When searching for anecdotal evidence of Pierce's improvement as the series went on, his assessments of Draymond Green's value to the Warriors are a good place to start.
Here's Pierce on Green during Game 2: "When he's putting up numbers like 15 points, 10 rebounds, and 7 assists, the Warriors are tough to stop." Well, yes, that is true, and about as obvious as it gets.
Now here's Pierce on NBA Countdown before Game 5, the game Green missed due to suspension for picking up a Flagrant 1 foul after throwing a jab at James's groin:
"Well, we all know what he brings numbers-wise, so we don't have to state that. It's the other things he brings. He's the heart and soul. He's the spirit. He brings grit, toughness, and in an elimination game [the Warriors led, 3-1], those are the things that you need.
"This is going to be one of the hardest-played games the Cavs will play because their backs are against the wall. So you gotta expect physicality, pushing, probably more trash-talking, probably more technicals. This is right up Draymond Green's alley, and that's what they're missing."
Sure, maybe he broke out a cliché or two. But watching Pierce deliver his comment was compelling, and he looked comfortable. It was the charismatic, casually opinionated Pierce that we knew all of those years with the Celtics.
He sees the court well and trusts his instincts: Pierce, who has played in nine Game 7s in his career, including one in the NBA Finals (there's no need to discuss that further), was at his best before and at halftime of the Warriors-Cavs winner-take-all matchup Sunday night.
His pregame comment on the pressure that comes with a Game 7 now reads like a premonition regarding the Warriors: "It doesn't matter how you've been all year long. You can have one bad day and that's your season."
He found an amusing way to suggest LeBron James didn't carry the same burden into Game 7 as the Warriors: "What pressure does LeBron have in a Game 7? He doesn't have to face me tonight."
Most impressively, he was the only member of the countdown crew to pick the Cavaliers to win: "Cleveland has to bring the same physicality that they brought the last two games. LeBron has to go off. Kyrie has to be special. This game is not about the bench, guys. This game is about the stars. Whoever's stars step up tonight is going to win this game and I believe that's Cleveland."
Pierce didn't waver from that pick at halftime, either, even when the Warriors led by 7.
Final assessment: It was impressive to watch how much Pierce improved from game-to-game during the Finals. If you didn't know better, by Game 7 it would have been tough to tell whether Pierce or Rose was the novice, and I say that as someone who likes Rose as an analyst.
Pierce eliminated the rookie mistakes early, seemed to have fun once he got comfortable, and wasn't afraid to criticize players who are still his peers (on Kyrie Irving's Game 6 performance, Pierce said, "He's even playing some defense tonight!").
The truth about the Truth? He has a future talking about the NBA once he's done playing in it.