Celtics
How Jaylen Brown impacts the Celtics
The 6-foot-7 forward could be the best athlete in the 2016 draft class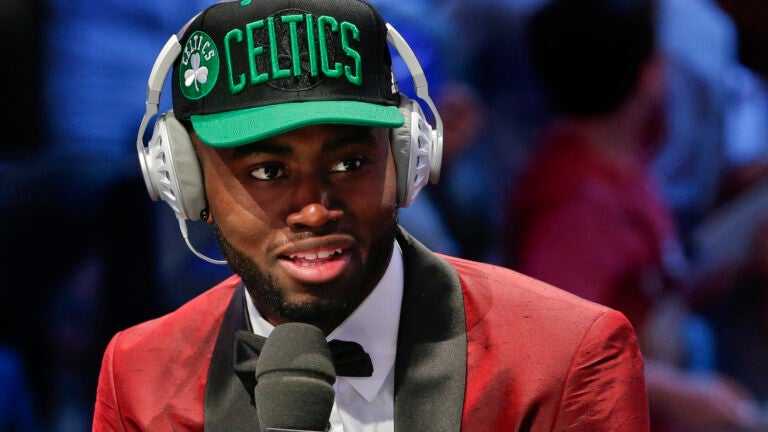 One area that the Celtics needed to address this offseason was the team's athleticism. They did just that with the selection of Jaylen Brown as the No. 3 pick in the 2016 NBA Draft. The 6-foot-7 forward out of Cal has an elite NBA body already, and co-owner Wyc Grousbeck believes he'll show that from his first game in a Celtics uniform.
"Danny and his staff feel that he's got significant upside," Grousbeck said. "He's already an accomplished player at a young age. We feel that he's got the physique and the competitive drive, and the motor, and the skills, and really important the character."
The 19-year-old averaged 14.6 points, 5.4 rebounds and two assists per game during his brief career at Cal, shooting 43 percent from the field and 29.4 percent from 3-point range. While his overall game needs to develop, particularly his outside shooting, Danny Ainge believes Brown's physical abilities and mental makeup will allow him to be a factor in Boston's rotation almost immediately.
"He's a unique kid," Ainge said after the draft. "I'm not sure that's why we drafted him, but he is interesting. He's different than a lot of the players that we meet. He's a very polished, articulate kid, very well-educated kid. He's a kid that I think some people have questioned if he likes basketball. To me he seems like a very balanced young man and very mature for his years. So he's going to have to grow fast. From freshman year of college to the NBA is a big jump. I'm confident that he can do that both physically and emotionally."
While Brown's offensive game will be a work in progress, his defensive versatility should fit right in alongside names like Marcus Smart, Jae Crowder and Avery Bradley in Boston. At 223 pounds, Brown not only has the strength to guard 3s immediately, he should be able to handle some 4s if Boston goes to a small-ball lineup. He is a strong rebounder for his size as well.
Offensively, he's going to be a work in progress out of the gate, but he does offer a few skills that should translate immediately to the NBA. He was one of the best slashing wings in the Pac 12 last season, averaging 6.4 free throw attempts per game while attacking the basket in the halfcourt and transition. His speed and size also makes him a major force in the open court, as he handles contact well in the paint.
Brown's halfcourt offensive game will need to see some improvement to thrive at the next level however. His shooting numbers are worrisome for Boston's 27th ranked 3-point shooting offense and Brown also had one of the worst assist to turnover ratios out of this year's first round prospects. His shooting numbers at the rim in the halfcourt were also inefficient as he was guilty of forcing up shots regularly in a Cal offense that lacked reliable outside shooting threats.
The key for the Celtics will be how well they can groom some of these correctable issues for the swingman. He's got the physical tools to make an impact immediately and won't be blocked by a glut of players at his position for minutes either. If Brown can hone his individual skills and improve his shot, he will be a regular in Brad Stevens' rotation next season.