Celtics
Here's a novel idea: Let's watch Jaylen Brown play an NBA game before we praise or pan him
Many Celtics fans aren't happy—or familiar—with Danny Ainge's No. 3 pick.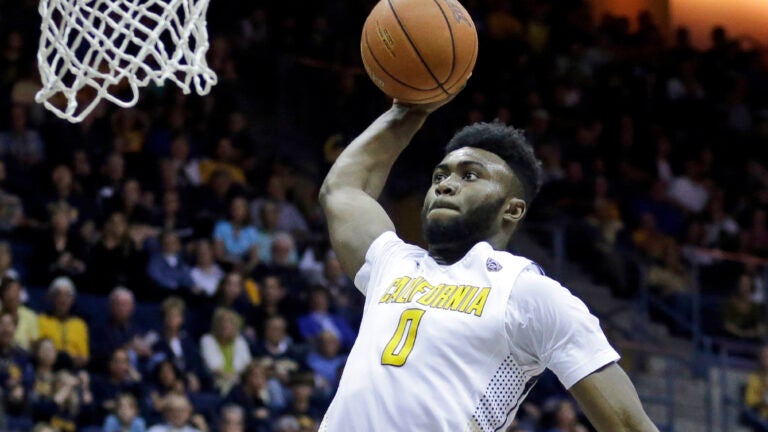 COMMENTARY
Let's see: The Celtics added an excellent prospect with the third pick in the NBA Draft to an upward-trending 48-win team, drafted five other players of various degrees of potential and skill, maintained every dollar of their salary cap room for the free-agent frenzy that begins July 1, and retained their immensely likable and unified core players rather than swapping them in a trade for the sake of placating the fan base.
In context, Thursday seems to me like a pretty successful, if hardly flashy, draft night for Danny Ainge and the organization. Unfortunately, in a sports world where context and contemplation nowadays are habitually trampled by instant Twitter outrage at — well, just about everything that doesn't go according to conventional wisdom — once again I'm stuck in the common-sense minority over here, wondering when so many Celtics fans turned into Jets fans.
Lots of Celtics fans who probably have never seen Jaylen Brown play were very angry last night about Jaylen Brown – a 19-year-old forward from Cal — being picked third overall. I get it, to some degree. The Celtics need shooting, and that isn't his strong suit. There was hope of a trade for Bulls star Jimmy Butler. Kris Dunn, a talented, likable kid from just down the highway at Providence, was on the board.
The Brown pick should not have been a surprise — Ainge scouted him in person several times during his freshman season and the Celtics worked him out twice — but it still felt like one. And thus my Twitter feed, and probably yours, was filled with various angry sentiments about Ainge's competence and the failure of "stockpiling assets" and other referendums that made it seem like David Kahn had seized the Celtics draft board.
It's exasperating on top of being ignorant. You'd think Bill Belichick would have taught all New England sports fans that it's rewarding to have a general manager who picks players he likes rather than following others' projections. Yet, he gets grief too. Man, I'll never forget the howling when he took Devin McCourty over fan-favorite, cool-named Sergio Kindle in 2010, or how Mel Kiper Jr.'s face froze into a bewildered, vacant stare after he took fourth-round projection Logan Mankins in the first round in 2005.
The mock drafts and ceaseless coverage are great, but the downside is that they make every fan feel like an expert. Half of the fun in following a draft is thinking you can identify who will be a star and who will fizzle out. But you have to remember the truth: we don't know. I don't, you don't, and even Ainge, the Celtics' president of basketball operations with a fine draft record given where the franchise has typically picked, doesn't know.
But he has a hell of a lot more information and experience than we do.  The worst — the absolute worst — manager or general manager knows so much more about their particular sport than you or I do or ever will. (Yes, even John Farrell.) It's our pastime. It's been their life. That doesn't mean they're beyond criticism. It means that we should have the sense to make sure the criticism is informed and well-considered, if for no other reason than to limit the risk of looking like a damn fool.
Ainge, who said during his Friday morning spot on Toucher and Rich that he pays zero attention to mock drafts, clearly doesn't give two hoots about whether fans liked the No. 3 pick, or the selection of Guerschon Yabusele at 16, which should be a reason to further admire the Celtics boss. He also nailed why fans boo or cheer a certain pick: familiarity. Ainge cited examples of fans booing unfamiliar picks while he was in Phoenix – taking Steve Nash over John Wallace in '96 being one example.
We're all guilty of it – I was hoping they'd take sliding Skal Labassiere from Kentucky at No. 23, because he was once projected as a top-five pick before an underwhelming freshman year. I'm convinced familiarity is why so many Celtics fans coveted Michigan State's versatile, creaky-kneed Denzel Valentine, and why some are happier with the Celtics second-round picks (Notre Dame's Demetrius Jackson and Providence's Ben Bentil, in particular) instead of their three first-rounders.
It's why fans liked R.J. Hunter at No. 28 better than Terry Rozier at No. 16 last year, and I guarantee you it's why there's not a Kings fan on earth who had a problem with taking Jimmer Fredette at No. 10 while lesser-known Klay Thompson was still on the board in 2011.
I don't know if Brown will make it. I don't know whether he will be the next Jimmy Butler, the next Jae Crowder, the next Jerome Moiso, the next Kedrick Brown, or someone wholly unique and distinctive and beyond an obvious comparison. But I'm looking forward to finding out how his myriad skills translate to the NBA, and whether he can learn to shoot capably at this level.
Maybe he will meet those Justise Winslow comps. By the way, that's a player who was coveted by the Celtics and their fans alike last year, the latter because – you got it – he was familiar.
What's that? The Celtics need a shooter, and Brown isn't a shooter? Well, let me leave you with this:
When Dunn was 19, he averaged 5.7 points per game and shot 39.8 percent (28.6 from 3-point range) in 27 games at Providence.
When Buddy Hield was 19, he averaged 7.8 points per game and shot 38.8 percent (including 23.8 from 3-point range) in 27 games at Oklahoma.
When Jaylen Brown was 19, he averaged 14.6 points per game and shot 43.1 percent (29.4 from 3-point range) in 34 games at Cal.
Give the kid a chance. Maybe you'll like him once you see him on a basketball court rather than on a printout of a mock draft. You know, when he becomes as familiar to us as he already is to the man who drafted him.