Celtics
Danny Ainge wants Celtics fans to give Jaylen Brown a chance
The Celtics' No. 3 pick was booed by season ticket holders when the team announced the selection draft night.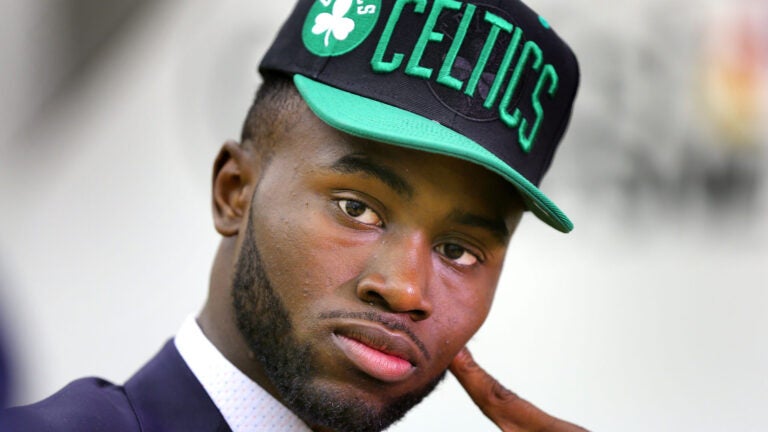 Many Celtics fans were hoping for a major trade on draft night involving Boston's No. 3 draft pick. When that blockbuster failed to materialize, the TD Garden crowd wasn't shy about voicing its displeasure. Team co-owner Wyc Grousbeck was booed on Thursday night when he announced the team would be selecting — and keeping — Cal forward Jaylen Brown — a player projected to go as low as No. 8 on some draft boards.
In hindsight, the man responsible for making that selection wishes the wrath of the Celtics' fan base had been directed at him.
"I would have enjoyed it. It's what I love about Boston," Celtics president of basketball operations Danny Ainge said Friday after introducing five of the team's draft picks in Waltham. "When you're throwing a no-hitter, they appreciate it. And when you get rocked in the second inning, they boo you. The only thing about that is I love the passion of Boston fans. I love that they feel and they care. I truly believe that. I never take that stuff personal because there's so many differing views. I think that that's what makes Boston fun."
While Ainge understood the disappointment from fans, he was unhappy that a segment of the fan base was already sending bad vibes towards an innocent bystander in this process: Brown.
"The only thing that I don't like about that is that it's a reflection of Jaylen instead of a reflection of me. 'We don't like your choice.' That's OK to boo me. But, 'Give [him] a chance' would be the only thing I would say. Like, let's see. Let's wait a year, then boo me. Let's not boo the kid when his name is announced. As far as criticism in my position, I expect it, I'm used to it, and I don't think [the media] can offend me. You can try, but I don't think it'll work."
Brown, the first player drafted by the Celtics at No. 3 overall since Chauncey Billups in 1997, doesn't seem to be letting any negativity get to him.
"I'm overly confident," he said. "I believe in myself 100 percent. I believe in my game and I believe in my work ethic. I don't anybody works as hard as me, especially not in this draft class. I'm going to go out and show what I can do. Rome wasn't built in a day. It'll take time. You'll see."
Brown also acknowledged he wasn't happy with a freshman season at Cal that gave his critics plenty of ammunition. After being touted as one of the top high school prospects in the country, he averaged 14.6 points per game and shot 29.4 percent from 3-point range.
"I just think I could've had a lot better year," Brown said of his disappointment with his own play. "[With] my potential, we could've gone a lot farther in the [NCAA] tournament and things like that, and we didn't. I put a lot of blame on myself because being highly-recruited out of high school, I felt obligated to do much better than I did. We came up short. But it's all about getting better and adding fuel to the flame. So, now I'm here in Boston. Now I'm ready to rip somebody's head off."
The 6-foot-7 wing is adamant he already has the tools to help Boston take another step forward from a 48-win season.
"Absolutely," Brown said when asked if his strengths align well the style of Celtics head coach Brad Stevens. "I think the NBA, in general, 24-second shot clock, a lot of transition, getting up and down, a lot of versatile guys. I want to add to that right away. This is a really good team, a playoff team. Right away, I want to bring energy, I want to bring defensive versatility and just add to that. This is a really good team and have a lot of good vets. Just learning from those guys, I can't wait. I'm super excited."
With summer league action just over a week away, Brown won't have to wait long to show Celtics fans what can bring to the table.