Celtics
Celtics reportedly make Kevin Durant's initial list of free-agent meetings
Does Boston have a chance?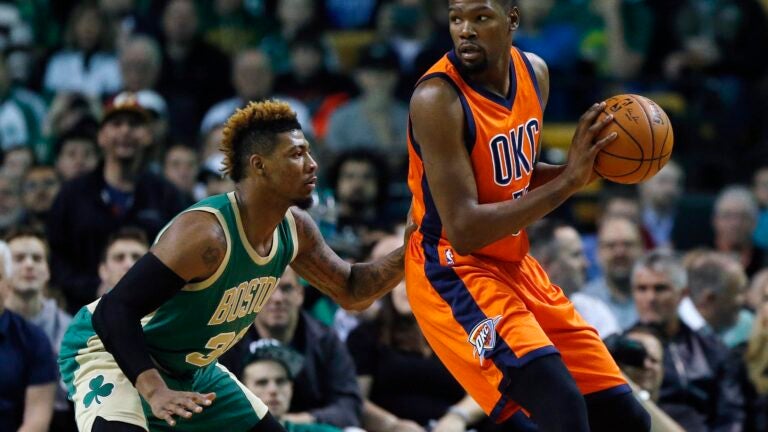 The Kevin Durant sweepstakes does not officially get under way until July 1, but the Boston Celtics will reportedly be one of the teams with a chance to pitch the superstar forward in person. After spending the first nine seasons of his career in Oklahoma City, the seven-time All-Star is hitting the free-agent market for the first time.
Citing unnamed league sources, The Vertical's Adrian Wojnarowski reported late Friday night that the Celtics are one of six franchises to be invited to meet with Durant in New York on July 1. The Golden State Warriors, San Antonio Spurs, Miami Heat, Oklahoma City Thunder and Los Angeles Clippers are the other five teams that will be given a meeting with Durant and his representatives, according to Wojnarowski.
Read more at The Vertical.
The Celtics may not have the star power of the other franchises in the Durant race, but they are the only team on this list of contenders that has the salary cap space to sign two max free agents this summer. This ability would allow the Celtics to present Durant with the opportunity to choose who he wanted to play with in Boston. Celtics president of basketball operations Danny Ainge also has several trade assets, including the right to swap spots with Brooklyn's unprotected 2017 first-round pick.