Celtics
The Celtics' chances of signing Kevin Durant are as slim as he is—but they do exist
That they are one of six teams he will reportedly meet with during free agency suggests they already have some appeal to the Thunder superstar.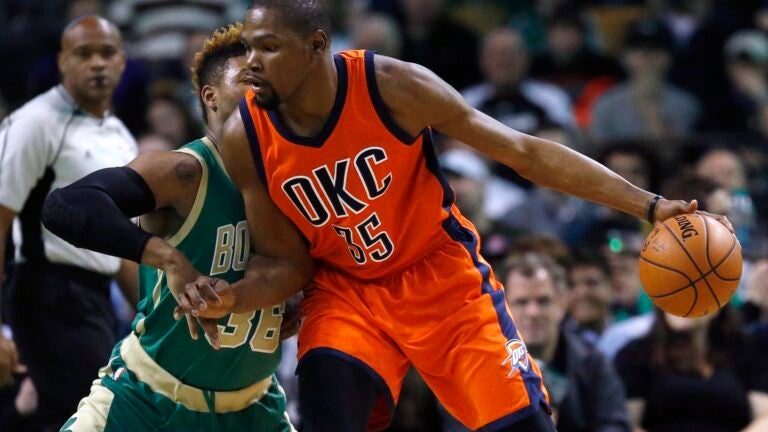 COMMENTARY
The Celtics have a meeting. Therefore, the Celtics have a chance.
No, I don't expect Kevin Durant to sign with the Celtics some time after NBA free agency officially begins July 1. I'm with the rare common-sense consensus on this one. The 27-year-old scoring machine can maximize his earnings by signing a two-year deal with a one-year opt-out with his current team, the Oklahoma City Thunder. Thus, logic suggests that's what he will do, as intriguing as it might be to wonder whether the hundreds of millions he makes from Nike could lead him to make a decision on his destination with money as a secondary consideration.
I suspect Durant's willingness to take meetings with five other franchises — the Warriors, Clippers, Spurs, Heat and Celtics — is more about gaining wisdom and intel for next summer, when he'd theoretically opt out of his Thunder deal and hit free agency for real, than it is the beginning phase in a search for a new home in 2016.
The odds of Durant joining the Celtics sometime between July 1 and July 8, when he reportedly wants to have a deal done, are probably slimmer than the player himself.
But …
But …
But …
You knew there would be a but, and not because I'm that kind of Celtics realist/optimist who looks at a 48-win team with cap room and at least one talented rookie as a great situation. There should be a but.
http://cinesport.boston.com/boston-globe-sports/finn-role-playing-durant-pitch/
It has to be taken as an extremely encouraging sign that the Celtics are reportedly on Durant's short list. When he was here with the Thunder in March, he showed an appreciation for Boston and its rich basketball history, and the appreciation was reciprocated.
That he will meet with the Celtics' brain trust — presumably led by Danny Ainge, whom Durant has known since his freshman year at Texas, and Brad Stevens, who one suspects could make a rather convincing argument on behalf of the organization — suggests the player has at least some level of interest in coming here.
Durant has always been a sensible, introspective personality: Remember, he casually announced his contract extension on Twitter the same June 2010 day as LeBron James's "The Decision" aired on ESPN. There is little doubt in my mind that the Celtics will appeal to him more than they do now after they actually make their appeal to him.
You know the famous line from Dumb and Dumber: "So you're saying there's a chance?"
You've got to seize that chance, as minuscule as the odds may seem. Jim Carrey did end up marrying Lauren Holly, you know.
It's equal parts depressing and amusing that while so many local media personalities — some of whom would need three guesses to pick a basketball out of a lineup of sporting goods — race to tell us that Durant will never come here, there are respected NBA writers of a national scope who see why the Celtics might intrigue him.
Bobby Marks, a former NBA front office executive who has become the salary cap and roster guru for Adrian Wojnarowski's The Vertical, wrote this Monday:
Outside of re-signing with Oklahoma City, the Celtics offer perhaps the most appealing destination for Durant. There are several factors why the Celtics remain a threat to the Thunder.
Among those factors Marks listed: They can create cap space with ease without significantly altering the roster, they have two more Brooklyn draft picks so the future is bright, Ainge and Stevens provide long-term stability, and they're in the weaker Eastern Conference.
Works for me.
In a story titled A deep dive into Kevin Durant's free agency,' HoopsHype.com was even more encouraging in explaining the Celtics' potential appeal.
By far the best option in the East are the Celtics, who have a boatload of assets for trades surrounding Durant with elite talent… in addition to being a good team already. The Celtics ranked fourth in defensive efficiency over the past season, and combining Durant with the elite perimeter defense of Jae Crowder and Avery Bradley would make the Celtics defense jump a level higher. Durant would be a perfect fit in Brad Stevens' spread offense, and the Celtics would have their hands on a two-way monster of a team. And that's without making any additional moves that would surely follow.
It's reassuring given all of the ridiculous, ill-informed Celtics howling we hear around here — can we let Jaylen Brown actually play a Summer League game before we start comparing him to Jeff and/or Gerald Green, please? — that outsiders, viewing this franchise with clear eyes, recognize that something good is going on.
It seems to me that that the next step — if we are saying there's a chance — is for news to come, probably via Woj, that Durant is legitimately willing to change addresses and the Thunder's financial advantages aren't something he is prioritizing. I'm not expecting that to happen, either. But — but — if it should, doesn't that mean the Celtics' chances have grown?
The Clippers are a mess. The Spurs and Heat have to clear major cap space. Shouldn't Durant hate the Warriors right about now? And the Knicks as a latecomer? Eh, the Derrick Rose deal all but confirms that Phil Jackson is trying to assemble the entire 2012 Eastern Conference All-Star roster, up to and possibly including Dwight Howard, Roy Hibbert, and Rajon Rondo. Durant was a Western Conference pick. He doesn't meet the criteria.
The Celtics have a meeting with Durant. They have a chance to impress him. That they have a meeting at all, suggests they already have. Sure, it's a slim chance that he comes to the Celtics. But that's a long way from no chance. That status update belongs to the 20-something teams he won't talk to.